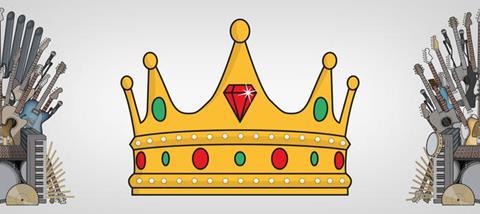 In 1961, AW Tozer famously stated that "Worship is the missing jewel in the Evangelical Church". At that time church services were very formal. Britain had an amazing heritage of hymns, many of which were even sung in schools and national sporting occasions. But inside churches, hymns were often thought of merely as a warm-up for the sermon. Today, the jewel of worship has been restored to the UK Church in an amazing way. Psalm 22:3 states that God is "enthroned" in his people's praises. Hundreds of songs, often written by British worship leaders, have allowed Christians to enthrone God, so the jewel of worship is now shining brightly again. Those songs have literally travelled the world – and beyond (Matt Redman's 'Shine' has even been played on-board the International Space Station!).
Over the past four decades, I've worked as a recording engineer, record producer, bass player and A&R Manager for Kingsway and Integrity Music. I've had the privilege of a front-row seat and have watched with amazement at how God has weaved his tapestry of worship across our church streams. Songs are being written that capture God's heart and resonate with what he is doing and saying in this generation. My friend and mentor John Pac (1946–2013) was managing director of Kingsway – the largest publisher of Christian music in the UK. John had the dream that the worship songs of the UK would leave the island. We worked together with that vision in mind.
1960s - The beginning of a movement
Tozer wrote about the "missing jewel" just before a cultural explosion of music and fashion happened in Britain. The Beatles, Mary Quant and The Rolling Stones changed the landscape in the 1960s as Britain led the way in terms of creativity. This began to have an effect on the Church. A young Christian songwriter by the name of Graham Kendrick was no longer looking solely to the Baptist hymn book. His music was being influenced by The Beatles as well!
A coffee bar evangelism scene began with hundreds of local church bands learning to play guitars and write songs. From this started the record label MGO and Buzz (this magazine's predecessor). There was a release of creativity right across the Church. Suddenly it was OK to play an acoustic guitar and to be more casual. It seemed like a new day as we transitioned from church organs to acoustic guitars.
It wasn't just the music that was changing. A spiritual explosion was taking place as the Holy Spirit came in a fresh way. People wanted to express their love to God in new ways. There was a desire for freedom instead of formality. The house church movement began and grew as many moved away from the more traditional denominations.
In 1967 the American evangelist Jean Darnell toured Britain with the Come Together musical. Jean thought the musical was exactly the message that God was giving us in England. It was a way of ministering to the Lord in worship, ministering to one another in the Church and ministering to the world too, which was the great theme that the Holy Spirit was emphasising in the charismatic movement. The musical brought churches together in city-wide gatherings. For John Pac, Come Together was "the beginning of the praise and worship movement". Dave Fellingham (the writer of 'God of Glory' and 'Ruach') says the whole event was the first time he saw what we now call contemporary worship: "It had huge impact. There were great songs like 'Freely, Freely' and 'Holy, Holy' that are still in our repertoire now, as well as round singing, antiphonal singing, hand clapping and a congregational dynamic with raising hands and shouting as well as praying together."
1970s - The bible week phenomenon
2017 marks 40 years since 'Bind us together' was written. It was a song of unity by Bob Gillman from the Romford Fellowship, part of the house church movement. In the late 70s Romford was at the epicentre of UK worship. Under the fatherly and motherly care of John and Christine Noble, a community of young creatives including Dave Bilbrough and Nick Butterworth would be encouraged to write new songs and dream new dreams. These songs included 'Abba Father', 'I am a new creation' and later 'All hail the Lamb'.
The British Bible Week phenomenon soon kicked in with thousands gathering from Keswick, Capel and Filey to Downs, Dales and Kingdom Faith.
Spring Harvest started in 1979 and grew from an attendance of 2,000 to 80,000. Graham Kendrick was commissioned to write the theme songs. 'Servant King', 'Meekness and majesty' and 'Shine, Jesus, shine' became the soundtrack to what God was doing.
Spring Harvest also provided a platform for other worship leaders from the charismatic movement (Dave Bilbrough, Dave Fellingham, Chris Bowater, Noel Richards, Ishmael) and contemporary spirit-filled worship began to impact traditional churches.
1980s - Marrying intimacy with majesty
John Wimber (1934–97) of Vineyard came to the UK frequently in the early 1980s, and played a huge part in the renewal of the Anglican Church. According to the leader of Newfrontiers, Terry Virgo, Wimber was second only to Billy Graham in terms of the person who most influenced the British Church.
Soul Survivor's Mike Pilavachi was impacted as well. "Carl Tuttle led the worship on a beat up old guitar and I loved Wimber's teaching and ministry, but the thing that completely unhinged me was the worship. It was just simple, passionate love songs to Jesus. I broke. It was so fresh and real. That became our new template for worship."
The leader of the International House of Prayer (IHOP), Mike Bickle, saw it too "The Church in the UK said yes to the emphasis that John put on intimacy in worship. The church here took it, but then added a sense of God's majesty to it…The UK put that together, it was the first place in the world to do that."
It was while I was playing bass at the New Wine conference in the 1980s that I noticed something incredible was happening with the youth. Mike Pilavachi remembers it too. Speaking of Matt Redman leading worship, Mike says: "He started singing this song that I'd never heard before. It was beautiful. It was called 'I've got a love song in my heart'. As we sang that the whole place just erupted."
1990s - Taking worship to the streets
New Wine gave birth to Soul Survivor in 1993. I went to John Pac and said, "I feel there's about to be an explosion with the youth." Out of that conversation came Survivor Records – a stable where young worship leaders could develop and flourish. Survivor went on to release albums by Matt Redman, Paul Oakley and YFriday. Worship conferences were started and songbooks including Songs of Fellowship and Mission Praise became popular. Then the overhead projector arrived!
The Church was growing in confidence and March for Jesus, which began in the mid-1980s, took worship onto the streets. Thousands of Christians marched in major cities and the event went on to have massive international impact with marches happening in 180 nations. The Brazilian Church has used the March to reclaim the carnival. In São Paulo, March for Jesus is now a public holiday and millions gather annually to worship together. Between the first march in 1987 and the millennium, an estimated 60 million people took to the streets to pray, praise and demonstrate their faith. Mike Bickle believes there's a link between March for Jesus and the growth of the Alpha course: "Think about that five-year period; there were masses of people united on the streets, prayer walking and then, boom! The greatest grassroots evangelism thing we've ever seen, Alpha."
Also around this time, Vineyard worship leader Kevin Prosch came to the UK and gave permission to a new generation of worship leaders to express their worship. Martin Smith, who would go on to front Delirious?, remembers meeting Prosch in California. "He gave me this sort of knowing stare into my eyes and then two days later when I went to the church in Anaheim there he was leading worship. While I was sitting there I thought 'this is what I want to do'."
The day before Smith left to fly back to England, Prosch gave him a rough mix of a new album he'd just recorded. "It was going to be called Even So Come. Kevin said, 'Can you give this to a guy called Les Moir in England because I want him to listen to it.' Of course I listened to it on the plane coming home and I remember crying my eyes out the whole time, I was carrying something more than a cassette to bring home. It was like God had deposited something in me and it was like a new day."
Noel Richards who, with his wife Tricia, has written beautiful worship songs including 'All heaven declares' and 'By your side', started a gathering for worship leaders. From this community came the move from the streets to the stadiums. Fifty thousand people gathered in the iconic Wembley Stadium in 1997 to proclaim Jesus as the 'Champion of the World'. Four executives from EMI Christian Music Group came to sign Delirious? and were very impacted by what they saw. "America needs this," they said. A co-publishing agreement was signed and the worship songs of the UK began to be promoted, heard and sung around the world.
An important step in this international journey came when Delirious? released their live album uniquely packaged in a silver can. Speaking of Live & In The Can, Louie Giglio, who founded the Passion movement based in Atlanta, stated that "this silver can arrived, and worship was never the same". Delirious? would go on to define the worship sound of their generation, selling 2.5 million units and being distributed in 96 nations. Passion also organised a gathering of students from across the States to a day of prayer. They called it One Day and used Matt Redman's 'Better is one day' as their theme song.
This was a fertile time for the songs coming from the UK songwriters. Vineyard UK worship, under the leadership of Brian Doerksen, recorded two classic albums, Come Now is the Time and Hungry. Both would go on to have international impact. Kevin Prosch prophesied to me in 1994 that "the British invasion is going to happen and you've got three years to prepare for it", so I knew the time was coming when the songs would leave the island and bless the nations of the world.
2000s - Community, collaboration and compassion
The Millennium kicked off with the urban praise song 'Shackles' by Mary Mary entering the mainstream top five and echoed the end of the 60s when the classic gospel song 'O happy day' topped the charts. Tim Hughes and 29th Chapter would also record 'Shackles' on a Soul Survivor live album. The black majority Church's praise and celebration style was beginning to really influence the UK Church worship and reflected their substantial growth as a movement mainly in the British cities, with worship leaders Noel Robinson, Mark Beswick and Muyiwa leading the way.
I was at Hillsong Sydney when Tim Hughes started to play 'Here I am to worship'. There were 19,000 people in the room. As they all joined in singing, Brian Houston came over to me and said, "Supernatural song! Supernatural song!" He understood there's nothing like a God song which goes around the world, similar to 'Shout to the Lord' – it's astounding.
The British hymn heritage continued when Stuart Townend and Keith Getty were introduced to each other at a Worship Together conference in Eastbourne. This led to them co-writing the classic hymn 'In Christ alone', combining contemporary and Celtic hymn style with rich lyrical content.
Writing with Paul Cain in The Word and the Spirit (Kingsway), RT Kendall observed that "The greatest hymnody this century has seen has emerged from the charismatic movement". This was further underlined more recently when Matt Redman and Jonas Myrin's collaboration, '10,000 reasons' spent 16 weeks at the top spot on Christian radio in America and saw the writers awarded two Grammys.
The strength of the UK worship scene has been community. In some other parts of the world this community has looked more like an industry. But the closeness of relationships, the lack of competition, the encouragement of the fathers and mothers to the sons and daughters, the willingness to hand on and not hog the baton has seen the lineage of these modern-day Levites continue. Darlene Zschech comments, "I love the worship community in the UK. It feels like family. Shared wisdom and rich heritage."
Beth Redman remembers a moment growing up in church which further emphasises this: "When I was very young I saw a song on the overhead was written by a married couple [Noel and Tricia Richards] and something about that really impacted me…Even as a young child I knew God was speaking to me that one day I would do that with my husband too." Beth and Matt would go on to write many classic songs for the Church including 'Blessed be your name' and 'You never let go'. Matt also grew up in this encouraging community. He attended Noel Richards' worship leaders' forum, received vocal lessons from Sue Rinaldi and guitar lessons from Bryn Haworth.
The apostles (movement leaders) and worship leaders enjoyed close friendships. The worship leader would often write in song what the church leader was teaching. People would leave meetings singing the essence of the sermons. The songs serve as the soundtrack to what God is doing, has done and is about to do.
A bright future
The British worship baton is currently with Worship Central – a community of worship leaders committed to seeing local worship teams equipped and resourced. Their course is free to download, has been run in 110 countries and been translated into twelve languages.
Worship Central is also partnering with the 24-7 Prayer Kingdom Come events, which has in turn inspired the Thy Kingdom Come cathedral events. Kingdom Come is proving to be a nation-changing event, providing evenings of worship and intercession. There's a prophetic flow with passionate prayers for revival taking place across our nation.
The Kingdom Worship Movement, headed up by Noel Robinson, with its multicultural worship at events such as The Renewal, is also gaining momentum, reflecting the Church of many colours, and the vision of hearing the sound of every tribe and tongue worshipping on earth as it is in heaven.
As the complexion of the UK Church changes, so will the sound of our songs. Increased diversity will continue to lead each congregation into having its own unique expression reflecting the multifaceted jewel of worship. Another interesting dynamic is how some of our songs are being heard beyond the borders of the Church and breaking into the mainstream. Just recently, 'Everlasting God', 'Our God' and '10,000 reasons' have been given ASCAP awards for being the most played songs on American radio written by any UK songwriter, including The Beatles, Phil Collins and U2!
Could it be that, as in the days of the Renaissance, the sacred songs will again become the most popular music of its day?
He put a new song in my mouth, a song of praise to our God. Many will see and fear, and put their trust in the Lord. (Psalm 40:3, ESV)
Missing Jewel (David C Cook) is out now
Hear Les Moir in conversation with Sam Hailes on Premier Christian Radio's 'The Profile' at 4pm on Saturday 29th April. Or listen again on the podcast