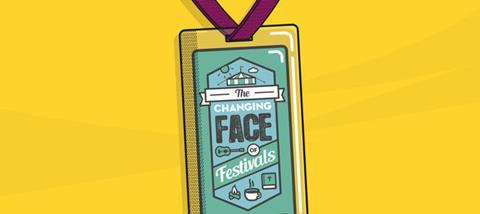 If you're in the latter camp, read on to discover some of the latest plans for the Christian festivals and conferences of 2015. Perhaps you'll even decide a change is in order this year.
THE COMMUNITY DWELLER
The Pursuit (1-4th May, Grantham) is a brand new festival specifically aimed at the 'dechurched' and 'deconferenced'; those who have lost their enthusiasm for the conventional Christian scene. It seeks to create a welcoming community feel. The chief aim of the event, which involves 65 hours of continuous worship, is to get rid of the traditional festival hierarchy and allow everyone to participate in different ways.
'Everybody pays to be there; no one is getting paid to speak or lead worship,' says joint organiser Rev Cris Rogers, of All Hallows, Bow. 'No longer do you have an: "I'm here to perform and you're here to consume from what I produce" attitude. So Rob and I who are organising, we've bought our tickets. We're expecting the whole weekend to be giving, but also to be receiving from others. It's dismantled celebrity Christian culture. It's much more people-led.
'What we're saying to people booking in is: "Are you doing anything interesting in your local church that you would like to come and share with others?" Rather than it being a hierarchy, where you come and learn from "the Yoda", it's about us all coming together and wrestling through these things.'
WE'D LIKE TO RUN A FULL FUNFAIR BUT WE CAN'T!
Those who don't feel able to lead traditional worship will be given the opportunity to present or take part in a talk. The provision of a large dining table will allow friendships to be forged over dinner rather than everyone cooking for themselves. And visitors can either book a room as a group of friends, or opt for a bed in a shared room to experience a real sense of community. There is also a busking stage that allows anyone to busk, but participants must find two people who are willing to generate the electricity by pedalling on a tandem bike.
'By being together we're offering ourselves for the weekend,' says Cris. 'It's that idea of community, togetherness; serving each other, providing for each other. So you're going to perform for us, but we're going to be on the bike generating the electricity so you can perform. It's that across the whole site.'
THE MISSIONS ENTHUSIAST
Bangor Worldwide Missionary Convention (21-29th August, Bangor) began back in 1937 and has run on an annual basis since. The vision is to raise support for missionary activity by encouraging local Christians to give financially, to go to the mission field and to pray. Despite its longevity, its organisers are committed to introducing new approaches each year to ensure that participants learn something new each time.
According to Tom Clarke, chair of the convention: '2015 will be a significant year for Worldwide', with bigger numbers expected to take part. The final night of the convention will take place at the Waterfront Hall, Belfast, which has a seating capacity of just over 2,000.
'Following our step of faith in 2011, which God blessed in a most marvellous way with a full house, we have decided that the time is right for a return visit,' he explains. 'This is an opportunity to bring Worldwide to a bigger audience on a bigger stage and further raise awareness of mission agencies' endeavours across the globe.'
One of the key focuses over the past few years has been equipping ministers and pastors to inspire their congregations about global mission throughout the year. A special seminar for ministers will take place this summer led by Rev Mark Welsh of Interserve.
Also new for this year will be seminars led by Mez McConnell, senior pastor at Niddrie Community Church, Edinburgh, on church planting in difficult areas, and by Paul Mallard, author of Invest Your Suffering (IVP), on how Christians can deal with pain and illness.
IT'S DISMANTLED CELEBRITY CHRISTIAN CULTURE
'We know of no other event in the UK with a sole focus on mission that runs for nine days,' says Tom.
THE PRACTICAL PARTYGOER
ChristCentral's Devoted festival (27- 31st August, Newark) has two new initiatives for 2015. The first will teach practical skills that people can use in their work and family lives in the form of Life Zones, which are divided into four segments: business and church leaders; family; people working in social action; and people working in public services.
'It's not exactly a seminar,' explains Paul Mogford, 'it's more about sharing information. It's about networking, it's about practical input: praying for people, giving new ideas. It's more: "As a Christian, if I'm a teacher, how do I impact my school? How do I impact my hospital if I'm working in nursing? How do I change the culture around me?"
'That's completely new for us; we've never done that before. The idea is to make it as practical and hands-on as we possibly can, so people go away with a handful of ideas. They might only apply one or two, but that's great. Particularly in business and public services and that sort of thing, it's not talked about enough.
'It's about how can we equip people, and how can we showcase what we've already got? We get a lot of theology and it's good to be able to deliver some practical stuff as well.'
The second new element is a festival vibe for the afternoons and evenings, with new activities including blog rooms, graffiti walls, indoor and outdoor sports, concerts, film nights, author events and poetry evenings.
'It's very family-orientated with lots of good teaching and lots of good fun alongside,' Paul says. 'We're creating life-sized table football and we've got an art gallery, which is new for us. We're also going to be running an arts and crafts stall at the marketplace. We're trying to promote the arts; we've got lots of artists, lots of musicians and we want to be able to showcase those. 'We've tried to go away from just a simple conference, which is really what we've done in the past. We'd like to run a full funfair but we can't!'
THE UNITY SEEKER
Finally, HTB's Leadership Conference (4-5th May, Royal Albert Hall and Hammersmith Apollo) has introduced a new theme this year to bring together believers from a range of backgrounds, from Pentecostals to Russian Orthodox.
'The theme of the conference is unity,' shares Nicky Gumbel, vicar of HTB. 'So we've got Cardinal Vincent Nichols, who is head of the Catholic Church in the UK, and the Archbishop of Canterbury [Justin Welby] together. We've got [charismatic author and speaker] Joyce Meyer and Father Raniero Cantalamessa, who's the preacher to the papal household. Again, they're slightly different traditions. That's very much the vision.' The event is also about unity between nations. 'There are going to be over 100 different countries represented there,' he says. 'There are 1,600 people coming from around the world. There are so far over 50 archbishops and bishops booked into the conference. It's about unity across the world and unity across different parts of the Church.'
The vision for the conference is threefold: the evangelisation of the nation, the revitalisation of the Church and the transformation of society. 'So the conference is designed to equip and inspire people for those three things,' Nicky adds.
The annual Christian festival classics
What they will be doing differently this year?
Sarah Yardley Festival coordinator at Creation Fest
In 2015, new twists include glamping, local farmer's markets, bands and speakers appearing for the first time ever in Cornwall, hay bale assault courses, leadership seminar tracks, art workshops and much more.
Liza Hoeksma Spokesperson for Soul Survivor and Momentum
We're running some new pop-up events for 2015 at Soul Survivor to help build community among young people and create a fun atmosphere. These include a community bonfire, an interactive silent disco, a huge water slide, and a special surprise to be announced, plus a ceilidh and Colour Chaos party in Scotland.
Terry Whittaker CEO at People Without Limits, organiser of Detling 2015
This year we'll be working even harder to create a sense of community, which we hope will foster relationships that can be taken away from the event: from practical steps to creating community spaces and through creating new 'belonging groups'.
Jonathan Lamb CEO and minister-at-large of Keswick Ministries, organiser of Keswick 2015
Several new initiatives are underway. We're developing the equipping ministry of Keswick because of the growing need to support lay leaders across the churches, with a strong emphasis on whole-life discipleship, training for church leaders, a School of Biblical Studies, and a growing young adult track…And because it's our 140th anniversary, there'll be a party atmosphere.
Sam Priest Manager of Westpoint
This year at Westpoint we will be providing even more activities, including cooking, arts and crafts and gardening to help us express God's creativity in us.
James Dwyer Head of marketing and communications at New Wine
The theme this year is 'United', as we gather the New Wine movement from across the nation to worship as one. We're bringing back the morning Bible teaching streams in all main venues. We've also got loads of fun activities across the site for all ages. We're having a fun day on the 'day off', a bigger play area for kids and a space for 20s and 30s to hang out.
Tracy Collins, event manager at David's Tent
We are excited as something new to DT15 to be having guest speaker Heidi Baker with us on the Saturday night. Heidi, along with her husband, is the co-founder of IRIS ministries in Mozambique. She carries a fierce passion to honour God's presence, love him relentlessly and spread the message of his love across the world.
Other key festival focuses for 2015
Faith Forster, founder of Ichthus Christian Fellowship, which runs Revive!
This year we are dipping into the deep waters of world issues – radical Islam, Ebola, the neglect and abuse of children – while positively drawing on the deep, deep wells of worship, word, faith, prayer, prophecy, healing and 'deep Church'.
Jo Jowett, GOfest chair
There'll be a different look to this year's event: a revamped programme with shorter, more frequent sessions to offer a fast-moving and diverse programme, and a great line-up of international speakers from places like Brazil and India. A rolling programme of prayer and worship will be led by worship leader Pete James, along with contributions from others who will facilitate effective prayer for God's world.
Tim Jupp, founder of Big Church Day Out
We'll be adding a new venue called Kingdom Come, providing a day-long opportunity to soak in God's presence through worship and prayer. To cap things off, The Big Church Rendezvous will bring speed dating to the event for the first time.
Cris Rogers, joint organiser of The Pursuit
It's 65 hours of continuous worship. That fills some people with excitement and some people with dread. The 65 hours aren't all going to be the same. One of the things we're going to be doing is starting the day in total silence, where we want to learn to worship God not by singing out but within our spirits waiting for him. We are also looking at doing nightclub worship. We're kind of doing a silent disco worship thing.