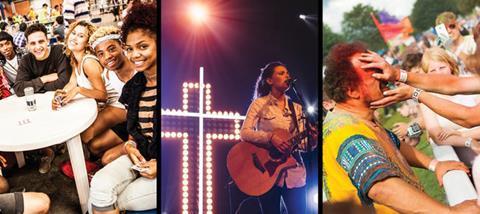 My first experience of Soul Survivor freaked me out. I grew up in a Christian home, but had never really heard of the Holy Spirit, so my 14-year-old self was utterly devoid of boxes within which to place the bizarre manifestations I saw all around me. What on earth was going on? Why were so many people laughing, crying, shaking and falling over in a big tent in the middle of a field in Shepton Mallet?
Mike Pilavachi saved the day. Soul Survivor's fearless leader calmly explained to us befuddled teenagers exactly what was happening inside that big top tent – sometimes people experience a physical reaction when God meets with them and helps them work through their "junk". Because Pilavachi was so unfazed by the weirdness, I started to relax. I later discovered he had made an amusing deal with the Almighty: God would look after the front (those who had responded during the ministry time and moved nearer the stage) while his job was to pastor the back (the confused, terrified and somewhat intrigued teenagers like me hovering by the exit).
After that first year, I never looked back. Soul Survivor became a place of significant encounter, calling and discipleship, both for me and, subsequently, for the youth groups I would go on to lead. I wouldn't be doing what I'm doing today, editing Premier Youth and Children's Work magazine, were it not for Soul Survivor's influence on my life. It was also where I first experienced a moshpit, broke a teenage boy's heart and went five days without a shower!
The youth work world was rocked when the news broke that, after 26 years, this month's Soul Survivor festivals would be their last, but respect for the leadership team's decision was unanimous. Pilavachi was clear that obedience to God was the overarching motive. He said: "We believe that God has spoken and that this is the right time for us to step aside and make space for others to rise up."
Soul Survivor is keen that this year's focus is God meeting with the 20,000 or so young people who are expected to gather, rather than on its own legacy and influence. Nevertheless, there's no getting away from the fact that thousands of lives have been touched and transformed by these events over the past two decades, and their influence will be sorely missed by many.
How it all began
In the early 1990s, Pilavachi was a 30-something youth worker at St Andrew's Church, Chorleywood. He ran the youth work at New Wine, a conference that grew out of the same church, and he was keen to develop an event specifically for teenagers, but needed a name. One friend suggested "Soul Survivor", but this was dismissed as sounding too negative. The following Sunday, a throwaway comment was made by the speaker at the front of church: "For many young people today, to live in the victory is simply to survive." The line resonated with Pilavachi and the name stuck.
Barry and Mary Kissell, who were on staff at St Andrew's, told me that Soul Survivor was very clearly "born out of the Spirit". Mike had been attending their 7am daily prayer meetings and Mary remembers that there was "something" about him. "We felt he was called for a purpose. He was very charismatic, but it was almost like there was a destiny set for him."
As Soul Survivor grew, Pilavachi resigned from leading the youth ministry at St Andrew's in order to focus on the event full-time. But he wasn't sure whether he'd made the right decision. Barry recalls a ministry trip the two of them made to France.
On the drive, Barry assured Pilavachi that he'd outgrown the youth ministry at St Andrew's and that God was raising him up for something bigger. When they arrived in France, Pilavachi received further confirmation of this. "We were praying and I saw a chap pick up a child's coat," recalls Barry. "He tried to put it on Pilavachi and he just couldn't get it on him. And then he said: 'The Lord says you've outgrown that ministry and the Lord is releasing you to a new one.'"
Not long after the festival began, Pilavachi and his team planted a new church called Soul Survivor, Watford. Worship leader Matt Redman was involved in the plant and has fond memories of the early days: "There were people who had nothing to do with church and suddenly Jesus was on their radar for the first time. Some of these kids came from really broken backgrounds and they were nurtured, cared for, inputted into. It felt like such an adventure. It was all hands on deck. I look back and think: 'That was so brilliant.' There's something about becoming a Christian and being able to put your hand to work straight away– you get trusted to run with things in the kingdom, you get to lead this or that thing. I think that's a brilliant way of discipling young people."
Growth
As Soul Survivor became more popular, additional weeks and locations were added. Soon its fame was spreading beyond the UK. Barry had a vision about this early on at New Wine. He saw hundreds of young people "coming from every country you can imagine...Suddenly I began to cry and saw what was going to happen – this was going to be international, it would touch all the nations of the world."
Testimonies of salvation and healing poured in. Stories of ardent atheists repenting and Christian teenagers coming under the power of the Spirit were commonplace. Worship leader Beth Croft recalls: "A girl came up to me and said: 'A year ago I was at Soul Survivor. I was worshiping and something changed inside me.' She had self-harmed for years and from that moment on, she never self-harmed again. She was prayed for and her scars all disappeared."
Often the stories surprised even experienced Christian leaders. Pastor Chris Lane, who has accompanied many youth groups to Soul Survivor over the years, recalls one encounter that messed with his theology: "One of my non-Christian youth, let's call him Sam, was getting prayed for by a 16-year-old. I went to pray with them and this 16-year-old started praying in tongues. Later, I asked Sam if he was all right. He said: 'It was good, but then he started speaking in this language I didn't understand.' I was about to try and explain tongues, but Sam said: 'After a minute, I could understand everything he said! God was talking to me about my future and that he would always be with me and love me." Initially Lane questioned how a non-Christian was able to interpret tongues. "That was when I realised God wasn't that bothered about my theology, he just loves our young people and it doesn't matter how he does it!"
____________________________
Teenage atheist
"Adie was 16 and an ardent atheist. She was very intellectual and knew all the reasons why God couldn't possibly exist. At the last minute we managed to persuade her to come to Soul Survivor. On the first night, Mike called forward anyone wanting to become a Christian. Everyone looked at her and she was like: 'I'm not doing it.' The week went on and during one service Mike said: 'I think there are a few people here who want to give their lives to Jesus.' She grabbed her friend and was up the front giving her life to Jesus. She was completely transformed in that moment. Before she was hard, rebellious and quite difficult to manage. She became this softer, peaceful person. Over time she was able to give up the drinking, smoking and drugs and she stepped into leadership."
Ali Etheridge, youth pastor at St Paul's Salisbury
____________________________
Worship
A host of well known worship leaders were first given opportunities to lead at Soul Survivor, including Beth Croft, Tim Hughes and Matt Redman. Mary remembers when Redman was a young person at St Andrew's, Chorleywood: "He was quite a poet and would often bring a poem and it was incredibly moving. He had such an anointed gift with words. He began in a very lowly way to lead worship occasionally. He felt the Lord call him to write worship songs. And then he began to lead worship at New Wine and Soul Survivor. His songs were very popular. The young people loved them."
Croft says worship is the "main event" at Soul Survivor: "The talks are incredible and we need that feeding of the word of God, but more than anything we want people to encounter the presence of God and we see that primarily happening through worship. The Bible says: 'Where the Spirit of the Lord is, there is freedom' [2 Corinthians 3:17] and there's something about worship that ushers in the presence of God. We see chains breaking off people who aren't even being prayed for."
This was my husband, Will's, story. He loved church as a child, but at ten started smoking, fighting and disrupting the other kids in his youth group. He was eventually kicked out of the group, but was later invited to Soul Survivor as a teenager. He refused to go to any of the sessions and spent his time skating, smoking and chatting up girls. He missed curfew two nights in a row, returning to his tent with different girls. Will was on a final warning from his youth worker who threatened to send him home, when he was pulled into the big top. He stood at the back while Tim Hughes led worship and was initially completely disengaged, but, within minutes, he was overwhelmed by a sense of peace and realised God loved him and wanted to be close to him again. In that moment, Will sensed God telling him to learn the guitar, so he bought himself a Soul Survivor songbook and taught himself with his dad's old guitar.
Years later, Will would go onto complete an internship with Tim Hughes and is now working as a musician and worship leader for a church in London. Hughes says: "One of the beautiful things about Soul Survivor is that as Mike and the leaders created space, God did miraculous things. Will's story being one of them – possibly one of the most miraculous examples of opening someone's eyes to Jesus."
Mission
When I interviewed the pioneer of the Alpha course, Nicky Gumbel, he spoke of Soul Survivor with great admiration, calling it "one of the most remarkable works of God that we've seen in our generation". Gumbel recounted the countless ordinands he has met who came to faith through the summer festivals, and said: "I think no one has done a better job of reaching young people who aren't in church than Mike Pilavachi at Soul Survivor."
Soul Survivor has always provided opportunities for young people to become Christians at the event, with an estimated 1,500 people making commitments each year, but it has also enabled young people to go on mission themselves. In 2000 Soul Survivor and The Message Trust, a Christian organisation that shares the gospel with the hardest-to-reach young people, collaborated on a project that saw 12,000 youth evangelistically equipped to take to the streets of Manchester for two weeks of mission. They were called to bless and serve the community through 400 different projects, cleaning graffiti, painting houses and washing cars. There was a big celebration at the end of each evening – with a gospel presentation and worship – which non-believers were invited to. The idea was to practically demonstrate the good news, and not just talk about it. Andy Hawthorne, founder of The Message Trust, says: "Pouring out that love alongside preaching the gospel was transformational for the city of Manchester and the Message as a ministry."
This was followed up in 2004 with 20,000 young people descending on London for two weeks of mission for Soul in the City. The following year, Soul Survivor joined forces with Tearfund to launch Soul Action, focusing on fighting poverty and injustice, and in 2009, Soul Survivor took 350 young people to Durban, South Africa, to serve churches and projects working with the vulnerable and marginalised.
Soul Survivor has birthed a host of associated ministries (each beginning with the word Soul, obviously). These include programmes designed to support young women (Soul Sista), equip emerging church leaders (Soul61) and encourage and resource youth workers (Soul Net).
____________________________
Soul Survivor bloopers
Durban disasters
"I went to Durban with Soul Survivor. That was when I decided God had called me to be a missionary. Mike took us to a steakhouse he said was the best in the whole of Durban. It gave me food poisoning and I was sick all night! Later that week I was wearing my Burnley shirt because Burnley had beaten Man United (Mike is a United fan). He came and sat on me during a debrief and it broke the chair underneath me!"
Dan Randall, youth evangelist
Cheeky 'research'
"One of the young people in my group got a hi-vis jacket, a video camera and a clipboard and went around asking girls what they thought of Soul Survivor. He got them to write down their name and phone number so he could text them afterwards to see if it was OK to use their stuff in an interview. Of course he had just done it to get their numbers!"
Rev Ali Etheridge, youth worker
Trouser trouble While playing in the band The Tribe, Lindz West played a prank on his wife's band: "We were going offstage and Blush were going on and they do a costume change in their set. So we stapled together the bottom of the trousers they were changing into. They had 30 seconds to get out of their gear into these all-in-one boiler suits and they were hopping about because we'd stapled the bottoms together! They went on stage half-dressed and we were crying with laughter!"
________________________________
Soul long
Chris Lane, who is a Soul Survivor trustee sums up some of what makes the festivals so great: "Mike's courage is in not being worried about looking like a fool, but to just wait and see what God does in silence with 10,000 teenagers in a tent. He is authentic– not trying to be cool or relevant but loving young people – and the heart of it is just this pursuit of God and the experience of the Spirit that transforms people and sets them free."
When I ask Lane what his hopes are for other Christian youth festivals taking up the mantle, he replies with a story about a large tree he removed from his garden. He says: "I hope that as God brings Soul Survivor to an end, it creates space for all these other things to flourish. My hope is that new songs are written, new leaders emerge. There's space for stuff to blossom. The seeds that Mike and the team have sown, you will see them flourish like never before."
The festival is coming to a close, but the church Soul Survivor, Watford, will continue and the team are praying for the movements that spring up next – that they would flourish and reach young people they never dreamed of reaching. The three festivals the Soul Survivor team are recommending for 2020 are Elim's Limitless, a new event in Scotland run by Scripture Union and Powerpoint and Vineyard's Dreaming the Impossible. There are plenty of other options too – check out youthandchildrens.work for more details.
I'm not going to lie, I cried when I heard the news about Soul Survivor. Where will my future kids get simultaneously freaked out, inspired, sunburned and walloped by the Holy Spirit? But I trust that God is in charge. And while it's right that we celebrate the incredible legacy of Soul Survivor and honour those who paved the way in setting up this life-changing event, we must also remember that this is not the end. As God clearly reminded the team at Soul Survivor: the young people are his, not ours.
Wondering where to send your young people next summer? Request a free copy of the latest issue of Premier Youth and Children's Work, which contains details on what's on offer from 2020.
Enjoyed that? Get more articles covering news, culture, faith and apologetics in every print issue of Premier Christianity magazine. Subscribe now