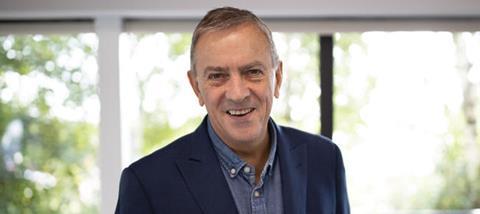 Rob Parsons OBE tells me he sometimes feels like a "rubbish Christian". Perhaps it's honesty like that, more than anything else, which has made him one of the most well-loved and respected Christian communicators in the UK today. The former lawyer has sold thousands of books, including The Sixty Minute Father (Hodder) and The Money Secret (Hodder), and is known as an expert on family issues, but he's as friendly, relatable and down to earth as he has ever been.
Parsons the pastor is also gentle and encouraging. These qualities stand in stark contrast to the attitude of his school teachers who, in one school report, said: "He is making no use of what little ability he has." Parsons grew up in relative poverty in South Wales, but at 19 was offered the opportunity of a lifetime when a lawyer at his church offered to pay his way through law school. His father poured cold water on the idea: "Son, people like us don't become lawyers."
Parsons proved his father wrong, becoming a senior partner at one of the biggest legal consultancies in Britain. He credits another local Christian, Arthur Tovey, for instilling a sense of confidence in him as a young man. Tovey told him that he was loved, there was nothing to prove, and that God had given him unique gifts. Important messages for any young person to hear and take to heart.
The Care for the Family founder has learned as much during times of sadness as he has success. When his wife's immune system crashed shortly after the birth of their second child, it ushered in "years of darkness" for the couple. Watching Dianne suffer with a depressive illness was challenging for the pragmatic lawyer used to fixing things. Together, they started a small group called The Strugglers. "We said: 'If you've lost your faith, or you've got a bit of emotional bruising, or you think you can't cope any more, or you have no faith – come.' People crowded to get into that home, and all we had to share with them was our weakness. I began to discover the power of vulnerability. You don't have to have all the answers, you just have to love people and be open. And I saw what that could do to people; I saw you could change people's lives just by letting them know they weren't on their own."
The Strugglers is just one of 90 stories that have graced the pages of Premier Christianity. Parsons has been a regular columnist for 15 years, and his spoken communication has proved equally popular – he has addressed more than one million people through talks and sermons on all sorts of topics. And during our interview, the 71-year-old revels in doing what he has always done best: telling stories.
Where have your ideas for the column come from?
Oh, do you know, I wish I could say they came directly from heaven, but...! It was said of one author: "He didn't have an unpublished thought in his head", and sometimes I feel a bit like that.
I was brought up in a little Brethren Assembly and I was told the cardinal rule of preaching is: "The illustration must always be subservient to the text." I don't think I believe that now; I believe that when you find a fantastic story, you sometimes begin with the story, and there'll be something of Godin it. And I think Jesus taught like that. So I keep my eyes open for things.
Tell me about growing up in Wales. I understand that there was no hot water or plumbing in your house?
Yes, at the time it seemed pretty normal, because everyone in the street was the same. Mum was an office cleaner; Dad was a postman. We had no inside toilet, no running hot water, no inside bathroom, no toilet paper. But the incredible thing is, I didn't feel poor. We had enough to eat, you know, life was OK.
What made your parents send you to Sunday school, given they weren't churchgoers themselves?
One day, Miss Williams from the little gospel hall on the corner of our street knocked on our door and said: "Would any boys or girls in this house like to come to Sunday school?" My mother said: "He'd like to go." And Miss Williams took my hand and led me into the world of Sunday school. I often say now: "You don't have to be young to be a great youth leader." She never got married or had kids of her own, but I think she had hundreds of children. You know, Sam, it's kind of 'in' to knock our roots – to make fun of them – their legalism and their silly rules and regulations. But in truth, they loved me; they cared for me, and that experience of being in that little Brethren church changed my life.
Can you pinpoint a particular moment when you became a Christian?
When I was 12 they used to take us boys to a summer camp on the Gower. I remember kneeling in a muddy tent and giving my life to Christ. And then I kind of fell away, but an older man from our church called Arthur Tovey came up to me and said: "Rob, we're having a little Bible study next Wednesday in my home, would you like to come?" Arthur and his wife were poor; they lived in two rooms in his mother's house. He'd never passed an academic exam, he had no understanding of theology – but he loved kids. And they made us feel special.
He taught us the Bible for 25 minutes, and then he erected a table-tennis table with two bits of hardboard in this tiny room, and we played ping-pong. And with what little money they had, they bought us fish and chips. They made you feel like a king. Whatever teachers said about you Arthur told you God had given you gifts and you were special. And if you missed a class, he'd come hunting you down...I think those people changed my life.
It sounds like a wonderfully uncomplicated way of doing children's ministry.
I do find this quite a dilemma, to be honest, because I am a big believer in youth programmes. I think parents tend to give youth leaders a hard time, because they want them to do in one night a week what they've not managed in 16 years. Nevertheless, sometimes you come across a little church that has 'got it all wrong' –there's no youth programme, but the young people feel loved; they feel part of the family.
You had a remarkably successful legal career but left it behind to start Care for the Family. How did that come about?
By the time I was in my mid-30s, I was doing pretty well financially. And I thought: I'm going to use this bit of success to buy me the most precious asset of all – choice in what to do with my time. I decided to leave the legal practice...But it was a pretty sobering experience: one minute I'm a senior partner; I buzz and somebody makes me a cup of coffee – next I'm licking my own stamps and nobody is returning my phone calls! But it was a fascinating journey; Dianne, of course, was very much part of that with me.
How did you meet Dianne?
I met her one night after church on a street corner – we smile when we say that! She went to the little gospel hall that I did, and she said to me: "Would you like to come home with me one night and do a Bible study?" so I said: "Yes, sure."
That's a pretty spiritual first date!
I don't think we did a great deal of Bible study that night! But yes, we were 15 and 16 years old, so we've been going out for a long time.
Looking back now at 30 years of Care for the Family, what are you most proud of?
A woman came to one of our very first marriage seminars, and she wrote to me shortly afterwards and said: "Rob, this day was our last hope. We've been married for 14 years, my husband had an affair, I couldn't forgive him no matter how sorry he said he was. But as I listened to you and you talked about God's forgiveness, I thought, if possible, I want my kids to have a mum and dad. And I'm going to try again." And she said: "We held hands that day, and we cried together, and we laughed together a bit." And then she put at the bottom: "PS Here's to the next 14 years." Ten years later she sent me a photograph of her and her husband and two teenage kids. Then years later, she sent me an invitation to their 40th wedding anniversary.
I got our small staff together and I said: "You may not believe what I'm about to say, but I'd have done it all –all the speaking, all the writing – just to see these two kids with their mum and dad."
I often think of that woman. Was forgiveness easy for her? No. Did it mean she didn't sometimes feel sick when she thought of what had happened? No. But somehow that day was a key that allowed her to begin again, and it changed their lives.
The Daily Mail once described you as "the man who reinvented fatherhood"– is that how you'd like to be remembered?
No, I don't think so! My kids were falling over laughing at that title!
You've written many books. Which one are you most proud of?
If you said to me I could only write one book, I think it would be Bringing Home the Prodigals. Everybody has a prodigal – a brother, a sister, a husband, a wife, particularly a child. Shortly after I wrote that book, a woman wrote to me. She said: "My daughter left when she was 18 years old; she turned her back on us and God. We didn't see her for six years; we didn't know whether she was alive or dead. And as we put the lights out at night, I'd say to my husband: 'Darling, leave the porch light on.'" And she said: "Every Christmas I'd put a little Christmas tree outside the door, just in case she might see it, as we used to when she was a little girl. And Rob, when she was 24 she came back to us and to God. She said: 'Mum, I was too ashamed to come home, but I wanted to come home. Some nights, in the early hours of the morning – two or three o'clock in the morning – I'd drive into our street and I'd sit in my car, and every house was dark apart from our house. I knew you'd left the light on for me. And I'd look at the little Christmas tree, and knew you'd put it there for me.' And I've said to parents all over the world, don't ever give up hope; keep on praying, always leave a light on.
What's your message to parents who are longing for their children to come back to faith?
First of all, you have to deal with the guilt, which is so often misplaced. Most parents have given parenting their best shot. I have parents say tome: "If only we'd had daily devotions with our kids", and others say: "If only we hadn't had daily devotions, perhaps we shoved the faith at them too much" – all those "if onlys".
Adam and Eve had the perfect father and the perfect environment and yet they went a way God didn't want them to go. Most of the Bible is God, the perfect parent, saying to children: "How come you went a way I didn't want you to go?" Number one, lay down the guilt.
Secondly, I think you have to realise that some of our prodigals are not as far from God as we think. A couple came up to me, and they were crying. They said: "Our daughter is a prodigal; she lives in a town 500 miles away; she's 21 years old." I said: "Tell me about your daughter – is she a good friend?" "Oh, she's a wonderful friend." "Does she care for the poor?" "Oh, she's wonderful. In fact, she helps in a homeless shelter once a fortnight." "Do you think she ever prays?" "Oh, I'm sure she sometimes prays." "Well, she's not doing too badly, is she?" "No, I know, but she doesn't go to church." "I know, and I'm sorry about that; I go to church every Sunday – I believe in the local church. But sometimes you have to see God at work in other ways, and sometimes do what we tell parents to do with their testing children – catch them doing something right. 'Darling, I'm proud of the work you're doing with the homeless; darling, you're such a great friend.'"
But ultimately sometimes our kids break our hearts, they do walk away from absolutely everything, and then I think all we've got left is prayer. And sometimes you literally have to leave them at the foot of the cross.
What is your assessment of family life in the UK now, compared to when you started? Have things got worse?
There's a fascinating verse in the book of Ecclesiastes, it says: "Do not say, 'Why were the old days better than these?' For it is not wise to ask such questions." And sometimes I think that, when we look back on what we perceive as a golden age of the family.
How has technology disrupted family life?
What we're discovering is the use of technology isn't just a problem for kids; the major problem is the parents. Lots of kids say: "We can't get our parents' attention." Katharine Hill [director for Care for the Family] talks about being outside a school when a little girl ran up with a painting for her mum, but in the end she gave up trying to show it to her, because Mum couldn't get off her mobile phone.
We're more connected than ever, and yet the stats are pointing towards an epidemic of loneliness...
Dianne in her new book talks about a phone call we had some time ago at home. We were in the middle of watching something – probably Strictly, I don't know, I was sleeping– and the phone went and I heard her answer: "I'm sorry, you've got the wrong number", and then she kept talking for about ten minutes! And I said: "What happened?" And she said: "It was an old lady on the end of the phone, and she said to me: 'Oh, my darling, don't hang up. You're the first person I've spoken to this week.'" And you sensed that woman dialled random numbers, hoping to find somebody who would talk to her.
Your most recent book is Let Me Tell You a Story: The Best of Rob Parsons. Isn't it a bit early in your career for a 'best of'?
A bit early in my career! It was worth doing this interview, just to have somebody say that to me!
Do you know the annoying thing about that book, Sam? There are 49 stories in it – why on earth didn't I put 50 in there? Could I not think of 50!
These are stories I have loved telling down the years. Do you know, a funny thing about stories– sometimes I'm telling a story, and the audience are telling it with me. They know the next word – I've told these stories so many times! But people still seem to say: "I love it! Tell us that one..." I suppose it's like going to a rock concert and listening to your old favourite songs…
Do you ever wonder what your life would look like without any form of faith?
It's a fascinating question, and I've given almost no thought to it, which probably is not a good thing. I often feel a rubbish Christian, and I've got doubts and fears – but every good thing I've had in life has come from knowing God. I honestly believe that what my relationship with God gave me was a belief that I was loved; there was nothing to prove; that I had gifts.
We lack wisdom today; we've got lots and lots of brilliant minds, but we lack wisdom. And I get on my knees every morning and say: "God, help me, give me wisdom for the day." And so I dread to think, to be honest, what my life would have been like. But I thank God, honestly, for today.
What do the next few years hold for you?
People always ask me: "When are you going to retire?"
That's not what I said!
No, I know! I don't have that title of CEO now; we have a leadership team who run Care for the Family.But if I retired, Sam, I'd speak and write. And frankly, I am going to keep going as long as I possibly can. So the next five years – I think it will be more of the same, really! I'm working on a book at the moment on public speaking, and we're running a seminar called The Heart of Communication. And it's not that I think I'm the best public speaker in the world, but I've watched some of the best public speakers in the world, and I've learned some lessons myself; I think I can share those with some people.
All that to look forward to...
Before I go, can I honestly and from my heart thank you for those years of writing for Premier Christianity. I have loved doing it; I respect what you do; I love what you do. And it has been a great, great privilege for me over those years to write for you. Thank you.
To hear the full interview listen to Premier Christian Radio at 4pm on Saturday 12 October or download The Profile podcast
Enjoyed that? Get more articles covering news, culture, faith and apologetics in every print issue of Premier Christianity magazine. Subscribe now