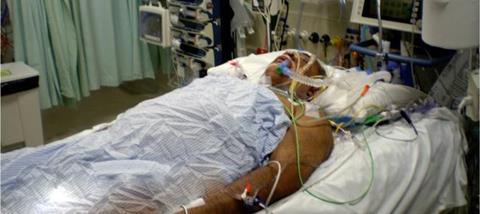 I have been working as a consultant physician in the regional town of Kalgoorlie Boulder in Western Australia for many years. In addition to a sizable Caucasian population there is a large Aboriginal population who have many medical illnesses.
As a regional physician and head of department of medicine it is my responsibility to ensure there is access to specialist services not only in the town we live in, but in the Goldfields Esperance region. I was returning from one such clinic where my story begins.
Disaster strikes
It was Friday 24th October 2008 and I had just run a medical clinic in Esperance, on the southern coast of Western Australia. I had only been back in Australia five days, after running free clinics in Vanuatu for local villagers. As I drove the 400 kilometers back to Kalgoorlie with my intern, I started to feel a minor discomfort in my chest and a bit hot.
About 50 kilometers from Kalgoorlie I passed through a small town called Kambalda. I was still feeling quite uncomfortable so I called my wife, Sherry – also a doctor – and described my symptoms to her. She suggested since I'd come so far already, that I continue straight back to Kalgoorlie as I had intended. But after I hung up I was overwhelmed with the sense that I needed to get to the small medical clinic in Kambalda urgently.
Since my friend Dr Rao who worked as the GP in Kambalda Health Center was at lunch I asked the nurses to perform an electro-cardiogram (ECG) on me. At the end of this Dr Rao still hadn't returned to the clinic so it was up to me to interpret the readings. I was shocked to see that I was having a heart attack! Dr Rao, Dr Kanwal (my intern) and the nurses commenced treating me with the small selection of drugs and pain killers on hand.
Just eleven minutes after the ECG, with the pain in my chest becoming unbearable and no analgesics providing relief, my heart completely stopped. Over the following 70 minutes the team in Kambalda worked with paramedics and emergency physicians from Kalgoorlie who fought bravely to save my life.
I was in refractory Ventricular Fibrillation (when the heart quivers instead of pumping blood) for 48 minutes, during which I received 13 electrical shocks and CPR. During 1 hour and 10 minutes of having had 13 electrical shocks from a defibrillator, and over 4 000 cardiac compressions, they all agreed to stop CPR and all life support measures except oxygen to the lungs. My wife had travelled to Kambalda with two of my colleagues arriving about ten minutes later. The senior physician gave Sherry the terrible news: I was gone and she could go in and say goodbye.
When the blood supply is interrupted to the brain for three minutes the brain cells begin to die, after 20 minutes the organ is completely dead – this is why CPR is rarely performed for more than 20-30 minutes. Studies show even with high quality CPR the neurological outcome is very poor after prolonged CPR over 30 minutes. Had I been performing CPR on another person in the same circumstances I would have stopped life support as well.
A desperate prayer of faith
Sherry entered the medical centre and saw where my body lay, but in faith she did not give up hope. My wife and I share a faith in Jesus Christ as the Almighty God and taking my hand in hers, she offered a simple, silent prayer: "Lord Jesus, Sean is only 39, I am only 38, we have a 10-year-old boy, I need a miracle". Immediately, my heart beat came back even though I had been dead for 1 hour and 25 minutes.
I was still unconscious and my pulse was extremely weak, so I was transferred to Kalgoorlie Hospital and then onto Royal Perth Hospital. Cardiologists operated to clear an extremely blocked right coronary artery, using a stent and balloon pump to support my heart. The attending physicians were extremely doubtful I would survive at all, let alone wake from my coma with any brain function. The heart attack had also damaged my liver and kidneys.
In the following days my recovery astounded all the staff treating me. Late on Sunday night, just over 2 days since the heart attack, I opened my eyes momentarily. My wife saw me but the physician treating me refused to believe her when she told him. But all doubt was removed on Monday when I started moving my hands and feet, and by Wednesday I was completely conscious. Not only could I talk, see and move, I read my charts and monitored my own recovery. Two weeks later I was discharged from hospital and within three months I had returned to full-time operational duties at Kalgoorlie Hospital.
'God saved me for a reason'
On reflection now, I think God saved my life from complete and certain death to teach me some important truths. Jesus Christ really is the Creator God, the giver of life, the accomplisher of impossible things, and he responds to the humble prayers of his servants. Also, eternity is only a breath away for us all, and what really matters is our relationship with God. We are only pilgrims on this earth, life is temporary, what matters is eternal.
I believe I am only alive because God has done an amazing miracle. This happened for the glory of God and I can take no credit for any good thing that has happened to me.
There aren't many well documented cases of patients being clinically dead for so long, returning to life with their memory perfectly intact and without any neurological problems at all. Medically this is impossible; it could only be done by God. This is just a brief synopsis of a much larger story. The purpose of this website is to go into more detail about my story and to put all the documents and evidence online for everyone to see. If you have ever wondered if the miracles of the Bible really happened, if you are sceptical by nature and you want to find the truth for yourself then review the evidence, here.
How valuable is your life? Jesus Christ loves you and wants to be your Saviour. He died on the cross to take away your sins and mine. Whether you live tomorrow or die, with Jesus in your life you're promised an eternity in heaven. Why not ask him into your life today?
I hope my story will encourage you in your journey, and one day I'll see you in heaven too, along with Jesus. May God bless you as you follow Him.
Dr Sean George is a Kuwait born Australian of Indian ethnicity. He worked as a consultant physician both in India and Malaysia, before emigrating to Australia in 2006. He was awarded the Fellowship of the Australasian College of Physicians (FRACP) in 2009 and now works as a full-time consultant physician and head of the Department of General Medicine, at Kalgoorlie Hospital, a rural outback country town in Western Australia.
Sean will be sharing his story at the North West Miracles Conference in Washington State 30 March, hosted by Premier's Justin Brierley
Enjoyed that? Get more articles covering news, culture, faith and apologetics in every print issue of Premier Christianity magazine. Subscribe now