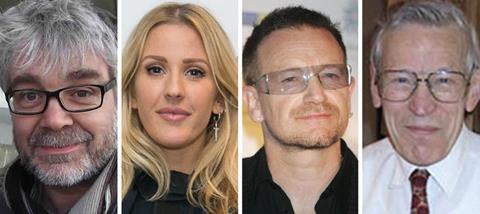 VALERIO HONOURED
Ethical jewellery pioneer Greg Valerio has been awarded an MBE in the Queen's New Year's Honours list for services to Fairtrade Gold and artisanal gold-mining communities in South America and Africa.
BONO PRAYS WITH PARIS BAND
The frontman of Eagles of Death – the band who were performing at the Bataclan theatre in Paris when terrorists attacked – has spoken of how Bono prayed with him over the phone after the incident.
GOULDING FIGHTS HOMELESSNESS
Singer Ellie Goulding has been named the first-ever patron of a Church Army project which looks to support women experiencing homelessness in London.
FAREWELL TO MUCH-LOVED EVANGELICAL
Tributes from biblical scholars around the world have been paid to Professor Ian Howard Marshall who has died at the age of 81. He was professor emeritus of New Testament at the University of Aberdeen.
Andrew White joins Barnabas Fund as patron
Canon Andrew White, often referred to as the 'Vicar of Baghdad' has been appointed as patron of Barnabas Fund.
He is currently vicar of St George's Church, Baghdad, the only Anglican church in Iraq, although he was forced to leave in November 2014 when fears for his security grew. Religious freedom and anti-slavery campaigner Baroness Caroline Cox has also been appointed as patron of Barnabas Fund, while Lord Reading has moved from patron to chair of the board. The restructuring of the Barnabas Fund comes in the wake of a year of controversy concerning the charity's founder, Dr Patrick Sookhdeo. Sookhdeo was found guilty of sexual assault and intimidating witnesses in February 2015 and has since served a three-month curfew. He was rearrested late last year on suspicion of indecent assault and released on bail pending further enquiries. Barnabas Fund has confirmed that Sookhdeo has now resigned from all roles within the organisation.
>
Mark Driscoll plants Arizona church
Controversial ex mega-church pastor Mark Driscoll is planting a new congregation in Phoenix, Arizona.
Papers published on patheos.com show that his new church will be called The Trinity Church. A launch date is yet to be announced. Driscoll stood down from leadership in his previous church, Mars Hill in Seattle, in October 2014 following accusations of plagiarism, bullying and abusive behavior. In a later interview with Hillsong's Brian Houston, Driscoll apologised for his previous comments about women and for publicly criticising other pastors.