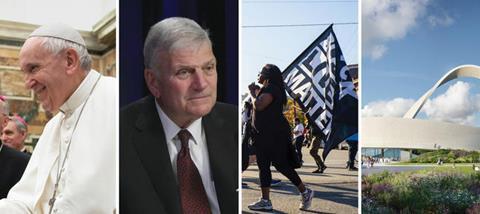 The Collins English Dictionary has declared 'lockdown' the word of the year. It's fair to say it had tough competition. Coronavirus, pandemic, social distancing, self-isolate, furlough…I could go on. The impact of the pandemic on the Church has been well-documented – not least in the pages of this magazine, but this year has also seen plenty of other important headlines. Here are some you may have missed.
Sex continued to dominate the news agenda
Although there are still question marks regarding the accuracy of the translation, Pope Francis appeared to suggest a softening on the issue of same-sex relationships. "Homosexual people have the right to be in a family. They are children of God," he said. Progressives interpreted this as an endorsement of civil unions for gay couples.
Meanwhile, in the Church of England, the year began with criticism over a statement from the House of Bishops that said sex was only for married couples, not those in civil partnerships. And the year ended with a commitment from the Church to embark on an 18-month journey of listening to different views. Once that's over, a vote will be held at its governing body, General Synod, which could result in a change to Church teaching.
The religious freedom stories kept coming
US evangelist Franklin Graham experienced fierce criticism ahead of his planned UK tour, leading to all of the venues cancelling his bookings. Speaking to Premier Christianity, Graham apologised to those who accused him of being homophobic. "I don't know what they've heard or what they've experienced, but I would certainly apologise to anyone who feels that I am against them, or hate them," he said. The preacher did, however, begin legal action against the venues who reneged on their contracts.
Also heading to court were the organisers of the Surge conference who had a venue booking cancelled after they invited US speaker Larry Stockstill, who was criticised for perceived anti-gay comments. Glasgow's Destiny Church, which was set to host the event in a public building, claimed the outcome of the case would affect every church in the UK.
Elsewhere a civil order was given to street preacher Mike Overd restricting his evangelism in Somerset. Also in the South West, there were calls for Pastor Josh Williamson, who is originally from Australia, to be deported for comments he made on Facebook welcoming the cancellation of a local gay pride event.
The Church lost some great servants
In 2020 we saw the passing of some giants of the faith. Esteemed Bible teacher David Pawson died at the age of 90 in May after battling a number of health conditions. During his career, he authored 81 books including Unlocking the Bible (Collins) and Once Saved, Always Saved? (Hodder & Stoughton), and produced more than 300 teaching videos. In the US, evangelist Morris Cerullo died aged 88 from pneumonia. His website claimed he had trained 5 million ministers during his career. Bishop Harry Jackson, the US megachurch pastor and adviser to Donald Trump also died, aged 66. Just weeks before he'd been at the White House for an event celebrating the appointment of Supreme Court judge Amy Coney Barrett.
Back in the UK, tributes were paid to Christian blogger Zoe Powell who died in a car crash in Oxfordshire along with three of her children.
TV's Bobby Ball, most famous for his double act 'Cannon and Ball', died aged 76. Speaking to Premier Christianity, his friend and biographer, Chris Gidney, said: "He was just like a stick of Blackpool rock – you break Bobby and the word Jesus runs all the way through the middle!"
Tributes were also paid to renowned evangelist Ravi Zacharias following his passing. He'd been battling cancer. While his writing and speaking on apologetics was sought after, his legacy has been overshadowed by resh allegations of sexual immorality. His organisation RZIM said it "believed them to be false" and has launched a full investigation.
We were reminded that wrongdoing in leadership is all too common
CEO of the Acts 29 church network, Steve Timmis, stepped down following accusations of bullying. He also gave up leadership of Sheffield's Crowded House church. An investigation into his behaviour found that members of his congregation had experienced significant emotional and psychological harm thanks to patterns of bullying and intimidation.
Canon Andrew White, known as the 'Vicar of Baghdad', came under the spotlight after the Charity Commission revealed mismanagement at his new organisation, Jerusalem Merit. It later emerged that he has been banned from senior management positions with any UK charity for twelve years after a separate investigation uncovered failings at another charity he founded. Jerry Falwell Jr, another of Donald Trump's faith advisers, resigned from his position as president of Liberty University, a prominent evangelical college in the US, after allegations of sexual misconduct. He later filed a lawsuit claiming unfair dismissal.
Carl Lentz, known for pastoring popstar Justin Bieber and for having a huge social media following, was sacked by Hillsong Church after it emerged he'd had an affair. He'd been leading Hillsong in New York. The church group said it was confident after a time of rest and restoration that God would use him in another way outside of the church network.
George Floyd's death provoked an overdue conversation
Following the death of George Floyd and subsequent Black Lives Matter protests, many white church leaders announced their intentions to listen to the concerns of BAME congregants and educate themselves on the issue of racism. While much progress has been made, it wasn't all good news. Hillsong London pastor Gary Clarke was criticised for not addressing the issue of racism. In his online sermon, he said: "For me to be railing as a pastor about something that's going on in another country, I'm not really sure that's going to help anyone." After a significant kick-back on social media, he apologised and committed to providing a space for discussions around the area of race. There was also an apology on this issue from Sheffield's Hope City Church pastor Dave Gilpin. He resigned after admitting he had tried to make his church more appealing to white people because fewer white people were attending services.
In the US, sought-after author and speaker Louie Giglio said sorry for suggesting people were missing "the blessing of slavery". There was also an apology from the Church of England after ordinand Augustine Tanner-Ihm was turned down by a parish that felt he wasn't "a match" with the white working-class community there.
And finally…
There were reasons for hope in 2020, too! We saw the green light given to the Eternal Wall of Answered Prayer. Work will begin on the huge monument, which will dwarf the Angel of the North, next year. Each brick will represent a prayer that has been answered, with Christians being encouraged to use this opportunity to share their stories.
As terror attacks drew concern across Europe, we also saw different faith groups uniting. In the southern French town of Lodève, Muslims stood guard around the cathedral to show solidarity and to protect the building.
In Thailand, amazing pictures emerged from a huge outdoor event where more than 1,400 people were baptised in a single day. Mission organisation Reach a Village, which hosted the celebration, claimed revival was taking place in the country. "I think God is doing something very special," president Robert Craft told Premier Christianity.
Get more articles covering news, culture, faith and apologetics in every print issue of Premier Christianity magazine. Subscribe now for just £4.95/month