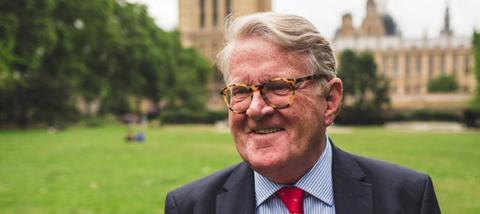 John's Gospel records how Jesus was full of both grace and truth. Since then, you could argue that we, his followers, have often tended to exhibit one of those virtues at the exclusion of the other. Some will boldly proclaim the gospel, but do so in a manner completely devoid of compassion, while others seem to think that showing grace necessitates condoning wrong behavior.
If anyone has come to understand the need to be full of grace as much as truth, it's Lyndon Bowring. As I chatted at length with him about his experience campaigning on hot topics such as abortion, human trafficking and sexuality, I realised Bowring has changed his mind on what acting "Christianly" means when it comes to standing up for truth. To my surprise, he even admitted that campaigning alone cannot win hearts. What is needed instead, he argues, is "compassionate caring". This seems to be a lesson he's learned in more recent years – speaking of his organisation's past attitudes towards homosexuality, he admits: "We were harsh in those days, there was little compassion…I think we've changed our attitude."
Bowring has been chairman of CARE since 1983. The organisation, which stands for Christian Action Research and Education, traces its origins to 1971's Nationwide Festival of Light when 35,000 gathered in Trafalgar Square – still the largest public gathering of Christians on record – "to stand for God's righteousness and grace". Bowring, an Elim minister and prolific preacher, was there. He says the event took place during a time when many were lamenting changes to British law brought about by the sexual revolution. Church attendance had declined, society had become more "permissive" and so Christians had come from all over the country to make their voices heard.
Today, CARE continues to campaign on family issues, but its remit is broader than ever: organ donation, artificial intelligence and gambling have all been dealt with by the charity in recent years.
Taking a countercultural stand on divisive issues has meant that both the 71-year-old and CARE have been on the receiving end of some negative press. But inside the Christian community, Bowring's reputation is one of a bridge-builder. He's been highly influential when it comes to encouraging unity among evangelicals, and, during our hourlong conversation, he's at his most comfortable when praising and honouring others. His humility left a lasting impression on me.
Tell me about life growing up in Wales.
I grew up on a council estate. When I came to London as a student and talked about my parents' estate, my friends thought of another kind of estate. One friend said to me at half term: "Can I come down and see your parent's estate?" I said: "Yes!" And when we drove up the hill to twelve asbestos prefabs, he couldn't stop laughing.
How did you become a Christian?
There was a lovely, local Elim church – faithful gospel preaching – and they used to do open-air preaching. My father got converted from atheism; he was a communist – they called him "Red Bowring" in our town. In time, myself and my three brothers all came to know the Lord.
And you're still in Elim now?
Yes, I honour that faithful Elim church, and I'm proud to be an Elim minister. I'm still on staff at Kensington Temple – I've been there 50 years, it's a fantastic privilege. I feel a loyalty, and I want to stay in Elim all my days, as a way of saying thank you to those who invested so much in me.
Do you think people can change denominations a bit too freely?
Yes, well that's the trend, you know – consumerism, individualism and entitlement. I don't want to be critical of anyone else – sometimes it's lovely to see Baptists becoming Anglicans or Anglicans turning to free church – but I think not enough is said about loyalty. The only verse I have on my wall at home is: "Never let loyalty and kindness leave you. Bind them around your neck like a necklace, and you will find favour with God and man" (Proverbs 3:3). I think we just need more loyalty and more kindness.
How did the Nationwide Festival of Light come about?
The Church was disengaged from public life. In 1967 when the Abortion Act came through parliament, there was no fasting, no praying…it was a peer in the House of Lords who said to me: "While Christians were asleep in the 1960s, lights went out in this House that may never be relit again."
A bunch of senior leaders in the Church woke up, and said: "We've got to do something – let's stand." And it still is the largest gathering of Christians in a public place…no one has beaten that record. But they said at the end of it: "We've got to do something." So somebody said: "Let's set up a charity, and begin to support godly men and women and people of goodwill in both Houses of Parliament, and do Christian campaigning."
That became CARE and the rest is history! As you look back on the last 48 years, what are the highlights?
In the early days, there were indecent displays in London – you cannot imagine some of the posters and artwork outside some of the Soho clubs and cinemas, it was pornographic. There was no law to prevent it. So we helped to introduce an Indecent Displays Bill which is a little bit archaic now, but nevertheless, it's enforced. More latterly, we've seen a tremendous victory in the fight against euthanasia; that's been a real triumph. That was two years ago – an overwhelming number of MPs turned up to throw out a bill that would have asked for physician-assisted dying. The physician would prescribe you lethal pills, give them to you, supervise you swallowing them… Some might say it's only a matter of time before euthanasia is legalised because campaigners will keep pushing for it.
Are you more optimistic?
Sometimes, when my heart's not filled with faith, I think we will see euthanasia one day. Not in my lifetime, but I believe in my children's lifetime. And yet, if a new generation would take it up with as much zeal as we've tried to, I've got confidence that God will, in his mercy, not give us what we deserve – and there will be another victory.
What's been the best day of your ministry, and what's been the worst day?
I think the best day was when I married Celia, because she's been a true partner with me – on speaking, on writing, working together – I couldn't have lived these last 40-odd years without her.
I think the worst day of my life was when I was in the Houses of Parliament and David Alton's bill was being introduced, reducing the period in which an abortion was allowed, from 28 to 24 weeks, and Ken Clarke, who was the secretary of state for health, quickly slipped in an amendment to allow abortion up to birth if there was a serious handicap. We can legally destroy them simply because of their disability – that felt like the darkest day of my life.
Do you want a total ban on abortion?
Well, I think it's step by step. I think our heart's desire is to see abortion become unthinkable. And that takes time.
Is the strategy to gradually reduce the time limit?
Yes. We've got abortion on demand really, in most of the country. That's 170,000 last year. And it grieves the heart of God to see these little voiceless ones ushered into eternity. I mean, Spurgeon believed, from a Reformed position, that every unborn child who was aborted or miscarried goes straight into the presence of God. If that's true, there will be more people in heaven who have been aborted than who lived – and that doesn't please God's heart.
But I think it's compassionate caring that's going to win hearts, more than our campaigning. Thirty-one years ago I marched through London with a banner that said: "Abortion kills". I would never do that again. I do believe abortion kills, but what is that saying to a woman who's standing on the pavement considering: "How can I cope with another child?", or someone who's pregnant through misfortune or an affair, and just frightened about the implications of keeping the child?
According to the British Attitudes Survey, in 1987, 64 per cent of UK adults believed sexual relations between two adults of the same sex was wrong. Today, that figure is 22 per cent. There's been a massive shift in the general public's attitude towards homosexuality. Has CARE changed how it talks about that issue?
Yes, I think we have been brought up with a start; you see how fast that change came about. I think we have changed our attitude. I think we were harsh in those days, and there was little compassion towards the person who's same-sex attracted, and they didn't feel welcome in our churches; they were seen to be like lepers. And somehow we've got to show them that they are welcome and loved. And certainly, I'm longing to learn how I can do that more without changing my views.
What would be your message to somebody who says: "Look, I just believe what the Bible says", but who expresses their point of view in a way which is hateful towards gay people, and lacking any of the compassion you're talking about?
If you're of that point of view, you think of the extremes of homosexuality and promiscuity. But when you encounter people who've fallen in love with someone of the same sex, and you remember what it was like to fall in love yourself with somebody of the opposite sex…it's not so much about sexual activity, it's about tenderness and kindness towards each other. So many of these men have committed relationships which turn out not to be sexual, and the understanding between them is phenomenal. And you might feel in the sight of God it's wrong, and that Christian believers should remain celibate until married, as I believe, but we can sometimes get obsessed with the sexual element of it.
You're highly regarded in the Christian community. Has a lot of your time been spent working for unity behind the scenes?
Oh, no doubt about that, and that gives me enormous satisfaction – to see leaders coming together who wouldn't otherwise come together. People who have strong opinions – would call themselves evangelical – but would never fellowship together, never eat together, never go in each other's churches…to hear them come together and apologise to each other…
Can you name any names of people that you've brought together?
If you remember, the Spring Harvest board divorced Word Alive, and that was a great pain for me, because I was chair of the board at the time, and I didn't approve of it. But the majority of the board who had been there longer than I felt it was right. So there was a break – a divorce. But since then we've seen Hugh Palmer and Malcolm Duncan embracing one another, and John Stevens from the Fellowship of Independent Evangelical Churches (FIEC) happily coming along and saying, you know: "I didn't have a great deal of respect for other evangelicals in that certain arena, and now I do, because I've met them and prayed with them and ate with them"…and it was just fabulous.
I guess if you look at those who describe themselves as evangelical Christians – it is already quite a small club. So any further division feels not only wrong, but counterproductive.
Yes. For example, African Caribbean churches have felt marginalised. And Steve Clifford, the general director of the Evangelical Alliance, has gone out of his way to embrace them and include them and involve them. We brought a group of people around the table from all the Afro-Caribbean denominations in the DoubleTree Hilton in Westminster, and CARE paid for their lunch together. And when Steve heard how they truly felt, he was like Paul on the road to Damascus. He said: "This must end." And if they've ever felt loved, appreciated, valued – it's under Steve's leadership. And he fast-tracked several of them to come onto the Evangelical Alliance council, and it's lovely to be a part of that.
CARE is your life's work. Has it been difficult to step back and give other people leadership responsibilities?
Funnily enough, coming up to my 70th birthday, I had a number of health issues which I think were a kick up the backside – wonderfully – and I thank God for them, even though I wouldn't wish to go through them again. Although I'm slowing down, I don't think I will ever retire, apart from health reasons. If I'm well and I have my mental faculties, I might end up simply praying, not feeling able to do much more. Or be an encourager to young people; to assure them of my prayers and take an interest in their ministries. To be not a grumpy old man, but a hope-filled, encouraging old man.
To hear the full interview listen to Premier Christian Radio at 4pm on Saturday 20 July or download The Profile podcast
Enjoyed that? Get more articles covering news, culture, faith and apologetics in every print issue of Premier Christianity magazine. Subscribe now