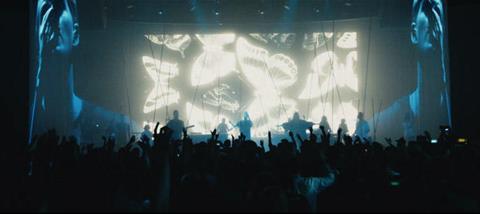 Many Christians – and some non-Christians – will be familiar with Hillsong. Its contemporary worship songs are sung every sunday around the world; it has established franchise churches in capital cities from LA to Sydney via Kiev; and an almost unending supply of its music videos are available for free on YouTube.
They've become one of the biggest phenomena of the early 21st Century Christian Church. Influential in and of itself, it also intersects with a number of dominant trends in the contemporary Church. These include the megachurch movement; the development of multi-site video-relayed campus churches; and the ubiquity of amplified rock worship.
The Hillsong story
HillsongChurch began 35 years ago when young New Zealand preacher Brian Houston and his wife Bobbie founded their own congregation in Baulkham Hills, a fairly affluent suburb of Sydney. Their church – originally named The Hills Christian Life Centre – was (and remains) part of the Assemblies of God – a Pentecostal denomination known now as Australian Christian Churches.
Beginning with about 40 people, it wasn't long before the Houston's efforts were rewarded with numerical growth. In addition to ever-increasing congregants came the rapid development of its music ministry. The church started to produce its own worship songs and these quickly gained traction in the wider music market. 'The power of your love' and 'Shout to the Lord' are two notable early 1990s hits. The music ministry has continued to be at the forefront of the Church's interface with society.
Hillsong Church is largely – but not exclusively – a youth-focused expression of Christianity. This is what makes it so very important to watch, to understand and to analyse. Some of the people who come to faith via Hillsong will, in future decades, be leaders in the global evangelical Church. There may very well be a lot of them, too; for where most denominations struggle to connect meaningfully with the young people of today, Hillsong succeeds – seemingly with ease.
Let me entertain you
Having attended the London conference in 2015; having visited the Baulkham Hills site one Sunday morning while in Australia last year; having researched the church extensively online; and having watched many of its worship videos; I have finally reached some conclusions about the authenticity of Hillsong as a legitimate expression of Christianity in the 21st century.
Although Hillsong Church is routinely criticised for its prosperity teaching, this is not the biggest area of concern for me. I have not personally heard any significant prosperity-orientated sermons while visiting their churches.
At the O2 Conference in 2015, I was struck instead by the church's failure to heed the warnings issued by the great 19th Century Baptist preacher, Charles Haddon Spurgeon, about the danger of presenting Christianity as a form of entertainment. In his sermon 'The evils of the present time…' Spurgeon speaks succinctly about the impossibility of combining genuine Christian preaching with a light-hearted attempt to entertain.
How can serious preaching prosper when combined with gaiety, frivolity and forms of entertainment? Conversion preaching must bring about genuine conviction of, and repentance from, sin; it must highlight the dangers of eternal damnation for the unrepentant; and it must demonstrate the sufficiency of Christ's sacrificial death on the cross to provide sinful humanity with salvation.
Spurgeon said: "Within suitable bounds, recreation is necessary and profitable; but it never was the business of the Christian Church to supply the world with amusements." In his day, Spurgeon warned against the folly providing the unchurched with games of musical chairs, when heartfelt preaching was the thing required. In our day, he would warn, no doubt, against the kind of stage shows – with their lighting extravaganzas, acting, dancing, and plentiful dry ice – which so often open and conclude Hillsong conferences.
In 2015, the London conference began with a procession of dark-clad people with white, alien being-like bulbous headpieces, accompanied by loud music. Presumably this was supposed to symbolise the spiritual blindness of those who live their lives without Christ. When reviewing the promotional literature and websites, one finds that a very strong emphasis is placed on the level of spectacle provided: as though potential delegates to conferences and Christmas carol concerts will not be persuaded to part with their cash unless they believe they will get enough bang for their bucks.
Tickets currently cost £155 per adult for this year's three-day conference. This highlights the fact that Hillsong churchmanship is an expensive one. The default approach is arena-orientated. As Senior Pastor Brian Houston said in his 2015 appeal for money – embarked upon with great gusto before he had even begun preaching – hiring the O2 is expensive, as is producing albums and free-to-view music videos, and running your own television channel.
For me, this level of expense is one of the most controversial aspects of the Hillsong approach; and I suspect that it is connected to what appears to be a reduced emphasis on the Pentecostal gifts. The Hillsong mission seems to proceed primarily via its music ministry – not through the exercise of the gifts of the Spirit or preaching.
This departs from more traditional forms of evangelism. The Apostle Paul says that "faith comes from hearing the message" (Romans 10:17). It sometimes appears, though, with Hillsong, that faith is expected to come primarily through hearing the band. The church is renowned for its music, not for its preaching. Its evangelism appears to be carried out more through the band's ministry than the church's preaching or acts of service.
Hillsong's music ranges in quality from world-class, Grammy-winning prog-rock-ish, poetically-pleasing, doctrinally-adequate and prophetically-anointed songs; to overly-emotional, doctrinally-vacuous 'Jesus is my girlfriend'-type ditties that can't be forgotten too quickly. The music might draw people in, but is it sound enough to make disciples and root people in the gospel?
Mixed feelings
At the O2 in 2015, I was unimpressed by the headline guest preacher. Honestly, I felt he was little more than an entertainer. He attempted to make up for the poor organisation of his material by flirting with the crowd. Senior pastor Brian Houston's opening sermon was many measures better.
But, as I exited the O2 that year, I felt shell-shocked by the noise, concerned that I had just seen the End Times apostate, all-singing, all-dancing, all-ear-tickling Church – complete with counterfeit worship – in full flow.
By contrast, at the Baulkham Hills campus in Sydney February 2017, I heard one of Hillsong Australia's pastors preach a notable topical sermon. His theme was 'The skill required in being a Christian', and his talk was filled with Biblical content and interesting illustrations. His manner combined utter seriousness of purpose with charm of delivery, in the time-honoured fashion.
When I left the morning service after this excellent sermon and 20 minutes of edifying follow-up conversation with a member of the welcome team – I felt that I had attended a modern expression of a genuine Christian church.
For those who want to make up their own minds about the Hillsong phenomenon, the London Conference begins tomorrow night (25th July) at 7pm at the O2, and concludes late on Friday (27th July). Full delegate and evening-only tickets are still available, starting at £20 per night. Visit Hillsong for further information, and take an effective pair of ear plugs with you.
Althea Talbot-Howard studied Social Anthropology, Archaeology and Comparative Religion at the University of Cambridge. A worshipping member of the Church of England, she lives and works in London as a professional classical musician.
Click here to request a free copy of Premier Christianity magazine