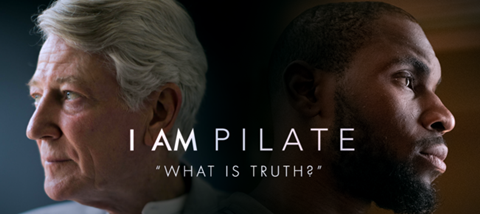 Perhaps editors of Christian magazines shouldn't admit such things, but I'm getting a bit fed up with a lot of Christian films.
You know the ones I mean. Those twee, cheesy, usually American-produced feature films where everyone becomes a Christian at the end. I'm exaggerating slightly, but honestly, there's nothing subtle about them. Watching them feels similar to being whacked around the head with a whopping great big Bible.
Friends defend the genre by telling me it's "getting better", and I hope they're right. But right now, the sub-par production values and unrealistic story-lines mean I struggle to engage with most 'Christian films'.
So you can imagine my delight at stumbling across I Am Pilate this week. Here is an intelligent, modern depiction of one of the central characters in the Easter story, Pontius Pilate. It's produced here in the UK. The acting is convincing. It's biblical without being preachy and its packed full of meaning without telling the viewer what to think.
The short film is part of Four8's 'I AM' series, which aims to introduce biblical characters in timeless settings. I Am Pilate is directed by Femi Oyeniran (Adulthood, Kidulthood) and produced by BAFTA and Emmy award-winner Matthew Barrett. It will premiere on London Live on Easter Sunday, but can be watched now below.
So watch it. Share it. Tell your friends. Use it as a conversation starter. Play it in your church service. And thank God for quality Christian filmmaking.