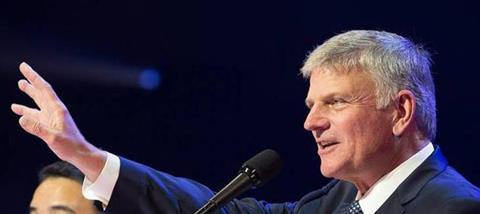 Earlier this month, adverts promoting Franklin Graham's 'Festival of Hope' in Lancashire were withdrawn from buses across Blackpool.
In a statement, the managing director at Blackpool Transport, Jane Cole, said this was the result of "listening and acting on customer and public feedback which we aim to do at all times".
She added: "Blackpool Transport is a proud ongoing supporter of the Pride and LGBT+ communities and in no way did we intend to cause any distress or upset."
The distress and upset refers to comments made by Franklin Graham on social media last year in which he referred to homosexuality as a sin.
These remarks, along with other, some might say bizarre statements about then-President Barack Obama and Islam, prompted two local MPs, Paul Maynard and Gordon Marsden, to write to the Home Secretary to revoke his visa. A petition calling for Graham to be banned from the UK has now reached just over 8,000 signatures.
In a statement responding to Blackpool Transport, the Billy Graham Evangelistic Association (BGEA), which is organising the event this September, said it was "a travesty" that the "inoffensive Festival invitation" should be withdrawn without consultation in response to a "small minority of people who objected via social media".
The current climate
In the latter years of his ministry, Billy Graham refrained from engaging too heavily in party politics. He wanted Democrats and Republicans alike to turn up to his rallies and hear the gospel message. Critics say that Billy's son Franklin has failed to take this approach. Not only has he been outspoken on moral issues, but he's often defended Trump and taken what many have called a partisan line.
Could it be that some of Franklin's more controversial political stances are hurting his reputation, thereby resulting in fewer people being willing to listen to his gospel message?
In an exclusive interview with Premier Christianity earlier this year, Franklin pointed out that his father faced similar opposition in the 1950s and 60s when he held rallies in stadiums across the UK.
"They tried to stop him coming," he said. "He was due off a boat into Southampton and there were petitions to stop him coming and members of parliament speaking against him."
It's interesting to note how both Billy and Franklin have received criticism not just from secular corners, but the Church itself.
Ron Farrington, senior pastor at Crossgate Church, Preston, believes the visit of Graham to the UK has become a "stumbling block" between people and God. He told Premier Christianity he had withdrawn support for the festival after failing to receive "clarity" around Franklin's views and past comments.
He said in a statement: "We believe that Franklin Graham is here to preach the gospel but unfortunately the surrounding context of his visit has caused division between both the Church and local communities.
"Whilst we understand his willingness to preach the good news it is with disappointment that we can no longer be part of the Lancashire Festival of Hope."
Farrington is just one of several church leaders who have withdrawn support for the event.
Nina Parker, the pastor of Liberty Church in Blackpool, which has a specific ministry to LGBT people, started the change.org petition that has now garnered thousands of signatures.
Parker said: "As a Christian and as a leader of a church that particularly welcomes LGBT people, I'm horrified that other local churches are inviting someone with this record of hate speech."
She said Graham's visit had triggered an "enormous amount of protest from Christians in the north-west" of England, and his presence would be "extremely destructive in the area".
When I asked Rev Rod Barnett, one of BGEA's directors, whether this is in fact the case, he said: "Biblical truth can be hard to accept for some people, but it is not hate speech.
"There will also be nothing negative or political in what Franklin Graham shares during the Lancashire Festival of Hope, which will be the life-saving gospel message of Jesus Christ—the same message Franklin has shared around the world and the same message Billy Graham brought to millions of people during his more than 60 years of preaching."
Whether you see Graham as a faithful man of God, preaching truth to a broken world, or a divisive figure spreading hate and bigotry, the Bible is clear: Christians should expect opposition to the gospel.
Nevertheless, scripture also advises us to be as shrewd as snakes and as innocent as doves (Matthew 10:16). In an age of 24-hour news and the inability to fully delete comments from the internet (without a mighty battle with Google), perhaps Graham should consider the impact of his words.
After all, words have power, and in this case, Franklin's words have created for some a stumbling block to the gospel message of repentance and grace. Should we expect more from a man who makes his living from preaching and teaching? As others have noted, the gospel is offensive, but we don't have to be.
Click here to request a free copy of Premier Christianity magazine