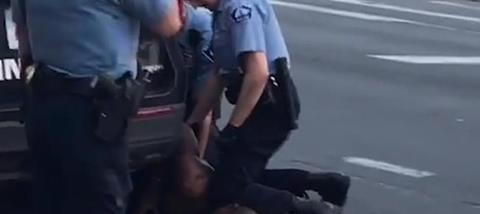 Like many others, my heart is heavy after seeing the video of George Floyd. As we hear of yet another black person's death, we are sadly reminded that the evil cancer of racism is still rampant across the globe in obvious and subtle ways.
We remember that everyone is made in the image of God for his glory and I am convinced that the call of God's people as Christ's body on this earth is to fight against this injustice, to love, champion and protect those people that face unjust hostility in their everyday lives and to seek to see the Kingdom of Christ increase.
I've found it hard to put my feelings into words; I'm angry, I'm upset, I'm disturbed by what I've seen and heard and yet, I'm also angry at myself for how little I've sought to fight against this injustice that we know and see is happening every day.
Although this happened in the US, I'm saddened as I think about those in our church family who live in fear for the safety of themselves and their families, or have experienced the pain of unfair treatment simply because of the colour of their skin or ethnic background. I'm hurting for the friends and family of George Floyd who are grieving the loss of a loved son, brother and friend.
The Bible teaches that the sorrow we feel towards injustice is but a drop in the ocean to how the Lord's heart is moved by it. He is the God of justice, he is love and so I know as we pray to him, we are praying to one who knows, who cares and is eager to act.
Isaiah 61:8
"For I, the LORD, love justice; I hate robbery and wrongdoing. In my faithfulness I will reward my people and make an everlasting covenant with them."
So the question for us is what do we with these feelings, how can we play our part in seeing the change that is so desperately needed and how can we stand with our brothers and sisters who are facing danger, injustice and prejudice because of the colour of their skin?
Here are some things that I have found myself drawn to;
Pray for justice
Whether you like it or not, much of the world has a bias towards white people. The systems, the attitudes and the mindsets of our culture subtly and overtly communicate and privilege the value of some groups over others. THIS IS NOT RIGHT! This is offensive to the God of justice who made everyone in his image. There is no partiality in the heart of God, he delights over all races.
As we look at the mountain in front of us that is racism, despite the incredible heroes that have gone before us and the many battles that have been fought and won, this latest heartbreaking incident shows us much more needs to be done. The agenda of justice and the end of racism should be on the Church's heart, we should be quick to pray for God to move, unwilling to settle with how things are but bring our heart cry to Jesus. Ultimately, we know that the eternity Jesus has won for us is a place where there will be no racism, instead there will a people from every tribe and tongue united in one voice declaring the greatness of our God.
Revelation 7:9-10
"After this I looked, and behold, a great multitude that no one could number, from every nation, from all tribes and peoples and languages, standing before the throne and before the Lamb, clothed in white robes, with palm branches in their hands, and crying out with a loud voice, 'Salvation belongs to our God who sits on the throne, and to the Lamb!'"
So we should be believing and asking for a glimpse of that eternal promise in our world today. No matter who you are, if you are a follower of Christ this is an issue that affects you because it grieves the heart of God.
Our lives are not our own but are found in Jesus, let us give ourselves to that which moves the heart of God. I believe this is one of those things so can I encourage you today to give some time to pray;
Pray for justice in this situation
Pray for comfort for those who are grieving
Pray for strengthening for those who are feeling weak after years of battling
Pray for love for those who are fearful
Pray for faith for those who are disengaged.
Pray for peace for those who are angry.
Stand up for justice
Prayer is fundamental to seeing an end to racism and an establishing of justice but I do believe the Bible also emphasises that we are called not just to pray but to live out the longing of our hearts.
James 2:17
"So also, faith by itself, if it does not have works, is dead."
How we live matters, what we say or don't say matters. Injustice should provoke us into response, not a response of rage but of righteous anger. Standing up for those who are being oppressed and speaking out against the oppressor.
You may be thinking that as George Floyd's death happened in America and we are in the UK, this has nothing to do with you but the truth is that the structural and underlying factors that allow racism to thrive, even in the subtlest of forms are everywhere. So, we should be asking ourselves the question "What does love require of me right now."
To those that are reading this that are white, we must not be silent in light of such matters.
Dietrich Bonhoeffer wrote;
"Silence in the face of evil is itself evil: God will not hold us guiltless. Not to speak is to speak. Not to act is to act."
Friends let's not be silent, let's speak out against injustice, speak up for those in affliction and proclaim the justice of God. There will people in our church, neighbourhoods, workplaces & schools that are on the frontline of this battle. Encourage them to speak, support them, defend them. Show them love and welcome their diversity and strengths as a blessing to our churches, communities and nation. Acknowledge that diversity is God's design and in his sight, we are all one! May the people of God unite in the face of this evil and sin and may we see through our prayers and actions miraculous change.
To those that are reading this that are black, Asian, Mixed-race or of any minority background; I have no words that will articulate the sorrow and anger in my heart at what you have faced and continue to face. You are not alone, you are not forgotten, the God of angel armies is for you and with you. We stand with you, we cry with you, and we pray with you that this will change.
The story of the Bible shows us that we live in a broken world, where racism, injustice and death are a consequence of sin entering the world and humanity being separated from God. That God wasn't willing to let that be the end of the story and so he sent Jesus to make it possible for us to be brought back to God. That those who place their trust in Christ will be renewed and enjoy eternity with him where the brokenness will be healed, justice will be fully established and racism will be no more.
I pray that each of us will be comforted and strengthened by this gospel truth.
Isaiah 30:18
"Yet the LORD longs to be gracious to you; therefore he will rise up to show you compassion. For the LORD is a God of justice. Blessed are all who wait for him!"
Martin Segal is the lead elder at The City Church in Canterbury where he lives with his wife, Kathryn and two daughters.
Premier Christianity is committed to publishing a variety of opinion pieces from across the UK Church.