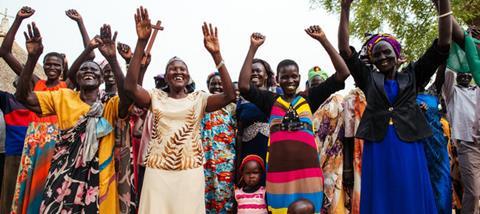 Local churches know the needs of their communities and how best to respond with the resources available to them when disasters strike. Where the need is greatest, you'll find the church. Here are five examples from this century where we've seen the church going above and beyond:
1. Indian Ocean tsunami (2004)
On Boxing Day 2004, a huge tsunami in the Indian Ocean killed 300,000 people, and made thousands more homeless. Many were forced to survive in temporary accommodation in camps.
In the Andaman Islands the Pentecostal Mission in Port Blair served food to more than 500 people a day as well as listening to and praying for people living in a camp. One church member said: "We learnt to serve without expecting anything back."
2. Cyclone Nargis (2008)
Cyclone Nargis was a strong tropical cyclone that caused the worst natural disaster in the recorded history of Burma (known today as Myanmar). It hit the country on 2 May 2008, causing catastrophic destruction and at least 138,000 deaths. Despite the devastation, acts of compassion by the church were spontaneous.
One pastor took in more than 300 people who lost their homes, allowing them to take shelter in his church. Church members cared for them to the best of their ability. "The church knew where its people were and was in a position to assist immediately," said one cyclone survivor.
3. Haiti earthquake (2010)
In the aftermath of the Haiti earthquake in 2010, more than 200,000 people were killed. Children are among the most vulnerable in disasters, and there were many children now without parents or homes.
Local churches around the Léogâne region set up 70 children's clubs. They taught the children songs about healthcare and disease prevention, and provided a safe place where children could be children again in the midst of the hardship. It helped them to cope with the trauma of the earthquake and to learn important messages about health.
4. Ebola in West Africa (2014) and Democratic Republic of Congo (2018-)
When Ebola ravaged West Africa in 2014, it was local churches that helped lead the fightback. In Sierra Leone, Christians used video and radio broadcasts to spread vital health messages. Tearfund trained pastors and gave them phones so they could call people with Ebola. The pastors spoke to them and prayed with them over the phone, without risking infection. Churches gave practical help to people in quarantine (those kept in isolation for a period to ensure they would not infect others). Church members provided food, water and toiletries.
Similarly, the church played an important role in tackling the more recent Ebola outbreak in the Democratic Republic of Congo, which appears to be coming to an end after 19 months.
5. South Sudan conflict (2013-)
Churches know they are there for the long haul. In South Sudan more than six years of bitter conflict has seen an estimated 400,000 people killed and millions forced from their homes. Across the country, over half of the population are dependent on food aid. Even so, a member of St Kizito Parish told Tearfund: "We [the church] are the people who will stay."
Corona virus pandemic
Tearfund is responding to the coronavirus through our network of local church partners around the world. We're helping them to promote the right messages to prevent its spread (particularly around good hygiene and sanitation), and to correct any lies and misinformation about the disease.
We're also giving advice on how to care for and look out for their communities, to have an answer for tough theological questions about why the coronavirus has happened, and to encourage them to pray for an end to the outbreak.
The church is far more than just bricks-and-mortar. It's people empowered by the Holy Spirit to do good works, to be good news.
The coronavirus crisis is a chance for the church to be at its most Christ-centred. It's a chance for church to be church – to fulfil its mission to serve the most vulnerable and be a source of hope at a time when hope seems hard to come by.
Nigel Harris is CEO of Tearfund – a Christian relief and development agency and a member of the Disasters Emergency Committee (DEC). Tearfund has been working around the world for more than 50 years, responding to disasters and helping lift communities out of poverty. To find out more, go to: www.tearfund.org/