Want to give to charitable causes overseas, but don't know how best to do it? Invest in a local church, says Ruth Valerio. They are a powerhouse for local development - and here's the stats to prove it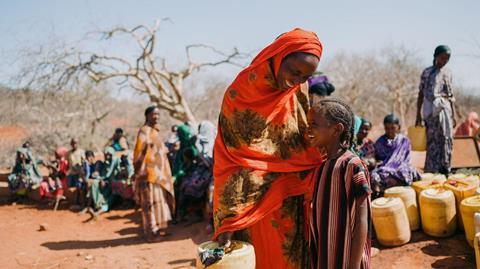 Working at Tearfund, I have a privileged view of the global Church. But this week, a new study has revealed just how beneficial a church can be to its local community.
The Church is in a position to inspire change that transforms communities and empowers people to thrive. It has the potential to help release people from poverty – both spiritual and physical. Globally, it is a powerhouse of local development, uniquely placed to help tackle some of the world's biggest crises.
A practical Church
Recently, independent researchers spoke to thousands of people in Rwanda, Sierra Leone, Tanzania and Zimbabwe. They found that investment in local churches is a highly cost-effective way of helping whole communities lift themselves out of poverty.
The Church is, at its core, a place of whole-life transformation
Their report showed that an incredible £28 of social value is created for every £1 invested in churches in lower-income countries. That's a huge return on investment – especially when we're talking about the lives of people in some of the poorest parts of the world.
A purpose-filled Church
Through church-run projects, the study revealed significant impact and obvious change. Families have enough food to eat after learning new farming techniques; children are able to attend school because their parents can now earn an income. Communities are supported to pool funds, knowledge and resources, in order to build healthcare centres and infrastructure to access clean water. Women and girls are more productive as they no longer have to walk miles to fetch water, and less people get sick because the water is clean.
Other changes were less tangible, but equally important.
People in communities where churches were working reported increased hope and greater resilience. Peacebuilding has restored relationships within families and between neighbours, which has, in turn, created safer environments (and is also better for economic growth).
The evidence shows that these changes spread far and wide, trickling out into the wider society. Even people who didn't directly participate in a church programme saw an improvement in almost all of the measured aspects of wellbeing.
A powerful Church
The power of the Church is that it is able to respond in a very different way to how aid has traditionally worked.
The Church is, at its core, a place of whole-life transformation. Instead of responding only to the symptoms – hunger, poverty, conflict, lack of health provision – by providing food or a healthcare centre for example, the Church can offer real, long term change. People are empowered to identify practical solutions for themselves.
What follows is both material change and a change in hope – change that inspires others and transforms communities in a way that is uplifting, sustainable and restores dignity. Change that brings enough food. A healthcare centre. A school. New ways to earn an income.
Potential to grow
Beatrice is a mother of four who lives in Rwanda. Through working with a local church, she says she was "touched by the transformative lessons – such as assessment of our needs and potential resources available in our community. We realised that working together can help us.
"I started thinking of having a plan for the development of my family and joined a self-help group. We started by saving [each week] in a group of 20 members. It was a hard practice for me but I was encouraged by others."
People in communities where churches were working reported increased hope and greater resilience
Eventually, with a loan from the self-help group that she was part of, Beatrice started a small business selling food in a market. She was able to buy a goat and a cow, and began to rent some land to plant rice.
"This year, I'm expecting a nice harvest," she says. "I feel confident because I can support others and I am a respected woman in my community and in my family.
"We now have enough food to feed our children and pay school fees. We no longer work for others because we have our own business. We can contribute when there is a need to support vulnerable people, especially disabled and aged people in our community. I have plans to expand my business and earn more money in the future. I have a happy family."
It's whole-life, whole-community transformation.
And the Church is at the centre, bringing good news.

Ruth Valerio is an environmentalist, theologian and social activist. She is the global advocacy and influencing director at Tearfund, canon theologian of Rochester Cathedral and the author of a number of books including The Archbishop of Canterbury's Lent Book for 2020 Saying Yes to Life (SPCK), L is for Lifestyle: Christian Living that Doesn't Cost the Earth (IVP) and Just Living: Faith and Community in an Age of Consumerism (Hodder & Stoughton). Find out more at ruthvalerio.net
View full Profile