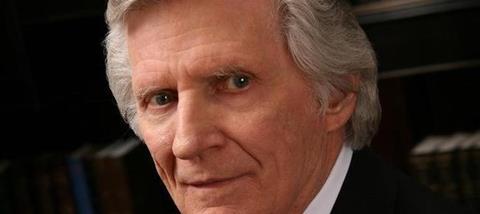 David Wilkerson is best known for authoring one of the most popular Christian biographies of the 20th Century, The Cross and the Switchblade. The book, which has sold over 15 million copies, tells the story of Wilkerson risking his life in order to share the gospel with criminal gangs in New York City, and the many miracles which took place in the process.
In the latter years of his ministry, Wilkerson would often utter prophetic words about what he believed was God's impending judgment on America and the world. And in recent weeks, it has been claimed this pastor foresaw the coronavirus lockdown.
Another American Christian author, Mike Evans, claims that Wilkerson told him the following in a private meeting in 1986:
"I see a plague coming on the world and the bars and church and government will shut down. The plague will hit New York City and shake it like it has never been shaken. The plague is going to force prayerless believers into radical prayer and into their Bibles and repentance will be the cry from the man of God in the pulpit. And out of it will come a third Great Awakening that will sweep America and the world."
As a Christian who believes God speaks today, and often does so through people who are gifted in this way, and as someone who believes our world needs to know the love of Christ right now, I want to say a hearty 'Amen' to the above words. However, I am also mindful that Jesus does not call me to unconditionally swallow every prophetic word which comes across my desk. Plus, there's an awful lot of false news circulating on social media right now, and Christians should be cautious before hitting the 'like' and 'share' buttons. Gullibility is not a fruit of the spirit.
Did he actually say it?
There's no videotape or audio recording of the above words. And given that Wilkerson passed away in 2011, he can't confirm the authenticity of his prediction. But Times Square Church, which was founded by Wilkerson, has said in a statement to PolitiFact: "The church is not aware of Pastor David ever writing that in any of his books or sermons."
Perhaps that's unsurprising, after all, Evans says Wilkerson spoke these words at a private breakfast meeting between the two leaders nearly 35 years ago. Why should Times Square Church – or anyone else - be aware of what was said behind closed doors? On the other hand, if Wilkerson believed a plague was coming which would result in churches closing their doors, wouldn't he have shared that message with more people, rather than just Mike Evans? It seems odd that no one else knew of it.
Importantly, Evans says he wrote down the prophecy in note form at the time (ie not word for word). After finishing the meeting with Wilkerson, Evans placed this note inside his Bible and more or less forgot about it. Then, just a few weeks ago, as the pandemic swept the globe, Evans stumbled across his old Bible, and as he opened it, the note fell out. So struck by its content, Evans reports he was "trembling and crying" as he read the slip of paper.
Now, if you're a sceptic, this "sudden discovery" of a note from three decades ago will sound far too convenient. Whereas, if you're inclined to believe prophetic words like this, you'll see all of this as part of a sovereign God's plan. You'll put it down to his timing, and his providence.
In any case, we should note the above quoted words - which are circulating on social media - were not given to Evans word for word. Instead, Evans has reconstructed the notes he took decades ago into these few sentences.
Who is Mike Evans?
A glance at the titles of Evans' many books (one of his most popular is entitled Countdown: Israel, Iran and Armageddon) reveals his areas of interest, namely the Middle East, prophecy and politics. He's been published by Jerusalem Post, The Washington Times, and is a frequent contributor to Fox, CNN and NBC. His website claims he "founded" the present day Christian Zionism movement, which is a bit of a stretch. But we'll forgive him the slightly inflated biography (he's hardly the only Christian leader to have fallen into that particular trap).
More positively, Evans has received endorsements from other prominent US evangelicals including Bishop TD Jakes, Dr Jack Graham and the late Bill Bright who founded Campus Crusade for Christ. As you might imagine, a host of accusations have been leveled at Evans since this claimed prophetic word emerged, and his motives have been questioned. I won't repeat these words, as they are unfair and unfounded. They should be disregarded by Christians – including Christians who might disagree with Evans theology on the end times or prophecy. We should believe the best in one another.
So far, Evans has chosen not to release slip of paper on which the notes from the 1986 meeting were written. However, he has apparently shared a photo of the notes with Messianic Jew and apologist Michael Brown, and Brown does not believe it's a forgery.
Speaking on his YouTube channel, Dr Brown commented: "I believe it could be that for such a time as this, the word was hidden, and now released…Perhaps it will get many to go back and listen to David Wilkerson's stirring wake up call messages…[Listen to] David Wilkerson Call to Anguish and you will hear the heart of a man of God whom I deeply respected."
The context
As ever, context is key. We should note that Wilkerson gave a whole host of prophetic words in the course of his lifetime. He predicted economic upheaval, including worldwide recessions, and would regularly reference turmoil in New York, saying "one thousand fires" would descend on the city. Speaking in the 80s and 90s, he rightly predicted the use of pornography would become more widespread, and marijuana would be legalised in the USA.
It's fair to say that some of Wilkerson's prophesies have not aged well. See, for example: "When Reagan's gone, that's it. Egypt is going into bankruptcy, Mexico is going to default and Brazil will follow. Banks here will fail…The prophetic stage is set. It could be anytime; 1996 is the end of the 6,000-year period."
Wilkerson seemed convinced an "earth shattering calamity" was on the way, because of America's sin. A nuclear holocaust was on the horizon. Major riots would erupt across the world and millions would die on the continent of Africa from starvation. Such warnings lost him friends and supporters, as his reputation shifted from gifted evangelist to "unbalanced" preacher. Wilkerson himself had no time for that criticism, and responded to it by declaring, "Balance is a code word for a divided heart. Jesus called us to fanaticism." He wouldn't have made a good Anglican. He wasn't a fan of Christian contemporary music, either. He believed rock n roll was born "from the womb of Satan".
We cannot be certain that Wilkerson ever uttered the plague/shutdown prophecy. But it is certainly possible. It does sound like something he would say, and while I'd still like to see the original notes of their conversation, we have no reason to doubt Mike Evans' story. That meeting probably took place, and Wilkerson may well have predicted a shutdown as a result of a plague. But as noted by Glenna Whitley, who met and interviewed Wilkerson in the 80s, his prophecies were often "tantalizingly vague: broad enough to impress those inclined to believe him while leaving skeptics unconvinced." We might be 40 years on from the breakfast meeting in question, but that assessment of Wilkerson's words still rings true.