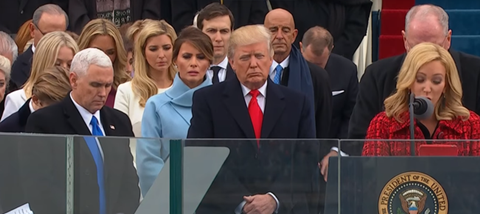 My eyes rolled. Browsing through the The Times I came across an article titled: Trump brings personal pastor Paula White-Cain to White House to preach her gospel of wealth. The piece explained that White-Cain had been appointed to the Office of National Liaison within the White House, which is responsible for communicating and engaging interest groups with the President's administration.
It felt like an inevitable arrangement lacking the substance of Billy Graham and Richard Nixon, Rick Warren and Barack Obama. Instead White-Cain's theology on health and wealth, and her influence in the evangelical community, will pander to the self-serving interests of Trump. As Kate Bowler, professor of Christian history at Duke Divinity School and critic of the prosperity movement, puts it: "She has done what no one thought she could do, scraping out a place for an unpopular theology beside an unpopular president."
But is there more substance to the appointment than meets the eye? Can we join with White-Cain herself and say that her relationship with Trump is an "assignment from God"?
Who is Paul White-Cain?
At age 18 Paula White-Cain felt that she received a vision from God to preach the gospel around the world. In 1989 she married Randy White (her second marriage) and together they began South Tampa Christian Centre in Florida. It grew into a megachurch now called Without Walls International Church.
In 2007 — in the wake of work and personal pressures, including Randy White's daughter, Kristen, being diagnosed with cancer, which later led to her death — the couple amicably divorced. In 2011 she became senior pastor of New Destiny Christian Centre in Florida (now called City of Destiny).
This year she stepped down from the role in line with a prophecy given to her in 2005 by the founding pastor of the church, Zachery Tims. White-Cain — who is now married to Jonathan Cain, keyboardist for the Journey — has plans to plant 3,000 churches and launch a university.
Prior to this, in 2001, White-Cain began Paul White Ministries, which became the foundation for her global televangelist ministry. She said Trump had clearly been tuning in since he randomly phoned her and replayed three of her sermons "verbatim" and said she had the "it factor". The two have now known each other 18 years. White-Cain gave the invocation at Trump's inauguration and today, alongside her new role, serves as a spiritual adviser to Trump and chair of his evangelical advisory committee.
The prosperity gospel
What concerns many is White-Cain's leanings towards the prosperity gospel. At the beginning of the year White-Cain posted a message on her website talking about the "Principle of First Fruits" where health and prosperity, and a breakthrough from the past, will follow for those who begin the year by making a financial gift to God.
What makes this stance puzzling is that her own life has involved significant pain and suffering. She was sexually and physically abused as a child, her son was addicted to drugs, she has divorced twice, and her step-daughter tragically died from cancer.
Away from the prosperity pulpit, a key facet of White-Cain's ministry is practically supporting causes such as prison work, orphan care and disaster-relief. She seems to be someone well acquainted with grief — not something that always aligns with the prosperity message.
Sifting through her website and Twitter feed it is clear White-Cain operates from a victory mindset, perhaps epitomised in the title of her new book Something Greater — Finding Triumph Over Trials (Faith Words)where she opens up about her past. This can be grating and it is tempting to regard her soundbites as easy platitudes with little grounding. There is perhaps some truth in this. But it seems to me, given her life, testimony and all-round ministry, there is more substance to her faith than critics like to give her credit for.
A hopeful appointment
All of this urges me to pause before rushing to judgment. None of us is privy to White-Cain and Trump's conversations, neither do we know where both are with God. What we do know is that both are loved and pursued by God. It's also worth remembering the privileged place given to Christianity in the administration, even if it's far from perfect. It wasn't long ago that one government minister in the UK said: "We don't do God".
The link between state and Church can be perilous, especially where the history, lifestyles and the theology of White-Cain and Trump are questionable. But the ongoing transformation of Benny Hinn offers encouragement. For years a notable champion of the prosperity gospel (who allegedly once dated White-Cain), Hinn has recently renounced the movement after seeing the error in its teaching. The same power at work in Hinn can do the same in White-Cain and Trump.
Trump is a complex, proud and stubborn man. Could it be that the only person to get through to him is White-Cain? Could it be that she has been appointed "for such a time as this?" (Esther 4:14). As the writer of Ecclesiastes says: "No one can fathom what God has done from beginning to end" (3:11).
To many of us the arrangement may lack substance, but perhaps from God's vantage point the outlook is more hopeful. His grace can cover the imperfections and be the source of a quiet, powerful and ongoing transformation that works in the hearts of White-Cain and Trump, and beyond.
Enjoyed that? Get more articles covering news, culture, faith and apologetics in every print issue of Premier Christianity magazine. Subscribe now
Premier Christianity is committed to publishing a variety of opinion pieces from across the UK Church. The views expressed on our blog do not necessarily represent those of the publisher.