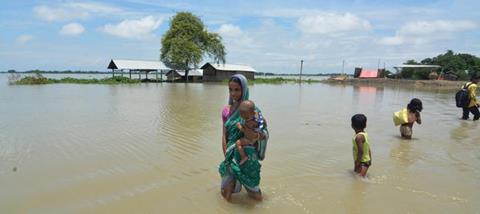 More than 1,200 people died across Bangladesh, India and Nepal as the worst monsoon floods in a century destroyed agriculture and housing.
Tearfund's head of Asia, Steve Collins reported: "Many families have lost everything. Food, clean water and access to medical care are critical needs right now. Through our partners we are distributing dry food and nutritional supplements for children, and where we can, we have set up communal kitchens to provide daily hot meals."
On the other side of the world, one of the most powerful earthquakes ever to strike Mexico killed at least 32 people, toppling houses and businesses and sending panicked people into the streets more than 650 miles away.
World Vision staff in Mexico reported "a lot of concern" locally after the 8.1 magnitude quake flattened buildings. The charity added they are working with local churches to assess the needs of families worst affected.
Meanwhile, in North America, Hurricane Harvey ripped through Houston and Hurricane Irma descended on the Caribbean and Florida.
Christian Aid had warned some places of worship in Haiti and the Dominican Republic would not be strong enough to withstand the Category 5 storm.
Irma was the worst Atlantic Ocean hurricane ever recorded and left at least 47 people dead when it struck islands including Barbuda, St Martin and St Barts as well as the coast of Florida.
While churches across America joined in the relief effort, the pastor of America's largest church, Joel Osteen came under fire for a perceived slow response to Hurricane Harvey.
Osteen's Lakewood Church in Houston was attacked on social media for failing to open its doors to victims. But in a statement Lakewood claimed their building, which houses a 16,000-seater auditorium, had been hit by the Texas floods. Osteen added, "Our hearts break as we see the damage and destruction in our city. Please join us in helping Houston recover."