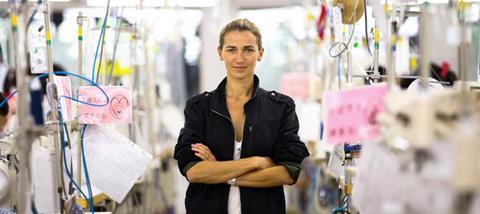 I have a hunch that not many of those voted to be Vogue's top 30 Inspirational Women would be willing to conduct a journalistic interview next to a clapped-out red Fiesta in a car park at a Christian festival. But Christina Dean doesn't bat an eyelid. This entrepreneur is just as happy to spend time with her children on a Filipino rubbish dump as she is pitching her luxury clothing line to the buyers of some of the world's most exclusive department stores.
Christina and I met at Focus, the HTB church network's annual festival, to talk about her work. The last time she went to a Christian event of a similar nature was more than twelve years ago when, on the advice of her newly converted brother-in-law, she and her husband braved a Life weekend away (similar to an Alpha weekend) run by St Mary's, Bryanston Square. There Christina encountered the Holy Spirit. "I thought I was a Christian before that: but that was my first encounter and I realised that there was a real presence there that you could engage with. That was life-changing," she says. This started something of an exploratory faith journey, and when Christina and her family relocated to Hong Kong soon afterwards, they began to dip in and out of an Anglican church there.
Christina's years living in Hong Kong incorporated not only a gentle progression towards deeper faith, but also formational career developments. She had initially followed in her father's footsteps, practising as a dentist, but later pursued her lifelong dream, retraining in journalism, and enjoying a successful career as a freelance writer. However, she found that her attention kept on being drawn back to Asia, and all the problems that continent has. Following months of subsequent research, Christina launched environmental charity Redress (redress.com.hk), which seeks to reduce waste in the fashion industry.
This year marks ten years since the launch of Redress. It has also seen the publication of Christina's first book, Dress [with] Sense: The Practical Guide to a Conscious Closet (Thames & Hudson) as well as the relocation of her family back to the UK.
In September Christina launched her most ambitious project to date: a luxury sustainable clothing label, named BYT (BYTlife.com). In true Christina Dean style, this is no ordinary fashion brand: all its garments are made using upcycled clothing and textile waste. As a social business, 10 per cent of its profits will be channelled into the continued work of Redress. September also saw Redress host the world's largest sustainable fashion competition, the EcoChic Design Award.
You dreamt up the concept for Redress while you were working as a journalist in Hong Kong. How did that come about?
For two years I churned out a lot of content as a freelance journalist – I wrote for several publications on whatever interested me. I kept coming back to the environment, pollution, waste, and all the challenges that Asia has.
I kept on asking: why can't it be different? Why is it that way? Those questions were so powerful, and the research that I uncovered was so awful. My dental days had made me passionate about public health and in Asia you have many people whose health is being jeopardised through no fault of their own, but simply because they live near manufacturing centres. I started Redress to raise awareness of those issues.
Would it be fair to say that addressing poverty is ultimately what drives you in your work with Redress?
At Redress, we are reducing waste in the fashion industry by educating for more circular fashion systems that essentially drive a new way forward. Our ideal is that all 'waste' that is generated finds a new use.
Ultimately, we are promoting a more sustainable fashion system to improve the environment and, crucially – which comes hand-inhand with this – protecting the public health of millions of people. What makes me weep is this: I once cycled throughout southern China and it was seeing those lovely people, just like me and you, who have no voice, who live in a communist country where they have no political vote and they have their health and their families destroyed – and it's not their fault. I feel it is unjust. If I had to boil it all down to one thing, it would be to champion those people.
What have been your main achievements over the past ten years?
Legitimising fashion, sustainability and ethics. We haven't singlehandedly done this, of course – but we have been on that wave. I often think of it like this: personally, I don't think I'm a great leader. Personally, I don't think I am a great entrepreneur. Personally, I don't think I am that strategic. But the main thing that you need is the wave of change. I went surfing and I was on the front of the wave of change, and I have kept right on it. Anyone can have a great idea; it's timing and execution that is the key.
You've always been a stylish dresser. Have you been on a personal journey of change in terms of the way you dress?
The enlightening moment on this came for me when I was on a shoot for the TV channel Al Jazeera. They did a story on a project that we were doing on improving manufacturing, and we took a crew with us around China for a week. On the last day of the shoot we went to one of Hong Kong's largest landfills. We filmed there for about three hours, and during that time there was a traffic jam of lorries arriving with the daily loads for the dump.
It was there that I realised that I had missed the point – and the point is simply that consumers are buying too much and throwing too much away. If people don't change those consumption patterns, this is all a waste of time. From that moment, I decided to only wear discarded clothes for a whole year.
So, I put my entire wardrobe away. I got access to an enormous dump. I had a stylist working with me and every day I wore a different outfit. I had a month where everything I wore had been dirty – everything I chose was covered in stains and sweat and filth and I cleaned it all and wore it. The next month, everything I chose was broken, and I repaired it. I was showing that there was so much missed potential in all the things that people throw away. The feeling of rescuing and salvaging other people's cast-off clothing was liberating. It was like truly wearing my values not just on my sleeves, but on my back and in my heart.
During your time living in Hong Kong you spent time in rubbish dumps across Asia – sometimes you even took your young children with you. Why?
I've travelled a lot in Asia and I have specifically taken my children to some far-out places to show them how other people live. It's not normalising poverty: but unless you know what poverty is, how can you address it? I want them to see how others live. Originally, I began going [to rubbish dump communities in the Philippines] as when I was still working as a qualified dentist I would offer free dental treatment.
The reason I have been there in latter years is that we nearly adopted an orphan, born ten years ago, who was abandoned in the Philippines. He was born to a Muslim mother and Christian father who were not together, and when he was born, his brain was formed outside of his head. He was abandoned at birth. I've been many times to the Philippines to try and change his situation.
After we had put the preliminary papers through to adopt him, I had a DNA test done, only to discover that he was not an orphan. It had all been a lie. The woman who purported to have found him, along with a note of abandonment, was in fact his aunt. They had lied so that we would pay for his treatment. I don't hold it against them, though. I've made a TV documentary about it which will be available in 2018.
BYT launched in September. What makes it different from other fashion brands?
We started BYT to prove that fashion can be a force for good. BYT is a for-profit model with 10 per cent of profits being donated to Redress.
It's a social impact business and the bigger we can grow, the more waste we can upcycle and so the greater the social impact.
The name BYT is a code for a new sustainable attitude towards life: BYT means 'Be Your Truth', 'Be Yourself Today', 'Begin Your Tradition'. It also has meanings in other languages; it's what you want it to be to you.
Our first upcycled jackets collection, which will be retailed online at bytlife.com, at Asian department store Lane Crawford and later in Barneys New York, is a design-driven jacket range made using upcycled waste from luxury brands.
We are now working on a sweater collection for Christmas, made using upcycled luxury yarns. These will be designed by British star upcycling knitwear designer, Kate Morris – who recently won the EcoChic Design Award – the world's largest ever sustainable fashion competition, which Redress hosted. Contestants came from 46 countries, taking on the challenge of forming a collection using textile waste.
What's unusual about BYT is that we find the waste, and then we create the collection from that. We've taken the supply chain and we've flipped it inside out.
All sorts of luxury brands are giving us their waste: we already have too much. I once had a brand contact me, wanting to give us a million yards of waste. What consumers don't realise is that there are warehouses around the world full of fashion waste – we are offering a scalable solution.
What have you learned about how to campaign effectively?
I have always taken a very positive, optimistic approach: there's no point in moaning if people don't like it. You need to draw someone into what you want them to do. There's no point saying to someone, "Stop buying clothes!" Instead, I tell people: find your style; restyle your clothes; love your clothes; DIY your clothes; go to the tailor – you'll feel amazing! What I'm really trying to say is "don't go shopping so much: wear the clothes you have got". Everyone wants to look and feel a little bit special: I try to really build on that.
I was in Las Vegas just a few weeks ago, and I felt in real crisis, seeing the mass market American consumer – the rapacious zombie, just consuming. I realised that I have been missing something in my message: the reason that people keep on consuming so much is they are looking for identity, joy, a hobby, a practice – something to do. To get people off that, you've got to give them an alternative.
Can you share a little of where you are at now in terms of your personal faith?
I'm a real baby when it comes to faith – I don't know the Bible yet. But despite that, I talk to God every day. It's not so much a prayer: it's more of a conversation. I know that God is there, even though I don't always feel that I get anything back.
I'm struggling so much at the moment with the practicalities of my work. At Focus this week I was hit again by the line in the song 'Oceans' by Hillsong, "Keep my eyes above the waves" – I truly need to do that as I am drowning in work. I feel like I am underwater gulping for air. I know I am doing all that I am doing for pure reasons, but I need to have more trust. I am working so hard on the 'what'. But I need to make sure it doesn't engulf the 'who'. I used to be shy about coming forward for media opportunities – I didn't want the limelight or accolades because I don't want to confuse the ego with my work. But God has helped me to take my ego out of it all. It's not me that has done anything I have achieved: it's him.
Christina on how to edit your wardrobe
? Go through all your clothes and ask whether you are really wearing them.
? Imagine new combinations of your clothes. By putting them together differently, you could achieve some very different looks.
? De-stain and repair items that you are not wearing due to ill-condition. Once you have done that, you will realise that you have more clothes than you thought – that can be worn in more combinations than you thought.
? You could combine a wardrobe edit with not buying anything new for three or even six months. I haven't bought any new clothing for four years, but I do buy second-hand clothes.
? Any clothes that don't make it back into your closet via the edit should be sustainably discarded; give them to friends, sell them or donate them. Follow @getredressed on Instagram for more tips
Click here to request a free copy of Premier Christianity magazine