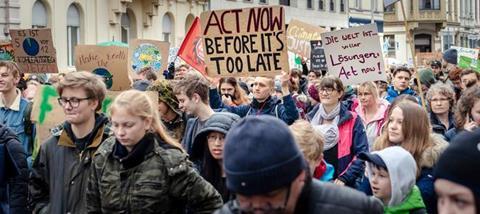 In the summer of 2019 a young person approached me at a Christian festival to ask for prayer. He loved Jesus passionately but just couldn't feel at home in his local church because it didn't seem to care about climate or creation. And interestingly, as the summer went on, more young people came to me with similar prayer requests.
We know that climate is on young peoples' minds, we only have to look at the climate strikes movement to see that. But is this more than a couple of young people at an event? Could we be witnessing a generational shift toward climate consciousness? And if so, what response would be needed from the UK Church?
Tearfund and The Youthscape Centre for Research joined together to find out more. Today, marks the release of our research. We surveyed 630 young British Christians aged 14-19, and did focus group research with four groups of 18-23 year olds.
We found that 9 in 10 young Christians surveyed are concerned about climate change and just 1 in 10 think their church is doing enough to address the issue.
For many young people, their care for the climate is an expression of their faith. 86 per cent of young Christians surveyed said, "My faith teaches me to care about injustice". Young people are clear about the biblical call to care for creation as described in Psalm 24: "The Earth is the Lord's and everything in it". One young person reminded us, "This is God's world we're looking after".
Equally, many young people are aware of the connection between climate change and its devastating impact on people living in poverty. The invitation of Jesus to love God and love others cannot be separated from the conversation about climate. "Climate change is going to affect us all, but the poorest people will be affected the most."
There is a gap between what young people read in the Bible and experience in church. 84 per cent of young people surveyed agreed that it is "important that Christians respond to climate change" but the majority have not heard about it in a sermon. 66 per cent said they never hear about it from a church or youth leader.
One young person put it like this: "I always go back and forth between wanting to just give up on the church as a lost cause that's too big and fundamentally stuck in its ways to actually start taking meaningful action, and wanting desperately to convince the church to wield the massive power and influence it has to change the world for the better."
Young people are concerned that adults think their care for climate and creation is motivated by society or secular trends. One said, "Don't dismiss our involvement as us just trying to be cool, fashionable or worldly." Another said, "Please create a culture where responding to climate change and justice are central to what the church does."
Young people are asking for leadership. They are taking action in the spaces they can, but would like churches and leaders to step up too. When asked what churches could do next they said; acknowledge the issue, listen to us, support, teach about this on Sundays, divest from fossil fuels, and publicly support climate activism. The teenagers we surveyed were prepared to do more themselves too, including eating less meat, recycling, or lobbying their family to make more sustainable choices.
If we listen to our young people, respond to their concerns and act, then we can play a vital role in the transformation of society. We believe that together, it is possible to see young people re-engage with church and make tangible differences alongside our global neighbours.
Dot Tyler is Head of Youth and Emerging Generation at Tearfund. For more information see the Climate Emergency Toolkit which is a practical guide to be used by young people and adults in the church to respond to climate change.
Premier Christianity is committed to publishing a variety of opinion pieces from across the UK Church. The views expressed on our blog do not necessarily represent those of the publisher.