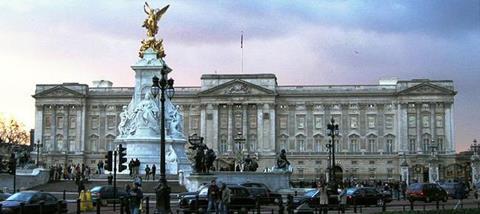 Today, Buckingham Palace is recognising the significance of a National Day of Prayer one hundred years ago on 4 August 1918.
The National Day of Prayer called that day by the Queen's grandfather, brought the nation together in prayer, asking God to bring peace.
King George V and Queen Mary joined members of the Houses of Parliament Commons for a special service at the Church of Saint Margaret, Westminster. Services were also held in churches throughout the country.
Exactly one hundred days later, the Great War ended.
Now, one century later, the Archbishop of Canterbury together with the other Presidents of Churches Together in England are calling on Christians across the country to mark this day, Saturday 4 August, as the first day of 100 days of prayer for peace ending on Remembrance Sunday 11 November 2018, with the two minute silence. The season of prayer is being called Remembrance 100.
Those backing the campaign include Archbishop Justin Welby, the Archbishop of Canterbury; Cardinal Vincent Nichols, The Cardinal Archbishop of Westminster; Revd Dr Hugh Osgood, the Free Churches Moderator; the Revd Canon Billy Kennedy, the President nominated by the New Churches, the Religious Society of Friends and the Lutheran and German-speaking churches; Archbishop Angaelos of London, the President for the Orthodox Churches, and Pastor Agu Irukwu, the Pentecostal President.
Rev Nims Obunge MBE, The Queen's Deputy Lieutenant for Greater London and CEO of The Peace Alliance, commented: "I am delighted that Buckingham Palace is acknowledging this significant anniversary. As part of Remembrance 100 we are encouraging communities across the country to organise peace prayer events, community peace talks, peace festivals, peace arts and poetry competitions, peace projects and many more community building activities. In London, we are praying for peace, particularly in the light of rising knife crime."
Roy Crowne, HOPE's executive director, says: "As well as reflecting on loss, this year also gives us the chance to look forward with hope as we mark the end of World War 1. We have set up Remembrance 100 in partnership with others, to help churches bring communities together to mark this significant point in our history, to pray, and to look for ways to bring peace and hope."
100 Days of Peace and Hope
During the 100 days from 4 August 2018, churches are using a collection of prayers and reflections written by church leaders, chaplains, members of the Armed Forces, and leaders of Christian ministries from Britain and the Commonwealth. These 100 Days of Peace and Hope are available to download here.
As well as 100 Days of Peace and Hope, Remembrance 100 includes the United Nations International Day of Peace on 21 September. HOPE is encouraging churches to launch Peace Awards to recognise the role of peace-makers in our communities. An awards ceremony is being held in London's City Hall to recognise London's peace-makers; other communities are expected to hold similar Peace Awards ceremonies in December.
The 11th hour of the 11th day of the 11th month
As Armistice Day, Remembrance Sunday and the centenary of the end of the First World War all coincide on 11 November, this year's Remembrance events will be the most significant in living memory. There will be Remembrance Services around the Commonwealth, and many will be followed by Peace Parties.
"Churches are in a key place to bring communities together at this significant point in our national history," says Roy Crowne: "We can provide PA equipment, wet-weather venues, refreshments after Remembrance services, and especially we can bring a focus on the hope we have because of Jesus."
He adds, "To help churches bring this focus on hope for the future, we have published a gift-book called Silence, which invites readers to look back with gratitude for the sacrifice made by so many in war, and to use the Two Minute Silence to reflect on eternal themes of faith, hope and love."
"Wouldn't it be amazing if churches all over the country could be praying with us during the 100 Days of Peace and Hope, then inviting their communities to reflect with gratitude on the past and look forward with the hope only Jesus can give."
For more information visit hopetogether.org.uk/remembrance or remembrance100.co.uk.
Catherine Butcher is co-author with Mark Greene of The Servant Queen and the King She Serves, and Communications Director for HOPE.
Click here to request a free copy of Premier Christianity magazine