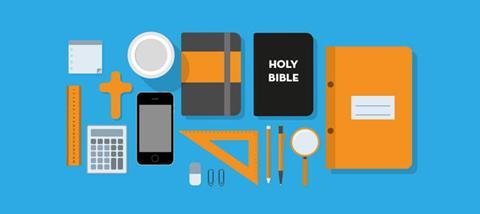 Turn back the clock 100 years. Had I wanted to train for ordination at a theological college in 1915, it would have been impossible. But now, as an Anglican woman, not only could I enrol on any course for missionary, lay or ordained ministry, I could also set my sights on becoming a bishop. The next Archbishop of Canterbury, perhaps?
UK theological education has undergone a raft of changes in the past century, not only in terms of increased opportunities for the training of women for church leadership, but also with the introduction of part-time and distance learning courses and the first degrees becoming available from Bible colleges. As a progression from the purely academic types of traditional theological training, many applied theological courses now exist, in which hands-on ministerial experience is gained alongside theological learning.
Today, with a number of UK Bible colleges struggling to survive and in some cases facing closure, the pattern of change and development within UK theological training looks set to continue. In some cases, this will be the only option for survival. Rev Richard Tiplady, principal of International Christian College (ICC), Glasgow, which will close in the summer of 2015, says we are currently facing 'the biggest period of change in the college sector in 25 years'.
THE NUMBER OF THEOLOGICAL COLLEGES THAT THERE USED TO BE SIMPLY AREN'T NEEDED
TESTING TIMES
Last year, St John's College, Nottingham, a key Anglican training centre for evangelical ordinands, announced that its full-time residential training programme is to close. The college, which will sell off part of its campus, said it would instead focus on 'new models of ministerial formation and training for discipleship'.
Principal Rev Dr David Hilborn said: 'Our calling is to equip Christians for mission in a world of change. This next reconfiguring of the college is consistent with our history and with the needs and resources of tomorrow's Church.'
St John's joins rank with a number of other theological colleges whose finances, combined with other pressures, have left them with no option but to implement radical change.
After the Methodist Church withdrew its funding from nine of its training institutions several years ago, Wesley House, Cambridge, and Wesley Study Centre, Durham, were threatened with closure in 2012. Open letters were written in protest against the proposed closures, one of which claimed that this could 'mark the demise of Methodism in the years to come'.
Wesley House found a solution in September. It raised capital by selling off part of its site to Jesus College, Cambridge. Wesley House is now erecting new buildings in time for the 2015-16 academic year, when it will reopen as an 'intentionally global community of Wesleyan theological thinkers and practitioners', according to its principal, Rev Dr Jane Leach.
Wesley Study Centre, which has for several years been located within St John's College, Durham, has handed over full ownership to St John's to enable its survival.
St Michael's College, Llandaff, also faced the threat of closure in 2014. It has since announced that it will not close, but will join forces with St Seiriol's Centre, Bangor, in order to become the Church in Wales' central training institute, leading all ministry training for the Church in Wales: residential and non-residential. The college will operate under a new name, which has not yet been confirmed.
It is not only small, independent theological colleges that have been struggling to make ends meet. Last year, Sheffield University confirmed that it would disband its department of biblical studies. Its undergraduate degree in biblical studies and theology will instead be administered by the department of philosophy.
King's College London also announced the closure of several of its postgraduate theology programmes in 2014. A spokesperson for King's said this was necessary in order to make the department of education and professional studies, where the programmes were taught, more 'viable'. 'The aim…was to secure a more sustainable financial base to support the longer-term viability of the department,' he said.
4 unusual courses run by UK theological colleges
Redcliffe College, Gloucester, runs a course for those who look after missionaries or cross-cultural workers. Its MA in Member Care provides the theoretical and biblical background, and the tools to effectively care for personnel working in a mission, NGO or voluntary setting redcliffe.org
Moorlands' new evening course, Equipped to Send, is run in partnership with Moody Bible Institute, Chicago. It equips students with apologetics and evangelistic tools to use 'at street level' moorlands.ac.uk
In February 2016, LST will offer its four-day Ethnomusicology Intensive, which examines cross-cultural worship and mission. It incorporates songwriting and the study of songs from minority non-Western cultures lst.ac.uk
Westminster Theological Centre has launched the first free open online course run by a UK-based theological college. Living the Christian Story has seen 1,500 people from more than 30 countries sign up since June 2014 wtctheology.org.uk
UNRAVELLING THE REASONS
What lies behind this season of struggle faced by our theological training institutions? Financial pressure often tops the list of explanations, but the bigger picture is more complicated.
'All theological institutions are facing financial pressures just at the moment, and St John's is no exception. However, we've got the means to remodel,' says Chris Smith, chair of council at St John's, Nottingham.
Rev Dr Calvin Samuel, director of Wesley Study Centre, says that theological colleges typically run at a loss, enabling them to keep fees low and take students who feel called, regardless of their financial situations. 'The way theological institutions have made ends meet is to rely on finance from a variety of sources to cover that shortfall,' he explains.
However, the UK's wider economic situation means that colleges no longer necessarily receive gifts at the levels they once did. 'Once you remove those gifts, most colleges without another source of income run into trouble,' Samuel says.
Recent changes to the financing of higher education and the introduction of new checks on independent colleges have also served to heap economic pressures on theological institutions. 'All sorts of regulations have come in during the past two to three years… we've all been subjected to the same fairly blunt instrument, and that is going to continue to crush some of the smaller colleges,' says Rev Dr Steve Brady, principal of Moorlands and chair of the Association of Bible College Principals.
Dr Roger Standing, principal at Spurgeon's, says that his college's biggest challenge is operating within the structures of British higher education, which is costly both in terms of finance and administrative manpower.
'Direct inspection by the Quality Assurance Agency is required for those studying with us to have access to student finance, or for us to have the opportunity to have overseas students here,' Standing explains. 'Yet as a private college, finance for college fees is capped at £6,000 [per year] (not the £9,000 for the state sector) and overseas students are denied the opportunity to work, where this is not the case with publicly funded institutions.'
For ICC, these financial pressures were simply too great. In Scotland there are still no university tuition fees for Scottish students, meaning that a student attending a Bible college has to pay significantly more than the country's average student. As an independent college, those studying at ICC were also unable to access student loans for their fees. They did receive a grant equivalent to a third of the fees but had to find the remainder themselves, which amounted to £15,000 over four years.
Tiplady says that ICC does have plans for a relaunch in the future. The courses on offer will mainly focus on the missionary challenges within Scotland.
THE TRICKLE-DOWN EFFECT
Broader changes within the Church have also had an impact on theological training. While the majority of those going to Bible college have traditionally been aged between 20 and 25, this age group is now often missing from, or lower in number in, UK congregations. 'There are fewer young people in our churches, and hence fewer people of this age group to go to Bible college,' Tiplady says. Put simply: 'The number of colleges that there used to be simply aren't needed anymore.'
A more general decline in church attendance again affects the funds available for training. Leach says that one of the reasons behind the broad changes to today's theological education is 'the reduced financial resources available to the churches for achieving their goals due to their numerical decline'.
THE UK'S WIDER ECONOMIC SITUATION MEANS THAT COLLEGES NO LONGER NECESSARILY RECEIVE GIFTS AT THE LEVELS THEY ONCE DID
TRIBALISATION
A trend for 'tribalisation' among evangelical Christians has led to increasing numbers of small theological training institutions opening in order to serve small niches of the market.
'The growth of interdenomination­alism that we saw in evangelicalism in the 80s and 90s is declining and the Church is becoming more tribal. Those of each tribe want to run their own training programmes. There are certain things in their DNA that they want to pass on. Why would you entrust it to somebody else?' says Tiplady.
This creates a significant challenge for interdenominational Bible colleges. 'As one of my former colleagues described it: "We were everybody's second best friend,"' Tiplady says.
Theological training through the 20th century
1872 The East London Institute of Theology and Harley House are founded in London. Twenty years later the Bible Training Institute (now known as ICC) opens in Glasgow. These are the first interdenominational Bible colleges to train men and women together.
1892 Redcliffe opens as one of a number of small, women-only colleges, training women for the mission field.
1914-40 Part-time missionary or Bible training, including evening classes, emerge during the interwar years.
1943 London Bible College (now LST) opens. It promises academic rigour, and those entering the degree courses are required to have 'O' and 'A' levels. No previous Bible college had asked for any academic qualification for entry. It is the first college to offer a degree.
1966 St John's, Durham, is the first Anglican theological college to train men and women together.
1978 St John's, Durham, appoints Ruth Etchells as the first female head of an Anglican training college.
1980-90s The first modular approaches to training emerge, including context-based training. St John's, Nottingham, pioneers an extension programme in mission studies.
1992 Women training in Anglican theological colleges are permitted to become priests as well as deacons.
2014 Female Anglican priests-in-training hear that they will be able to become bishops in the future.
NEW PATTERNS OF TRAINING
The recent decision made by St John's, Nottingham highlights a developing trend within theological education for training that intersperses practical ministry with theological study, sometimes referred to as 'context-based' training. In the past, those seeking to be ordained often waited years before gaining any hands-on ministerial practice. The academic boxes were ticked first.
'In some ways, we are at the forefront of this trend by pioneering a new form of what we call full-time, church-based training,' says Rev Dr Graham Tomlin, principal of St Mellitus College, London. At St Mellitus, those training for ordination on a full-time basis spend half their time studying and the other half training on the job.
'St John's have made a very bold move to go very much in that direction,' says Tomlin, who adds that it is arguably cheaper than residential training. 'But we would also say, and I think a number of other places are realising this too, that there are real advantages to training in this way.'
DOES RESIDENTIAL TRAINING STILL HAVE A FUTURE?
With many college principals in agreement that applied ministry experience must be interwoven with study for successful theological training, will residential training remain the predominant model in preparing the church leaders of tomorrow?
'It's very difficult to form people deeply into their new vocation when they are training outside the community and they are trying to balance this with the pressures of work and family life,' says Rev Dr Mark Clavier, acting principal of St Michael's, Llandaff. 'If churches lose residential training altogether they will regret it. I think most churches will retain a core of people who will train residentially.'
In a blog post, Rev Dr Mark Pickles, director of Anglican ministry training at Oak Hill College, London, challenged the decision made by St John's, Nottingham, to end residential training. Asking what the best way to train gospel ministers is, he writes: 'The answer (how to put this delicately?) is a no-brainer. Of course it is full-time residential.'
He continues: 'Full-time residential training provides a richness of resources and opportunity that most will never have again.'
Brady believes that residential and non-residential training options must both continue. But for some, he says, closing down the residential capacity will be the only mode of financial survival.
'There's still a very genuine place for residential training,' Tomlin agrees, 'but it may be that its place as the gold standard for theological education is shifting and changing. It's right for some people, but not for all.'
FORGING AHEAD
Rev Dr Emma Ineson, principal of Trinity College, Bristol, agrees that whether training takes place in a residential or non-residential setting, it is essential that theology is worked out in practice. 'We need training that is not divorced from the realities of everyday life,' she says.
Rev Dr Krish Kandiah, president of LST, echoes her sentiment. 'There's sometimes this idea that theological institutions can be quite separate from people's real life and practice…I'm hoping to be part of an institution that's going to equip people for the real world, not be some ivory tower,' he says.
Ineson believes that strong theology must not be compromised for the sake of hands-on experience. 'We still need good theology…so we do need good theological colleges with well-trained, committed faculty members, able to publish and supervise higher research; where academic rigour is maintained and we continue to discern how God's word in the Bible speaks today. That only comes through devoted study,' she says.
WE'RE GOING TO NEED TO TRAIN MANY MORE MINISTERS, BOTH LAY AND ORDAINED
WHAT THE FUTURE HOLDS
In March 2014, the Church of England's ministry division launched a review into the means of theological education it offers. Its results are yet to be published, and will no doubt shape the next phase of the way in which Anglican ordinands are trained. So what can we expect the future of theological education to hold?
'The sector will continue to contract; more colleges will close. That's almost inevitable,' says Samuel. Ineson believes that future theological education will look very different. 'We're going to need to train many more ministers, both lay and ordained, and these will need to be people who know how to encourage the ministry of all the people of God, not just do it all themselves,' she says.
'They will need to have experience of leading teams. They will need to be people who know how to handle and lead through change as the context of ministry and church life shifts rapidly in the next few years. They will need to be adaptable…My guess is that there will be more creativity in the way training is done.'
There is a universal sense among the college principals I've spoken to that a diversity of training options will be needed. 'We live in a world where one-size-fits-all no longer works,' says Standing. 'Theological training will need to be flexible to provide bespoke pathways for people with very different needs and circumstances. Yet that will need to be accomplished without losing the vital community dimension or the excellence in biblical and theological studies that have been the hallmark of ministerial training in the UK.'
Whichever way tomorrow's church leaders are trained, godly character remains the ingredient that stands the test of time. As Ineson says: 'For all this we are going to need leaders whose characters have been shaped and formed by their faith in Jesus. We need people who have the resilience and creativity to face the challenges of the future.'