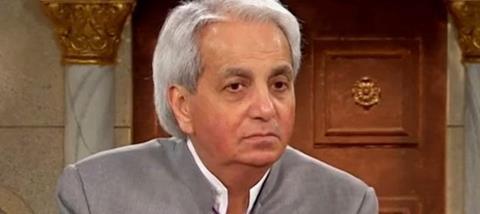 "I think it's an offence to the Lord, it's an offence to say 'give $1,000'. I think it's an offence to the Holy Spirit to place a price on the Gospel."
This is the charge many Christians would level at the prosperity gospel — the strand of Christianity that teaches health and wealth are promised to those who give financially. So it may surprise you to learn this quote comes from Benny Hinn, a name synonymous with the movement for the best part of 40 years.
"The Holy Ghost is just fed up with it"
In a recently released video, Hinn makes clear his disassociation from the prosperity gospel. "I'm sorry to say that prosperity has gone a little crazy and I'm correcting my own theology and you need to all know it, because when I read the Bible now, I don't see the Bible in the same eyes I saw 20 years ago." He adds: "I'm done with it. I will never again ask you to give $1,000 or whatever amount, because I believe the Holy Ghost is just fed up with it."
This follows on from Hinn's stunning admission in 2017 that his teaching on the prosperity gospel had "gone to the extreme". This time, however, Hinn looks to have gone a step further. In the video he says that at first he did not want to detach himself too much from the movement for fear of hurting friends. But now he "doesn't care what people think" and his retraction is more emphatic. All in all, it's a striking and welcome reversal of the way he used to entice people into giving donations of $1,000.
He concludes: "The gospel is not for sale. And the blessings of God are not for sale, and miracles are not for sale. And prosperity is not for sale."
How seriously should we take Hinn?
Hinn looks to be undergoing a genuine change of heart and theology. This comes across further in a follow-up interview he conducted with Charisma. He says the shift has not been prompted by his critics (including his nephew Costi, who broke free from the movement in 2017) but by spending time "in the Word day and night".
Hinn admits that while he began ministry because of his love for Jesus, he became "distracted" as his fame grew. But it wasn't until two years ago that he began to seriously question the movement's theology, wondering "where Jesus is in all of this".
Hinn is clearly becoming increasingly conscious of his age, legacy and standing before God. "Today, I'm 67 years old, and I'm thinking about 'How am I going to finish? What will I leave behind for the next generation? How will they view me?'" he says. "I want them to view me as one who preaches the cross. I do not want to be known for prosperity. I want to be known for someone who preached the cross of Jesus — salvation."
A weariness can be detected in Hinn's speech. After all, publicly admitting you've got it wrong for many years is a humbling process to experience, whoever you are. But despite this, there remains the nagging sense that more steps need to be made. And for Hinn these may be the hardest.
Repentance
Costi has greeted his uncle's latest words with cautious optimism. Referring to Zacchaeus — the tax collector who, after encountering Jesus, repaid those he cheated four times what he owed them and gave half of his possessions to the poor (Luke 19:1-10) — he said: "Genuine repentance in the Bible is always accompanied by actions that prove that it's really repentance."
He continues: "My desire is that Uncle Benny's statement is not merely public remorse to save face or protect his ministry from decline, but rather that it is genuine repentance and that he would be willing to forsake everything if it means gaining Christ and the full gospel."
Hinn has acknowledged the manipulative nature of the prosperity movement and the awful damage that it can cause. But as yet there does not seem to be a personal apology for the significant role he has played in this. And to take the example of Zacchaeus, what steps are being taken by him and his ministry to give back to others? Receiving grace and forgiveness from God does not negate the importance of being accountable for our wrongdoing and the people that we've hurt and misled.
Benny Hinn's retractions of the prosperity gospel are encouraging and hopefully his words will be accompanied by contrition to those he has wronged along with some form of restorative action, whatever that might look like in practice. This would not only further reflect a genuine change in heart and go some way towards reaching out to those affected by the false teaching, but it would also serve as a wonderfully powerful witness to the true Gospel which Hinn now claims to understand. It could well be his greatest legacy.
Read Premier Christianity's cover story 'How I left the prosperity gospel behind'
Enjoyed that? Get more articles covering news, culture, faith and apologetics in every print issue of Premier Christianity magazine. Subscribe now