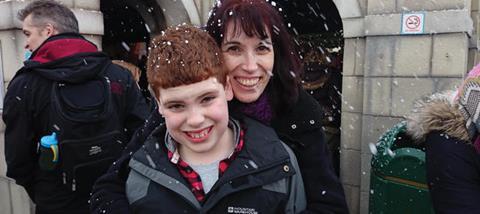 As well as receiving the honour, Barbara won a week's holiday in Samos, courtesy of Richmond Holidays.
Nicole says: 'She was told Jack wouldn't talk, so she learned Makaton to teach him how to sign, which to everyone's amazement he did. She eventually taught him how to speak. He is an amazing young man and is a credit to all the hard work, tears and love that Barbara pours out on him.'
Over the years, Barbara has campaigned for equal rights for young people with disabilities, worked with Families Acting for Change Essex (FACE) and attended many Essex County Council meetings to give parents with disabled children a voice. She set up a mother and toddler group for children with special needs and hopes to set up a relaxing hub for teenagers with autism and Asperger's.
She says: 'From when Jack was first diagnosed when he was three I've done everything I possibly can to keep him out and about in society…One of the big things I'm always struggling with, particularly around school and places like that, is they're trying to make my square peg fit into a round hole…
'As a mum I'd always say embrace your children…You have more patience and tolerance and understanding. Use those skills and abilities to steer your children in a gentle way rather than do battle with Barbara with her son Jack them and point out their faults.