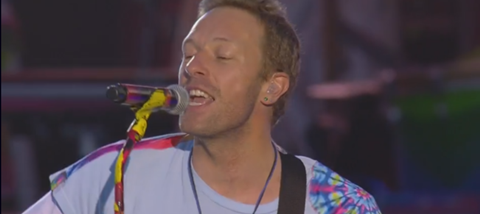 After the recent tragic attacks at the Manchester Arena and London Bridge I must admit I was sceptical about a pop concert hosted by the bunny-eared 23-year old former Nickelodeon children's TV starlet. But in the evening sunshine at the Old Trafford Cricket ground I was proved well and truly wrong. Apart from the incredible courage and dignity demonstrated by Ariana Grande and her management team there was just the right balance of condolence and confidence, celebration and commemoration, mourning and dancing to make this a very special evening.
There was also a powerful and meaningful spiritual thread running throughout the event that surprised me. It began when Marcus Mumford, lead singer of Mumford and Sons opened the event with a soulful rendition of his song "Timshel". Mumford is the son of Vineyard church leaders John and Eleanor Mumford and recently declared his love for Jesus at the HTB leadership conference. "Timshel" comes from a Hebrew word that occurs in God's challenge to Cain to rule over his temptation to sin. After the song Mumford shouted defiantly "Love casts out fear!", a direct quotation from 1 John 4:18.
Angels
Soon after Robbie Williams chose his hit "Angels" to offer comfort to the audience. As he sang many adults held up signs on pink paper which read "for our angels" in respect for the 22 young people that were killed in the Manchester bombing. These references to angels at the event seem to point to a lingering belief in an afterlife even though we ostensibly live in more secularised times. What people seem to be hoping is that the children, whose lives were so cruelly cut short, can enjoy peace in a spiritual realm, where we can one day join them and be reunited. Despite this popular usage of the concept of Angels, the Bible doesn't argue that humans turn into angels but rather that angels are a separate category of spiritual being.
There is no end to grief
U2's Bono made a special appearance at the event via video. At a recently recorded interview with theologian Eugene Peterson, Bono challenged Christian songwriters to be more honest and raw in their writing and last night he lived up to this challenge himself offering heartfelt and profound words of empathy and comfort to the audience; "There is no end to grief, that is how we know there is no end to love."
Where is the love?
The next stand out moment for me was the re-formed Black Eyed Peas fronted by Will.I.am performing their hit song "Where is the Love?" The song includes a call to "practice what you preach… turn the other cheek." But at the heart of the song is a repeated prayer "Father, Father, Father, help us, Send some guidance from above 'Cause people got me, got me questionin' - Where is the love?"
But it was 24-year-old former child pop sensation Justin Bieber who gave the clearest articulation of the Christian message at the event. He said: "I'm not going to let go of hope. I'm not going to let go of love. I'm not going to let go of God. Put your hand up if you're not going to let go. God is good in the midst of the darkness. God is good in the midst of the evil. God is in the midst, no matter what's happening in the world, God is in the midst and he loves you and he's here for you." Bieber, who is arguably the biggest popstar on the planet was baptised three years ago and has often spoken of his Christian faith, both in interviews and on stage."
Don't look back in anger
Coldplay showed respect to the musical heritage of Manchester by covering the Oasis song that has become an anthem of Manchester's resilience in the face of terror: "Don't Look Back in Anger". Then, after singing the classic indie rock anthem "Sit Down" by James, Coldplay sang the song "Fix You" that has always reminded me of God's ability to redeem us and our circumstances. That was followed by their global hit "Viva La Vida" which is full of Christian symbolism as it references the bells of Jerusalem, missionaries in a foreign field, but also the cryptic line "I know St Peter won't call my name" which has always struck me as challenging. Chris Martin, the songwriter and lead singer behind Coldplay, seems to be expressing a sense of fear of not being invited into heaven. It's strange, that Martin who writes some of the most hope-filled lyrics in the pop charts today, expresses this sense of unworthiness about his eternal future.
Ressurection's on
The final surprise of the night was Liam Gallagher singing Oasis songs, including "Glass Wall" which includes the words "I believe the resurrection's on, and you were wrong." It's a tough line for a concert aimed at children but what a challenge and what hope? As the people of Manchester expressed grief and defiance last night, there was a very palpable sense of faith in a resurrection. The message of the Bible that death ultimately is not the end is the best hope there is in the face of evil and terror.
It was a fantastic evening and great credit should go to Ariana Grande, and her team and her manager Scooter Braun; who also gave a very moving speech. The event honoured the dead, the wounded and the bereaved, but it also asked a question to us, will we let love cast out fear?
Click here to request a free copy of Premier Christianity magazine