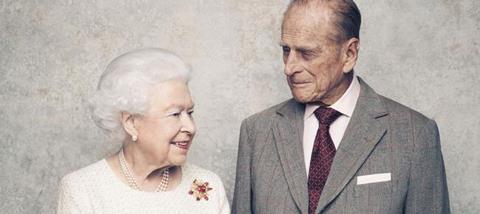 Queen Elizabeth II holds a special place in the heart of the nation, celebrated along with Prince Philip for the couple's loyal service to their country, even into their nineties. In many ways, that service has only been possible thanks to their strong partnership over the past 70 years.
But in a society where so many marriages are prone to break down (and the royals are not exempt from the divorce statistics) what lessons can we learn from the Queen and Prince Philip's enduring example?
1. They had no illusions about married life
Too many people enter married life thinking it will be a bed of roses - as though getting wed will somehow turn their flawed partner into Prince (or Princess) Charming. When reality kicks in it can often put tremendous strain on a marriage.
However, by the time they wed, and early into their married life, Elizabeth and Philip had already seen that married life was no walk in the park and the devastation that could come from failed relationships.
Elizabeth's own father King George VI had taken the throne following the abdication of his brother Edward VIII who had fallen in love with American divorcee Wallis Simpson. And she watched her own sister Margaret's tortured relationship with a married man, Group Captain Peter Townsend.
A realistic view of the pressures and challenges of married life is essential for anyone who wants to build a lasting relationship.
2. They have weathered stormy times
It's no secret that there have been many strains upon the Queen and her extended family. When she famously declared in 1992 that it had been an 'Annus Horribilis' (awful year) she was referring to the breakdown of the marriages of her son Prince Andrew and Sarah Ferguson, and her daughter Princess Anne and Captain Mark Phillips as well as the unraveling relationship between Prince Charles and Princess Diana. The year was topped off by the devastating fire that engulfed Windsor Castle in November.
Yet worse was to come. In 1997 when Diana was killed in a car crash in Paris following her separation from Prince Charles, the Queen came under public criticism for her supposedly unemotional response. Yet, we know she was also a grandmother seeking to care for two shell shocked grandsons.
Even the strongest marriages are tested by family tragedies, but the Queen and Prince Philip saw them through together, even under intense public scrutiny.
3. They work as a team
Despite their different personalities the Queen and Prince Philip have formed a partnership that works remarkably well. When the Queen was suddenly called to take the throne following the death of her father, it meant Philip sacrificing his career in the Navy. But he knew that the cause they were working for needed his full support.
Whether officiating at events together or apart, in the UK or globally, their partnership has helped to keep the wheels of diplomacy turning around the world as they have presented a unified front.
4. They laugh together
Apparently the royal couple are often 'tickled' when something goes wrong at ceremonial events.
Commenting on the royal couple's fondness for sharing a joke, BBC Royal Correspondent Jenny Bond said: "You have to list companionship, friendship and shared experience as having seen them through to this remarkable anniversary as well as a very deep love between them. But a big part of what has kept them going over so many years is the fact they can share a joke together."
5. Their marriage rests on the bedrock of Christian faith
Both Prince Philip and the Queen are professed Christians. The Queen in particular has increasingly worn her faith on her sleeve in her Christmas messages and in her private life.
In 1947 she swore to prince Philip the traditional words of the 'Solemnisation of Matrimony': "To have and to hold from this day forward, for better for worse, for richer for poorer, in sickness and in health, to love and to cherish, till death us do part, according to God's holy ordinance; and thereto I give thee my troth."
In doing so she weighed the significance of such vows, sworn before the God she worshipped. And from that day to this, those words have been backed up by the reality of the living faith the Queen evidently holds and which has informed the royal couple's duty not only to their country but to each other.
Married or not, we can all learn something from the faithfulness, grace and commitments that inform a marriage that has stood the test of time. So three cheers for Queen Elizabeth II and Prince Philip on their platinum wedding anniversary!
Click here to request a free copy of Premier Christianity magazine