A crowdfunding campaign has raised over half a million pounds to bring a tapestry commissioned by Henry VIII and dubbed "the birth certificate of the Church of England", back to the UK.
The 20-foot tapestry, described as "the greatest renaissance tapestry to appear on the market in generations" was thought lost for almost 200 years before conservators discovered it in a Spanish collection. Now it is on sale for the kingly sum of £3.5m. Most Rev Justin Welby, Archbishop of Canterbury, has backed calls for the "extraordinary and rare piece of art" to be purchased for display at the newly opened Faith Museum in Bishop Auckland, County Durham.
Jonathan Ruffer, founder of the Auckland Project (which runs the Faith Museum) called the artwork "the Holy Grail of Tudor tapestry".
A statement from the museum explains: "Several renaissance monarchs commissioned 'Life of St Paul' tapestry sets: Henry alone requested additional episodes, one being 'The Burning of the Heathen Books' [pictured here]. The commission came shortly after Henry's 1534 Act of Supremacy and immediately before the Dissolution of the Monasteries, a period that saw Henry issue a series of proclamations against seditious or heretical books. The burning of the books at Ephesus provided Henry, himself regularly ordering the public burning of 'heretical' books, with biblical precedent. It is likely Henry requested the scene for this reason, allying himself with St Paul."
Export rules mean that the tapestry cannot be sold outside of Spain unless the buyer is deemed to be "a suitable institution with a historic link to the tapestry". Auckland Castle says the new museum, which explores 6,000 years of faith in Britain through over 250 objects, will provide a suitable home.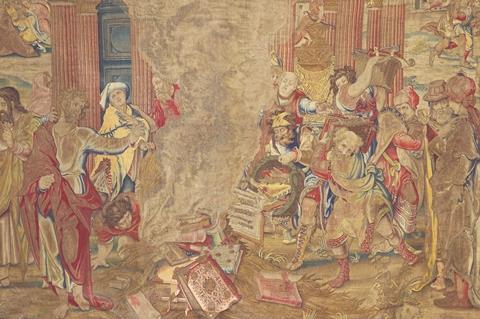 For more information and to donate visit aucklandproject.org/about-us/tapestry
Listen to Premier's interview with the Faith Museum's Head of Exhibitions at premier.plus/faithmuseum