More than one million refugees have arrived in Lebanon after fleeing the conflict in Syria. Sam Hailes visited the country to find out how the Church is responding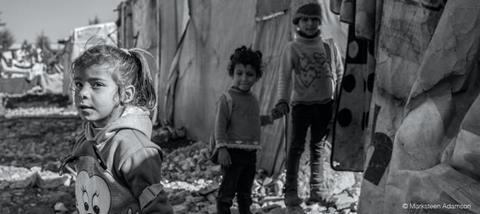 I'm standing in a refugee camp in Ferzol, Lebanon. Warde, a Syrian Muslim and mother of seven is standing outside her makeshift tent, beckoning to us and saying, 'ahlan wa sahlan' ('welcome' in Arabic). Inside I meet her seven children; the youngest is 2 and the eldest, 16. I struggle to comprehend how this large family have been able to survive in a tiny cramped space which, to my Western eyes, looks more like a shed than a home.
The $100(US) that Warde receives from the United Nations each month only pays the rent. The 200 other families who also camp here in the middle of a large vineyard pay the same to the landowner. There are no adult men in the camp. They're out at work. But Syrians are often exploited and paid far less than their Lebanese colleagues. Warde's family can only afford to eat every other day, yet they're still behind on payments to the man who sells them bread. 'My children are dreaming of a sandwich,' she says. Warde's children, like all Syrian refugees, are not permitted to go to public schools in Lebanon. It's a desperate situation, with little hope for the future.
LEAVING SYRIA
When bombs rained down on Daraa in Syria, the family say they had no choice but to flee the country. Speaking from inside her tent, Warde says there were dead bodies all over the city: 'It's genocide.' The family hid in a car and crossed the border illegally, fleeing to Lebanon with nothing but their lives.
This refugee camp is only 30km from Syria, but there's no danger of conflict here. The tenants' greatest enemy will be the cold of winter, and Warde says her children don't have the clothes they need to keep warm. In previous years, the snow has been so heavy that it's destroyed some of the structures.
Summing up her situation, Warde says, 'I am only counting on Allah,' adding, 'This is Allah's will. We cannot do anything.'
The road from Damascus into Lebanon is full of poor and desolate people, fleeing the worst humanitarian crisis of our time. Lebanon has the largest number of refugees per capita on the planet. 1.2 million people are registered as having sought refuge here in the past three years, but there are likely thousands more unregistered. Some estimate that as much as one third of Lebanon's population is now made up of Syrian refugees. The relatively few number of refugees from a Christian background who flee to Lebanon are almost always housed by local churches. It's the Muslims who are in unofficial camps like Ferzol.
The Christian refugees I meet elsewhere in Lebanon have plenty of their own horror stories to tell about what's happening over the border. ISIS are either killing Christians, or forcing them to pay the jizyah – a tax on infidels. Pro-government militia on the other hand have been known to kidnap wealthy Christians and hold them to ransom.
I'm told that Christians in Syria aren't expecting help from an Assad government that can 'barely defend itself'. Instead they must rely on international aid. One man named Rami tells me, 'If it wasn't for aid, everyone in Syria would have starved.' There's also anger that 'no one is thinking about the consequences of bombing'. Every time another country decides to join in the bombing, the Syrian pound drops in value. Unemployment is soaring and the economy has shrunk by 40% since the start of the war.
THE CHURCH IN LEBANON
The two largest denominations in Lebanon are Maronite Catholic (21%) and Greek Orthodox (8%). There are also Melkite Catholic and Armenian Orthodox churches. Less than 1% of the population is Protestant.
LEBANON IS MENTIONED 100 TIMES IN THE BIBLE. WE SEE IT AS HOLY LAND
Syria occupied Lebanon from 1975 to 2005, and much of the Lebanese population have very negative feelings towards the Syrian people. This initially resulted in some churches being slow to reach out to the refugees. But attitudes have changed over the past four years and most churches have now stepped up. One person told me, 'Before, you could ignore Syrian refugees, but now they are coming to the door of your church and you have to deal with it.'
Lily Malky who works for Hadath Baptist Church in Beirut says the influx of Syrian Muslims to Lebanon is 'God's divine intervention'. The church's biggest programme is food distribution.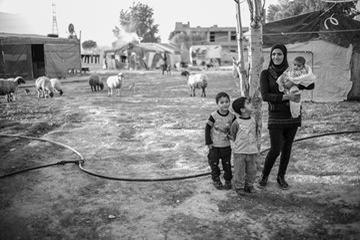 'They come for food first, then they fall in love with Jesus. We invite everyone to attend discipleship, and we invest in their lives and teach the Bible. We go from the beginning telling Bible stories because they know nothing of that. We try to meet their needs as a whole family.'
Speaking of the many signs and wonders that the church has witnessed, Lily explains, 'They don't have the capacity to pay for operations, so we pray because that's all we have to offer, and then two days later they come and say the check-up shows no cancer and they're healed. We're amazed and they're amazed! It's like Acts…We see it so frequent[ly] – as if it's normal.'
Many Christians are upbeat about the Church's increased involvement with refugees, and Lily isn't the only believer claiming healings have become a regular event since the refugees have arrived. One Christian leader tells me refugees have been known to say, 'I thank God for this war because I met Jesus.'
Outside the church I meet Saba. I'd spotted her in the service, standing at the front with her hijab on, lifting her hands in worship. When she lived in Syria, she was a Muslim who 'knew nothing' of churches. Having fled to Lebanon in search of a better life, she discovered Hadath Baptist Church. 'I got to know Christ here,' she told me. 'After I got to know Jesus, my heart is at peace. I thank God.'
Lebanon: the facts
4.4 million: Population
Beirut:Capital
Arabic: Language
1.2 million: Number of registered Syrian refugees
54% Islam 40% Christian 5% Druze: Religion
NATION IN UPHEAVAL
Lebanon is a country with major problems. Forty-three people were killed in a double suicide bombing in Beirut just days before I arrived there. Parliament isn't sitting and the graffiti in Beirut is crystal clear: 'You stink but you don't do s**t' reads one message. 'Stink' is a reference to the city's unprecedented garbage crisis. Rubbish has lined the streets for months, just one of many failures of governance. Violent protests have raged in the capital as thousands protest their leaders' inability to provide basic services. Government buildings are surrounded by barbed wire and heavily guarded. Parliament should have appointed a President 18 months ago, but they've been unable to agree. The public mood is one of anger and frustration.
Lebanon operates a unique political system called 'confessionalism'. Political power is shared proportionally among religious communities. This means the nation's Prime Minister must always be a Sunni Muslim, the President a Maronite Christian and the speaker of parliament a Shia Muslim. While this isn't a perfect democracy, Lebanon gets a lot closer to that ideal than the rest of the Arab world. The constitution provides for freedom of religion and freedom of the press. With 40% of Lebanon's population professing a Christian faith, this is the only Arab country with a sizeable and relatively free Christian minority.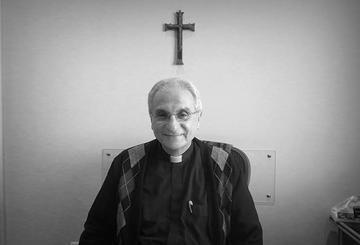 THE RISE OF FUNDAMENTALISM
Rev Dr Habib Badr, 65, is one of the country's few Protestants. He's also the pastor of the oldest Arabicspeaking evangelical church in the world – the National Evangelical Church of Beirut.
Dr Badr argues that political power-sharing is not only 'a great opportunity for the gospel' but also 'the only way we can survive'.
From a legal perspective 'there's no problem' if a Muslim converts to Christianity, Dr Badr explains. That said, there are social pressures. He says 'the rise of fundamentalism' over the past decade throughout the Arab world has made it more and more difficult for Muslims to convert to Christianity. In Lebanon, conversions away from Islam can have serious ramifications on a person's marriage and inheritance.
'Life has become very different. It used to be that nobody had problems opening a shop to sell alcohol. Now in some districts of Beirut people don't serve alcohol in a restaurant. In some areas of Beirut the women are almost completely veiled. It's only in the Christian areas that you rarely see a veiled woman.'
More than half of schools in Lebanon are Christian-run and Dr Badr reports Muslim families are becoming 'more sensitive' about this.
Testimony of a Muslim convert to Christianity
The team at SAT-7 received the following Facebook message from a man from Damascus who now lives in Lebanon
I'm crossing from the darkness of Mohammed to the light of the Lord Jesus. I am in a very hard situation but our God is a living God and his mercies are for evermore.
I am from a Sunni Muslim background. After becoming a Christian I was persecuted a lot because I was criticising some of the Islamic beliefs and comparing them to the message of Christ and his deity. I was persecuted by my parents. Three times they tried to kill me. One of them hit me on my head with a glass of water. I had to [have] 26 stitches in my head.
[Later] one Saudi brother was living in the same place I was and took a knife, trying to kill me because I'm a believer in Jesus Christ. After one month of comparing Islamic teaching and the Bible, the Lord appeared to me like an angel in white while I was studying Koran and Bible. I told my friend what happened to me. He said, 'The Lord is opening the door for you to come in. He loves you. Don't refuse his love.'
I was kidnapped, rebuked and cursed many times by the Islamic leaders in Damascus. So I decided to flee. Now I've been in Beirut 20 months. I thank the Lord Jesus for giving his life for us on the cross, for dying and rising up again. He can give those who believe in him eternal life and better life. I'm now living in hard circumstances because I don't have a job. I'm continually praying to the Lord but I don't go to church and I'm still not baptised. I can't go to church frequently or I'll be in danger. Please pray for me in Christ.
'They have created problems for the school, saying, "We don't want our children to learn the Christian faith in your school."'
Dr Badr says that 'on paper' his church has 900 families. In reality, the vast majority have migrated elsewhere in the Arab world, or to Europe or the USA. Now there are only 300 families left. Badr's combination of excellent English and PhD-level education means he could easily make a life for himself in the West too. But he's chosen to stay in the city he was born and raised in.
'I will not give up. I've opted to live here with my family and I'm not planning to leave, even if it means I do not survive. That is not optimism, but rather based on hope.'
BROADCASTING THE GOSPEL
It's this message of hope in an apparently desolate situation that a group of Christians working 10km east of Beirut are seeking to promote, not just in Lebanon but across the world. The mountainside village of Mansourieh is an unlikely place to build a $12m state-of-the-art television studio complex, but then SAT-7 isn't your average broadcaster. The company records and manages a variety of Christian programmes from Beirut, then broadcasts them all over the Arab world, including into nations where it's illegal to be a Christian. Many programmes are evangelistic and others encourage discipleship. There are even game shows where participants phone in and answer questions about Bible stories live on air in order to win prizes such as digital cameras and iPads.
All SAT-7 shows are presented and produced by local Christians who speak Arabic. Their flagship youth programme We Grow Together is fronted by five friends who are all in their 20s and of Lebanese and Syrian origin. One of the presenters, Rawad, says the show works because the team are willing to be 'very honest and vulnerable' on live television. During one episode, Rawad even confessed that despite being a Christian he still struggled with viewing pornography. The show contains discussion around Bible passages, phone-ins about controversial topics (including plastic surgery – which is a big business in Lebanon) and worship songs performed live in the studio.
As well as the main channel, SAT-7 KIDS is watched by 10 million children across the Arab world. A country may seek to marginalise or even persecute Christians, but they cannot block Christian TV if it's coming via a satellite. The channel was shocked to discover that 800,000 children in Saudi Arabia regularly tune into SAT-7 KIDS.
SAT-7's Lebanon office answers 1,500 emails and hundreds of Facebook and WhatsApp messages every month. Enaam H Abou Khalil who oversees this work in the Beirut office reports that many people – both children and adults – are finding faith through the TV station.
'Many are touched by the message of love and forgiveness that we have that other religions don't have. The values we are sharing on air are drawing more people to watch us.
'Once a mother wrote to us saying, "You are the only channel I let my children watch because you are really safe. I know what you put out and I can leave my kids safe in front of you."
'We have cases where women are abused by their husbands. We have a woman who has six children who are girls and the husband is insisting on keeping trying for a boy. She calls in secret because she's not allowed to speak up.
'One believer wrote to us from Nineveh, but the ISIS are there. He's hidden underground fearing to come out and fearing to be killed.'
SAT-7
Channels: SAT-7 ARABIC, SAT-7 KIDS, SAT-7 PARS, SAT-7 TÜRK
Mission: To provide the churches and Christians of the Middle East and North Africa an opportunity to witness to Jesus Christ through inspirational, informative and educational television services.
Locations: Beirut, Lebanon, Cairo, Egypt, Istanbul, Turkey, Limassol, Cyprus and London, England
Reach: Estimated 15 million viewers across all channels
Website: SAT7uk.org
As the refugee crisis hit Lebanon, SAT-7 commissioned a programme to help the hundreds of thousands of Syrian and Iraqi refugees who no longer have access to free education. My School is a 90-minute programme which airs Monday to Friday on SAT-7 KIDS teaching 4 to 7-year-olds Arabic and English. It's fronted by experienced schoolteachers and is also available on DVD. The program has already attracted a large audience as children crowd round television sets in refugee camps, eager to learn.
Positive feedback poured in after the channel aired the first series of My School and a second series of the show is already in production. Presenter and teacher Shams Saad believes the programme is a powerful demonstration of Christian love. 'It's very easy to say, "I love you." But this programme is sharing love,' she comments.
HOLY LAND
Lebanese Christians are proud of their country's biblical connection. Sister Basima Al Khoury, a Catholic nun who heads up a trilingual school in Beirut told me, 'Christ passed through our land. Lebanon is mentioned 100 times in the Bible. We see it as holy land and we are attached to this country.'
As my time in Lebanon drew to a close, Dr Badr's words seemed to best sum up the situation for Christians in Lebanon right now: 'I've often described our situation as similar to people living near a volcano.
I CANNOT BE OPTIMISTIC. BUT I'M HOPEFUL
The volcano may not erupt for years, yet you can never set your mind at ease because it may erupt.
'We had a war from 1975–90, then we thought we had peace. But in 2006 there was the big Israeli- Lebanese conflict and our country was almost destroyed. Then we thought we had peace, now we have explosions here and there. The last one was ten days ago. We expect more.
'So I cannot be optimistic. But I'm hopeful because I don't count on numbers, I count on quality of presence. I see us and other Christians still working to open more schools, more hospitals. SAT-7 is a hopeful sign of the times that makes me expectant of better times to come.'
In closing, Dr Badr says, 'I've often likened our situation as Christians in the Middle East to those few hours on Thursday evening before Christ was arrested in the garden. Some of us are asleep as nine of the disciples were. And some of us are half-asleep and are being awakened constantly by Christ saying, "Come on, wake up, keep your vigil." We know the times are not easy, that the situation is filled with danger, that not good things are coming. But we're with Christ so we have no fear. We have worries, but no fear.'

Sam Hailes is the editor of Premier Christianity, the UK's leading Christian magazine. He also serves as editorial director for the Premier media group. Sam is husband to Stacey and Dad to Evelyn and Ezra.
View full Profile