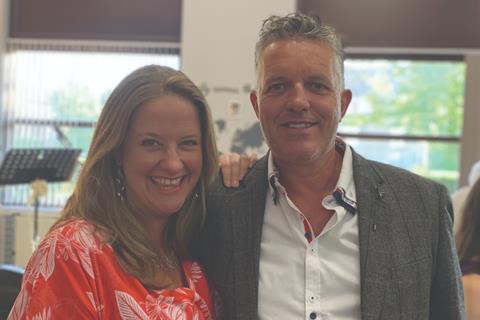 It was one of those: Is this God speaking to me? moments. Seemingly from nowhere a thought surfaced, and the persistent luminosity of it made me wonder if the Holy Spirit was broadcasting on my personal wavelength.
Some believers insist that their lives are punctuated with daily, even hourly revelations such as these. I haven't found God to be quite so chatty, so when I do sense his nudge, I usually enter crisis mode: Is this thought truly the divine voice, or merely the after-effects of last night's chicken tikka masala? I wish God would speak with a louder, clearer voice, but perhaps he whispers because he wants us to draw closer.
But back to my inner nudge. Halfway through a Sunday morning service, I was just about to preach when the thought surfaced again: Take a look at my beautiful people.
And so I did.
I gazed at the sea of faces and recalled some of their stories. There was John, who married after desperately longing for a soulmate for decades, only to lose his darling wife in a car crash caused by a drunk driver. Sally had poured her life out on a lonely mission field. Not many responded to her life of kingdom service, but she stayed the course until retirement. Now she feels somewhat surplus to requirements. I look her way but she is unaware, for her eyes are shut tight, her hands raised in worship. Beautiful indeed.
The whisper confirms the truth that the God who flings stars into space and daubs drab skies with rainbows, finds the greatest delight when he sees hearts that trust him through mystery.
Today I was treated to yet another dazzling sight.
Some dear friends of ours have just received a terminal cancer diagnosis. A tearful oncologist delivered the dreaded news: Steve has been given just months to live. There are hopeful possibilities of some radical treatment options, but he and his family tread a bewildering path: the possibility of a medical solution, their belief in a miracle-working God, all entwined with an upcoming visit to a hospice to discuss end-of-life care.
The weekend after the dark diagnosis, Steve, a brilliant, comedic evangelist, performed at four outreach events. He is the publisher of Sorted, an outstanding Christian magazine for men. His wife, Bekah, continues to lead Restored, a charity that helps victims of domestic abuse.
Just this morning, Bekah spoke of some of the good things that they are celebrating, even as they pass through the valley of the shadow. "There is so much beauty to be seen, even in this horrible season," she said. "We don't want to miss the lovely things that God is doing."
That's when we had to pause for tears, because in celebrating the treasure that can be found even in the darkness, Bekah and Steve have, themselves, become quite beautiful in their persistent faith - and faithfulness. In the intense and unwelcome rollercoaster ride that suffering brings, they are clinging to God. They are, in short, a stunning sight.
Often we focus on what's wrong with the world and with the Church. But all around us, today, there are quiet yet glorious examples of tenacious dedication.
If you're one of them, know this: your love for Christ turns his head.
And if you will, please say a prayer for Steve and Bekah and their lovely family.

Jeff Lucas is an international speaker, broadcaster, bestselling author and monthly columnist for Premier Christianity. He is a teaching pastor at Timberline Church in Fort Collins, Colorado and writes daily Bible notes "Life with Lucas". Hear him every Sunday at 8pm on Premier Christian Radio or download the Lucas on Life podcast
View full Profile