The Church is made up of Christians from a myriad of different professions, and yet ordinary tales of God at work rarely get told. In this series, we bring you stories of faith on the frontline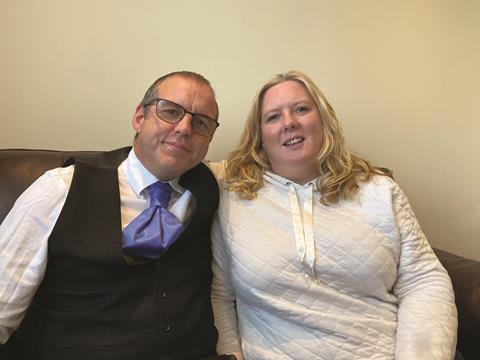 We're John and Liz Pearce, and we are funeral directors from Swindon.
I (John) have been working in funerals for over 30 years. I'm the son of a vicar and wanted to be an actor, but two weeks of work experience changed all that. Over the years, I've gained knowledge and experience, becoming a fully qualified member of the British Institute of Embalmers and gaining my Diploma of Funeral Directing.
In 2009, I started my own business and was later joined by my wife, Liz. We have two branches and employ 15 members of staff.
We're involved in every stage of arranging a funeral. This includes the legal paperwork, liaising with doctors and coroners, preparing the body, embalming, organising the coffin, arranging visits to the chapel of rest, planning orders of service, ordering flowers, arranging cemetery and crematorium fees, and dealing with embassies or consulates if a body needs to be repatriated.
It's a privilege to come alongside grieving families in their time of greatest need. Of course, there are challenges. One particularly sensitive area is helping families who are unable to pay for a funeral and following up on unpaid invoices.
Our company belongs to God, and we want to relate the gospel to every part of it. We constantly pray that the families we work with will encounter something of God's peace and comfort in their grief, and experience his love and compassion.
Every person is unique, meaning that every funeral is unique, and we offer a truly personal service to people we have only just met. Grieving families have had no control over what has happened to them, and we seek to put them back in control. Everything is done at their pace.
I've been involved in around 15,000 funerals, and I've seen some of the best and worst examples of people leading services. We've seen the positive impact when the minister or officiant gets to know the family they're supporting, and speaks in ways that are relevant to where they're at on their faith journey.
Please pray that we will never lose sight of the fact that this is God's work and we're serving in Jesus' name. We know that death is an enemy, but it's also an opportunity to experience God's grace. We ask God to give us the right words and tone. We never exploit grieving relatives by evangelising to them, but we're always prepared to give an account for the hope we have in Christ Jesus.
John and Liz Pearce were speaking to Paul Woolley

Paul Woolley is the chief executive of the London Institute for Contemporary Christianity (licc.org.uk), an organisation working to catalyse a movement that envisions and empowers Christians to live as disciples in their everyday lives
View full Profile