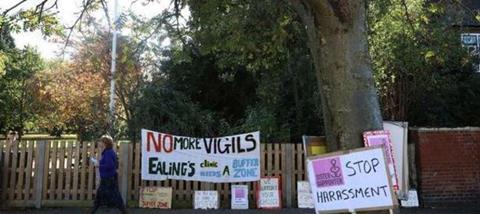 The news that peaceful and prayerful vigils will not be banned has rightly been welcomed by pro-life groups from around the UK. CARE's chief executive Nola Leach described it as a victory for free speech and civil liberties. Ed Rennie, spokesperson for the Be Here for Me campaign, speaking on Premier Christian Radio's News Hour also welcomed the decision.
What's especially encouraging is only a few months ago, the prospect of nationwide abortion clinic buffer zones seemed to be inevitable.
In April this year, Ealing council became the first council in the UK to introduce a 100 metre protest-free zone outside an abortion clinic. Further pressure has come from MPs from across the House of Commons who wrote to the Home Secretary urging him to extend the ban.
If recent battles over the sanctity of life are anything to go by, it is all the more remarkable what happened yesterday. No wonder pro-life groups are so delighted. It's an all too rare win.
The new Home Secretary has confounded the pro-abortion lobby. In his statement to Parliament Mr Javid said: "The main activities reported to us that take place during protests include praying, displaying banners and handing out leaflets. There were relatively few reports of the more aggressive activities described."
The Home Secretary was referring to a major review into abortion clinics and vigils outside of them. In 2017, there were 363 clinics and hospitals in England and Wales in which abortions took place. Pro-life vigils took place outside just 36 of them. According to the evidence, in the vast majority of cases these vigils were peaceful and within the law. The main activities were leafleting, displaying banners and praying.
In what world do these activities constitute intimidation, harassment or violent conduct? Thankfully, common sense has prevailed and based on the evidence, the Home Secretary made it abundantly clear that because there were relatively few reports of more aggressive activities, he does not think a nationwide buffer zone approach is proportionate.
It is important to add that not all vigils get it right. The use of really graphic images and blunt, tough language betrays a lack of sensitivity to the position of some mothers who may have real anxieties and fears about what the future holds. The shock and awe approach also just does not work in practice.
The basic point is surely that most vigils are lawful and respectful. Part of what they involve is people seeking to explain to women that abortion is not their only choice. There are those who went to a clinic for a termination and thanks to the courage and sensitivity of those standing outside, they changed their mind and the life of the unborn baby was spared.
The small number of more violent and intimidating instances need to be dealt with, of course, but if you want to deal with those cases, then use existing powers. The Public Orders Act already makes it a criminal offence to display images or words that cause harassment, alarm or distress.
We have a long standing tradition in this country whereby we allow people to gather to express their views. The Home Secretary has done right by that proud tradition.
If the Home Secretary had gone the other way and bowed to pressure, we would have ended up in a situation where people would have effectively been criminalised for activities such as handing out leaflets and praying. The implications and knock-on effects for free speech, freedom of assembly and freedom of expression would have been immensely damaging. Of course another consequence of a nationwide ban on abortion clinic vigils would be the effect on the right to manifest religious belief in a public environment. Once we start banning prayer, where does it stop? Today the Home Secretary stepped back from the brink of opening Pandora's Box. This is something all of us should celebrate.

James Mildred is a political commentator and chief communications officer for Christian Action Research and Education (CARE) which exists to bring a uniquely Christian insight to policies and legislation in the UK. It believes in a better story for society and culture, where the life of every human being, from conception to natural end, is respected and upheld. James writes here in a personal capacity
View full Profile