Almost ten years on from the National Day of Prayer and Worship at Wembley Stadium, Dr Jonathan Oloyede is planning an even larger gathering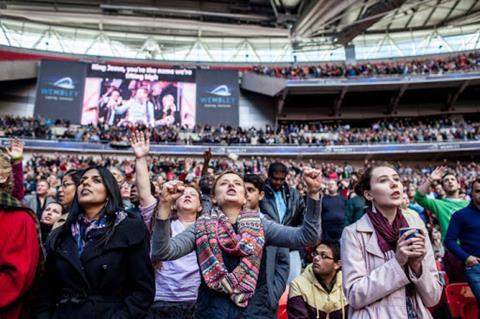 There's still three weeks to go until Pentecost Sunday, but already more than 20,000 Christians have registered to pray together. It promises to be the biggest virtual prayer meeting ever held in the UK.
When the Lord first spoke to me nearly 15 years ago about gathering people to pray for our nation, I had the phrase 'taking a stand' on my heart. We booked two smaller London stadiums to do that. Then in 2012, we took a leap of faith and booked Wembley.
On that day at Wembley, thousands of us worshipped together, we prayed as one, we considered and respected our diversity as we called on God to touch our nation. We laughed, we cried, we danced, we worshipped with all of our heart and even did the odd mexican wave or two!
I now believe the National Day of Prayer and Worship at Wembley was just phase one of the vision God laid on my heart.
Phase two happened when the Lord told us to go to the towns and cities of the UK, with a message of prayer and hope toward the transformation of our family of nations. On the Joining the Dots Tour we would often travel from London and back in a day, as our small team visited churches across the UK. We averaged six meetings a month over a five year period, speaking at 300+ events to over 60,000 people. We became familiar friends with most of the motorways in the UK!
We didn't have a big plan, just a heart to serve. I remember conversations along the lines of, "Okay today we need to be four hours away for a lunch meeting and then back in London for an evening meeting." There were no complaints, just dedicated interaction with everyone who requested a visit from us.
As we thought again about what God laid on our hearts, we realised he was speaking more broadly again - about mobilising individual people to collaborate together, praying for a move of God in our land: Could we find one million Christ-like believers to intercede toward bringing our whole nation to repentance?
It seems that when you pray and press in the first thing that happens before breakthrough is trial and tribulations! Brexit. Covid-19. Divided opinion in the nation pushed fear everywhere. Churches closed their doors and people were made unemployed, debt rose, and faith seemed to dwindle. Yet by the grace of God the vision to raise one million people to pray has never left us.
Considering that we haven't been able to hold large gatherings, or even visit small churches to speak and share the vision, we have gone back to the Lord and asked how shall we do this. We have been 'hibernating' to know his strategy.
After a survey of over 1,000 leaders, there was a strong feeling we should meet virtually this Pentecost Sunday in the first step of the third phase of our ministry.
This will be a virtual gathering like no other, bigger than any stadium event and reaching more people than we have ever before. Plus, it will include all those who would never be able to attend a physical gathering because of finance or ill-health. Now is the time when we can all be together in spirit and in truth.
To book your seat at the biggest virtual prayer meeting the UK has ever held, register for free at virtualpentecost.com

Born in Britain but bred in Nigeria, Dr. Oloyede is a medical doctor by profession but serves as a full-time missionary and minister in England and Europe. He was radically converted from Islam to Christianity within the wake of the revival that hit Nigerian Universities in the 1980s. In 1991 while on a 3 month holiday in London, he responded to the call to Europe as a missionary and minister. He was subsequently ordained into Pastoral Ministry in 1993 at Glory Bible Church where he served in full-time ministry for 15 years.
View full Profile