The right of juries to exercise their moral common sense is being eroded, says Paul Parker.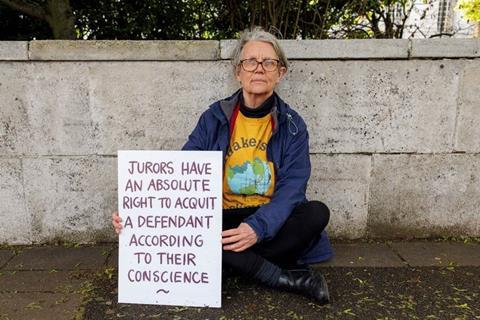 In a move that should shock anyone concerned about justice, the right of jurors to make decisions according to their conscience is being challenged.
The centuries-old principle that jurors should not be forced to convict against their conscience is under threat, following the acquittal of climate protest defendants.
The Shell Seven
Juries ensure laws are true to our moral values. This principle allowed the Shell Seven to be aquited. This group of protestors poured fake oil onto Shell's London HQ, breaking windows and painting messages including "Shell Kills".
In court, the defendants, including Huddersfield Quaker Ian Bray, did not deny the charges, but explained that they felt compelled to highlight the threat posed by climate change.
Sometimes things which are legally wrong can be morally right
In aquiting these campaigners, the jury chose to listen to the evidence of the people before them, and to deliver a verdict tacitly supporting actions which the law said were illegal. Sometimes things which are legally wrong can be morally right.
Because a number of other juries have also returned not guilty verdicts in protest cases, it is beginning to cause frustration among some in the legal profession.
Mr Justice John Cavanagh has ruled that jurors cannot disregard the evidence and directions given by the judge. And Judge Silas Reid has banned the discussion of the rights of juries and the use of the words "climate change".
Judge Reid has banned defendants in nonviolent civil disobedience cases from mentioning the rights of jurors, or the words "climate change" or "fuel poverty", finding them in contempt of court for breeching his rules.
But, as protestors pointed out in a letter to Judge Reid: "If a woman charged with assaulting her husband has for years been subject to violent domestic abuse by the same man, the jury cannot do justice to the case if they are unaware of that history."
"When jurors are denied the opportunity to hear why defendants have taken their actions, they are also denied the opportunity to exercise their moral common sense, contrary to natural justice, the right to a fair trial and the ancient principle established by Penn and Mead," they wrote.
In a deeply disturbing move, Judge Reid also ordered the arrests of four people displaying the message, "Jurors have an absolute right to acquit a defendant according to their conscience" near the court.
These people were attempting to influence the jury, he said, a paradoxical accusation given that the message literally states the law as engraved on the walls of the Old Bailey.
A Christian history
The independence of juries protects us all - and has been established in UK law for over 300 years. It allows jurors to reject prosecutions which violate what is just and fair, politically motivated, or abuses power. This right has an interesting Christian history, as it first came about when a jury refused to convict two Quaker preachers.
The vital legal precedent was set in 1670, and is so key that it can be found on a marble plaque inside the Old Bailey. It records how William Penn, 26, and William Mead, 42, were arrested in August 1670 for holding a Quaker meeting in Gracechurch Street, London.
This so-called 'unlawful assembly' violated the Conventicle Act, which outlawed all but Church of England religious assemblies. But the jury refused to find against Penn and Mead, even after the judge locked jurors up without food or drink for two nights. Later Chief Justice John Vaughan ruled that a jury could not be punished for the verdict it returned.
High stakes
As with many people of faith, Quakers have been at the forefront of many climate actions and were some of those to hold placards reminding jurors of their rights around Inner London Crown Court.
We respect the laws of the state, but our first loyalty is to God's purposes. Many of us are deeply disturbed by climate breakdown and are led by our faith to act, alongside Church of England vicars, Jewish rabbis, and many others.
All of those who act are willing to face the consequences by serving prison sentences.
It's not 1670 anymore. And arguably the stakes are much higher. In recent years the government has passed increasingly draconian legislation, effectively criminalising protest.
But just as Edward Bushell and his fellow jurors stood up for two non-Conformist Christian preachers against the oppressive might of the Church of England and Charles II, so juries today have the right to stand up for what they think is morally just.
The 1670 jury are honoured in the Old Bailey for their "courage and endurance". As the ravages of climate change spread, and the government fails to protect us, people of all faiths and none will need all the courage and endurance they can muster to challenge the status quo wherever they can.