The reported wranglings over the shape of the King's coronation service suggest that Church and state need to be kept separate, argues George Pitcher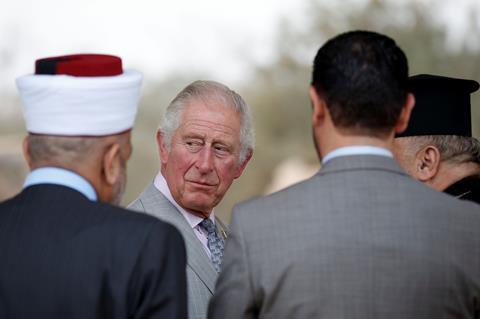 Next month's coronation still seems to be work in progress.
The sudden death of a 96-year-old Queen last September must have caught the palaces completely by surprise. And, on the hop, they've only had seven months to organise everything.
The main problem seems not to be the lining up of everybody in the right order and making sure that the electric windows on the King's state carriage work properly. It appears rather that no senior flunky seems to have spoken to him about what he wants in the coronation service – until very recently.
According to unnamed church sources, the monarch has been told that his desire for a diverse ceremony risks clashing with centuries old canon law, which bars people from non-Christian faiths from reading out prayers during the service.
I think we should side with King Charles on this. Not only is it some 30 years since he notoriously indicated that he would wish to be "defender of faith" rather than the title handed down from Henry VIII of "defender of the faith" – 30 years in which there has been plenty of opportunity to discuss with him what his coronation might look like.
It's also that he's fundamentally right that he is crowned onto the throne of a nation that is unrecognisably different from the one his mother inherited. It is multi-cultural, multi-faith, ethnically diverse and widely deference-free. Most of this is to be celebrated, so the King is right to believe that such celebration should extend to the service of his appointment as head of state in Westminster Abbey.
But what's happening is that the curators of our woefully inadequate and antiquated constitution have belatedly noticed something of an existential crisis in the establishment. Hang on, they seem to be saying, if we include Hinduism, Sikhism and Islam, not to mention Judaism (because no one ever does), then aren't we concurring that the Church of England, established in law as our state Church, has had it? And, if we do that, the whole edifice of the of what is happening on 6 May comes tumbling down.
Because Britain's monarch is not only titular head of state, but also supreme governor of the Church of England, which is where that business of being Defender of the Faith comes from. If the nation's Christian faith is simply one among many (and none, as it were), then what are we doing exactly by crowning him as such? As King, you can't have your multi-faith coronation cake and eat it.
The late Queen instinctively understood this. She gave a striking speech at the Archbishop of Canterbury's London offices, Lambeth Palace, in 2012, in which she said that the Anglican Church didn't so much hold a privileged position in the UK as one that was a protectorate for those of other faiths and none. This was a safer state of affairs for everyone, she implied, than anything an entirely secular state could offer.
This was quite a cunning position to adopt, stating that an unelected organ of the state exists in the best interests of all those who wouldn't vote for it. It is also, unfortunately, the claim of the political dictator.
As a consequence, it fails to take account of the 26 unelected bishops, the Lords Spiritual, who sit in the upper chamber of parliament. They may be an independent moral check in our legislature, they may well be a safeguard against the excesses of an increasingly awful and useless House of Commons – but they are there by virtue of the established Church of England, whose tenets of faith the King will promise to defend at his coronation.
That sounds pretty privileged compared with other ethnic and faith representatives that the King desires to have variously praying, dancing or – and here might be the hope – offering obeisance at his coronation.
The truth is that his coronation service has trickily raised our constitutional anachronisms, which have been hidden in plain sight. How to justify the Church of England's privileged position in our legislature when it no longer occupies such a position in our society?
This month, the Commission on Political Power, an independent group which unofficially reviews constitutional structures, published a paper which argued that, while it recognised that bishops play a constructive and valued part in the legislature, "their presence is anomalous" and any appointments body "should take into account the balance of faith representation."
It goes further: "The House of Lords is an undemocratic anachronism" and should be replaced by a "representative Senate." So it's the House itself that is the anomaly, not the bishops.
Many Christians of influence have resisted constitutional reform, because those lobbying for it have been the kind of secularists that want to sweep religious faith from the public sphere. That is a real fear.
But the House of Lords should be abolished and the Church of England should be disestablished. And it's taken the coronation of the one who will be head of both to show us that. The Church and the state should be separate.
There's no sign that the Church has lost influence in France or the United States for being so. What may be delaying arrangements for the coronation is that France and the US are republics.