After thousands of truckers protested the introduction of vaccine mandates, Canadian authorities brought in controversial measures which have seen protesters' bank accounts frozen. Kameel Majdali explains what has taken place, and why Christians should be concerned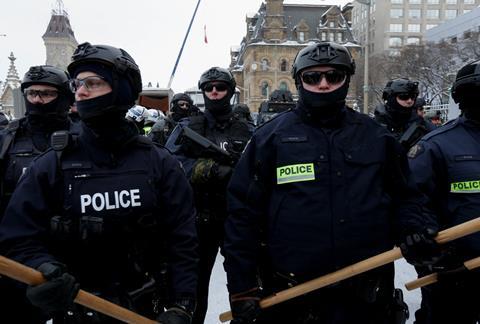 A political, cultural and spiritual earthquake is going on in Canada.
In recent weeks, a spontaneous grassroots movement known as The Freedom Convoy, has been protesting national vaccine mandates. The strong negative reaction to this from the government, has revealed a growing geological fault line in Canadian society.
The protest began in Vancouver when an estimated 50,000 truckers drove a convoy that stretched 70 kilometres towards Ottawa. Their demand: remove the legal requirement for truckers to be vaccinated against Covid. As it stands, unvaccinated Canadian truckers are forced to quarantine when crossing the border, thus incurring a loss of income.
Since most of the truckers are already vaccinated (and Canada has one of the highest rates of vaccination in the world), it is important to recognise this is not an 'anti-vaccine' protest - but rather an 'anti-mandate' protest. The truckers' demand was simple: remove the mandate and we'll go home.
this is not an 'anti-vaccine' protest - but rather an 'anti-mandate' protest
As the government failed to listen and the convoy arrived in Ottawa, the truckers parked their rigs, set up camp, and the street parties began. At the same time, other truckers blockaded several US-Canadian border crossings, causing widespread disruption.
At the height of past lockdowns, these truckers were still working, supplying food and other essentials to the nation. As the Canadian Prime Minister Justin Trudeau tweeted in April 2020, "when you can, please #ThankATrucker for everything they're doing." Oh, how things have changed! Trudeau responded to the protests by invoking the never-before-used Emergencies Act, which is intended for war, civil strife and insurrection. By invoking the Act, these truckers can now be arrested, fined, jailed and have their bank accounts blocked.
Under the cover of Covid, Canada is making an alarming move towards authoritarianism. Many are unhappy about it. Elon Musk is among those tweeting his support for the truckers. The Canadian actress Evangeline Lilly has also urged the Canadian PM to meet with protesters.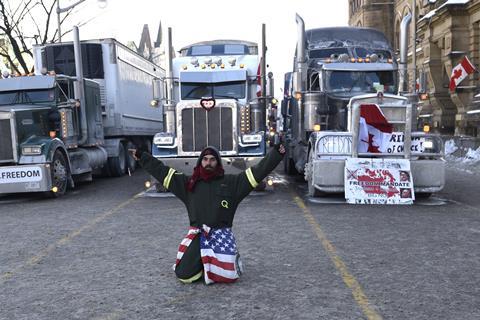 Two Canadas
The convoy has brought into clearer focus the fact that there are now two Canadas.
The first is 'Progressive Canada' which is led by Trudeau. Simply speaking, the principle of this progressivism is 'the government will meet your needs and keep you safe in exchange for higher taxes.'
A century ago progressivism included many Christians who wanted social reform. But today's version is more secular, humanistic, and guided by cultural Marxism, which seeks to redefine nationhood, gender, marriage and family.
The second Canada is 'Populist Canada', represented by the truckers. These are the native Anglo-Canadians, the working class, plus the migrants who love being Canadian. They believe in values of the Anglosphere, as well as traditions, customs, family, nation, and faith.
The PM continues to refuse to meet the truckers; he said they were a "small fringe minority" who "hold unacceptable views." He called "these people" misogynist, racists, and white supremacists.
Progressive Canada and Populist Canada will be interlocked like tectonic plates and the pressure is bound to increase
In the past 48 hours, Ottawa police have moved in, arrested many and the convoy has been dispersed from the capital. According to media reports, a single mum with a minimum wage job has had her bank account frozen after she donated $50 to Freedom Convoy. Is this the end of it all? Probably not.
In the absence of negotiation and diplomacy Progressive Canada and Populist Canada will be interlocked like tectonic plates and the pressure is bound to increase. If it gets to the point of snapping, then comes the earthquake.
How should Christians respond? Of course, we need to pray, but it helps to have informed prayer. May we be like the sons of Issachar, "understanding the times" so we know what to do. (1 Chronicles 12:32).
Peacemaking (Matthew 5:9) and the ministry of reconciliation (2 Corinthians 5:19-20) between the two Canadas would be invaluable. The Church can and should take the high ground in exhibiting grace, maturity, and respect for all parties.
Couple all this with fervent prayer and we have a fighting chance to see two Canadas become one, ready and primed to be part of a last days global revival (Acts 2:17).

Rev. Kameel Majdali, PhD is the International Bible Teacher for Teach All Nations - Europe. taneurope.org.uk
View full Profile