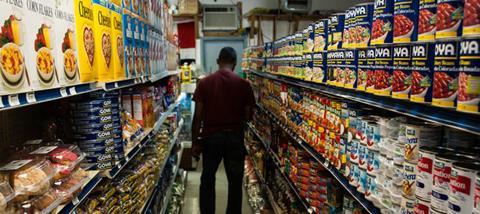 27,000 people relying on foodbanks this Christmas in order to put food on the table. Where? The United Kingdom.
One in three children living in 'multi-dimensional poverty', according to UNICEF. Where? The UK.
More than two people a day dying from malnutrition or dehydration. Where? Right here, in the UK.
These statistics are shocking. Or at least they should be, but food poverty is becoming such a feature of British life, that I fear we're in danger of becoming desensitised to it.
Christians in particular, should be outraged at what we're seeing right before our eyes. The one we worship is deeply concerned about issues of poverty and justice, and we should be too. The problem is that the issue has become politicised in such a way that, if we're not mindful of it, we can be silenced through fear of looking like we're taking sides or being party political.
Some think that's not the role of the church or Christian leaders. But it is. We should be at the forefront of tackling poverty and injustice wherever we see it. It's not ok for us to stay silent.
Some think there's no real poverty in the UK today. Granted, poverty in Britain is complex. But it's here, and it's getting worse. The gap between the rich and poor continues to grow, and the number of children growing up in households facing poverty even though one of their parents is working also continues to rise.
We need to keep seeing what's happening in front of us. Instead of becoming familiar with headlines about food poverty in this country and letting them bounce off us, we need to let them make their way into our hearts and spur us into even greater action.
Christians should be at the forefront of tackling poverty and injustice wherever we see it
It's wonderful that so many churches and Christians across the country are standing in the gap to ensure that thousands of people have food on the table this Christmas, but we need to do more. We have the amazing privilege of representing Jesus to those around us, of bringing mercy where others would bring judgement, of showing compassion where others would place blame.
We need to open our eyes and our mouths. We need to see the poverty that's growing in our neighbourhoods, and we need to speak up about it.
If you're not moved by the frequent reports of poverty on our doorstep, you need spend only an hour or two in your local foodbank listening to people's stories. Many are utterly desperate. I spoke with a woman last week who had been without electricity for five days. She was on Universal Credit when she was offered four days' agency work. Universal Credit has been specifically designed to make work pay, so she took the work, informing her benefits contact. Instead of reducing her UC while she took the work, she was completely signed off as being back in employment. It was a simple mistake from the member of staff at the benefits office, but the consequences for the woman were dire.
At the point at which I met her, she was looking frail and emotional. She hadn't eaten for days and didn't know what she would do. I had to tell her we might not be able to help her with fuel on this occasion. I could see the instant panic all over her face, as she explained that she has an electric cooker and storage heaters, so no way to eat the food we were giving her or heat her home if we couldn't help.
These stories aren't rare. Last week my foodbank in Hastings gave out food for 249 people in one afternoon alone. It seems like almost every week at the moment we're hitting a record high. We've seen an 84% increase in referrals to us in the last year. For the last four years our average monthly referrals have hovered between 148 and 170 per month, but in 2017 our monthly average is going to exceed 300.
In the last year, we've given out the equivalent of over 80,000 meals. And that's just my foodbank.
This Christmas we're asking the Government to go further
At Jubilee+, the national Christian charity that I work for, we're hearing similar stories from across the country. That's why we campaigned alongside the Trussell Trust, CAP, Citizens' Advice and others to ask the Government to make changes to the way Universal Credit is implemented. Though the steep increase in foodbank use isn't entirely down to Universal Credit, the gap between claiming and receiving money is clearly one of the biggest factors in driving up the figures.
We're grateful that the Government listened and made changes, but they don't go far enough. This Christmas we're asking the Government to look again, to go further.
Christians and churches need to do the same. The God we serve is passionate about us alleviating poverty and injustice wherever we see it. We're called to act justly and love mercy. Christmas is a great opportunity to focus our attention on this, but we need to ensure we don't take our feet off the gas in the new year. For as long as food poverty stays a way of life for many in this country, tackling it with our actions and our words needs to increasingly be a way of life for Christians.

Natalie Williams grew up in relative poverty in the deprived seaside town of Hastings. She became a Christian at 15, which changed her life completely. Natalie has been involved with Jubilee+ since its first year, and took over from founder Martin Charlesworth as Jubilee+ chief executive in April 2021. Natalie is the co-author of four books, including A Call to Act and Invisible Divides. She is passionate about the church being a place of overflowing mercy, especially for those trapped in poverty.
View full Profile