The Riding Lights Theatre Group has become well known in the UK Church for their faith-influenced productions. Bridget Foreman pays tribute to the organisation's co-founder Paul Burbridge, who has died aged 69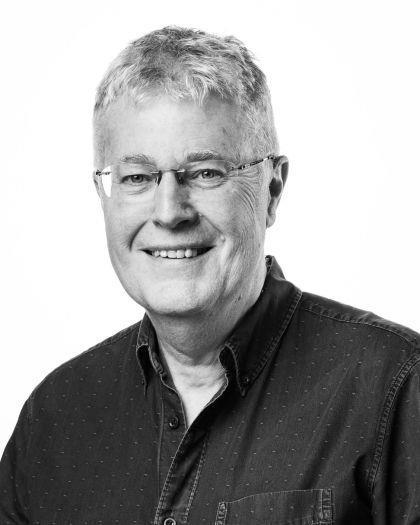 As artistic director of Riding Lights Theatre Company, Paul Burbridge's productions ranged from classics such as The Winter's Tale to new plays and devised work, from the West End (with African Snow by Murray Watts – marking the 200th anniversary of the Abolition of the Slave Trade Act) to Primary school halls (over 30 years of gleefully anarchic annual Christmas tours), from the sublime to the frankly ludicrous, and all infused with his characteristic insight and vision.
Paul was born in Hoylake, Merseyside to Branse Burbridge, second world war RAF flying ace turned Scripture Union schools pioneer, and Barbara, a Froebel-trained primary school teacher. Following Merchant Taylors' School, he was awarded a first from Oxford in English and distinction in a post-grad Diploma in Theology from St. John's College, Nottingham. But he had been an "over-imaginative" child, who built a museum of curious artefacts in the garden shed and would spend hours with his childhood friend Murray Watts recording skits on an old reel to reel tape recorder, while his sister Sarah was drafted in to provide sound effects with squeakers, pans and running water. He and Watts would later go on to found Riding Lights Theatre Company alongside Nigel Forde.
While at St Peter's College, Oxford, Paul met two people who were to have a profound influence on his life. The first was Bernadette Goss, a Theology student with whom he went on to build a marriage, a family and the richest of lives. The second was Rev David Watson, who encountered Paul's early experiments in re-imagining biblical drama at a University mission, and invited him to join the community he was building at St. Michael le Belfry church in York.
From this beginning and from within that church community, Riding Lights grew, initially an expression of radical Christian creativity – a visit to Belfast in the late 1970s saw them performing in Crumlin Road Jail and at a service of reconciliation between Catholics and Protestants at St Ann's Cathedral – then increasingly, and at the same time, featuring at arts festivals.
In 1979 the company won an Edinburgh Fringe First for a comic revue. The show opened with Paul's unforgettable performance as a front of house manager, forced to go on stage because the curtain had stuck, in order to "warm the audience up with a joke"…despite not knowing any jokes. The result was an audience crying with laughter even before the non-existent curtain had gone up.
Paul's early vision for Riding Lights was to re-discover a vernacular that communicated in the same language as that of the Medieval Mystery Plays: to make work that was human, direct, full of knockabout warmth and wisdom, that spoke to the soul and touched the heart through its immediacy – to take the word and make it flesh. This vision came full circle when he co-directed, with Damian Cruden, the 2012 York Mystery Plays, an extraordinary community production on an epic scale and bursting with all the qualities that Paul had nurtured in his work over 40 years.
Much of that work was driven by a sense of mission: for many years the short, punchy biblical sketch (fusing the Bible, The Beano and Beyond the Fringe) became Riding Lights' stock in trade and a much-loved resource to churches around the UK and beyond. But the core of his work was prophetic: he had a gift of discernment that led him to look at the world through a godly lens, then make work that was prescient in its subject matter, but often under the radar of the wider cultural landscape. Shows tackling slavery, global warming, terrorism, science and faith, the predicament of Palestinian Christians toured to churches, saying this is where the conversation is going. This is what is going to become important. So think about it and engage - so that your voice is present and prepared.
In 1992 Riding Lights was awarded the Templeton UK Project Award "for enabling audiences to hear the gospel gladly". The company went on to be commissioned by two Archbishops of Canterbury for performances at the Lambeth Conferences of 1998 and 2008.
In 2000, Riding Lights moved into Friargate Theatre in York, and into a flourishing of more mainstream work, with an opening season including Ben Jonson's The Alchemist. Paul's playfulness, rigour, humour, and intelligence made him an outstanding theatre director, and in following the one 'in whom all things hold together', there was consistency, for him, in directing a three-minute biblical sketch and a production of All's Well That Ends Well. In Riding Lights, he built a company that remains rooted in industry, joy and community – a community that extends to embrace members of Riding Lights youth theatres, participants at the annual Summer Theatre School and the casts of local community productions in York.
He had the gift of love in abundance, and innumerable people's lives have been shaped by their friendship with him
Paul was unable to settle for less than the best possible and when coupled with his kindness and his refusal to give up on anyone, it resulted in people being made to feel that they could achieve things they hadn't imagined possible - and actually achieving them. He was an encourager and an enabler, building lasting and deeply trusting creative friendships. He aimed to push himself and his work further by surrounding himself with artists more gifted than himself, though these proved hard to come by. He was curious about culture and excited by what young people brought with them of the future. He had the gift of love in abundance, and innumerable people's lives have been shaped by their friendship with him.
Paul's love for his family was a source of deep happiness and a place of absolute safety to him, and he relished time spent with Bernadette, his children Patrick, Caitlin, Erin, and his granddaughter Iona. He celebrated their joys and successes, cheered them on their journeys through life, and was continuously delighted by them.
Of the scores of biblical stories he explored and re-worked, the one that most compelled him was the Road to Emmaus: two disciples so buried in their grief and introspection that they fail to recognise their friend who walks alongside them, despite him hinting heavily at his identity. He loved the inherent theatricality of it: the dramatic irony by which we know that these two mourners are being led to a moment of revelation and astonishment, followed, immediately, by a magical disappearance and a race back down the road they have just trudged along. It is a perfectly-formed piece of theatre. But Paul also found it a profound, truthful and deeply comedic story: the heart of the great divine comedy that inspired and informed his own journey.
Paul died on 19 April 2023, following a short illness. He is survived by his wife, Bernadette, and children Patrick, Caitlin and Erin.
A public service of thanksgiving and celebration for Paul's life will be held at 2pm on Saturday 10 June, St Michael le Belfry Church, York