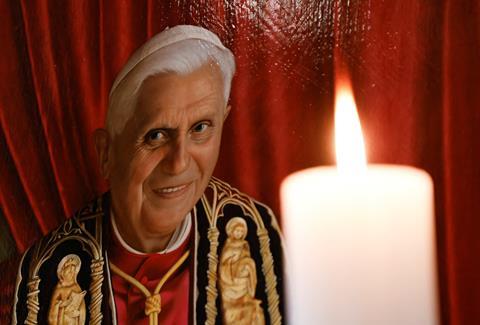 Pope Benedict XVI will be remembered as a great scholar, and a very sensitive, kind, considerate and thoughtful man.
Pope Benedict appointed me to be a bishop and to be Archbishop of Birmingham, and Archbishop of Westminster. So he's shaped my life. He was always very encouraging. Whenever we go to Rome for formal meetings, we go around to all these Vatican offices, and his was always the best meeting, always the most considerate, always the most insightful, and always the most positive.
He'll be remembered in my mind for his visit to the United Kingdom in 2010, when his impact was quite remarkable. For British Catholics it was hugely encouraging, partly because it was virtually a state visit - he had been invited by the British government.
I remember sitting in the popemobile with Pope Benedict as we went down the Mall. The flags were flying - there was a Union Jack, and then the flag of the Holy See (pictured, below).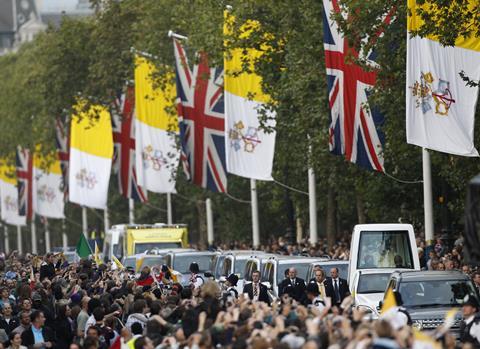 Never in my lifetime did I expect to see that degree of official welcome being given to the head of the Catholic Church, given our history in this country. That impacted very strongly on the Catholic community, with a sense of, we're okay, we've got full recognition here.
When we were going down the Mall in that that great cavalcade, I said to him, "Holy Father, we're going to Hyde Park for a vigil prayer. And we're going to use the stage that the BBC kindly left in place after Proms in the Park. A week ago this stage was used for music, but today, it's going to be used for prayer." And he turned to me and he smiled, and he said, "music is prayer as well." So he had this lovely sense that wherever something beautiful is being done, something creative is being made, then God is at the heart of that as well. It was a lovely moment.
He went to Westminster Hall and he gave this remarkable speech, which I've never forgotten, about the importance of democracy, but also the importance of knowing what core moral ethical values are, which democracy has to protect, as well as advance. He said democracy cannot just be based on opinion polls, or on social consensus. It has to have some foundations. And that's why he wanted this great dialogue between faith and reason.
In the Catholic faith, we have a very strong tradition of praying for the dead. We believe that our links with them are not totally broken. In Catholic faith, we always say, 'life has changed, not ended.' We therefore pray that this next phase of Pope Benedict's life, its ultimate phase, into the presence of God for which were created, will be one that is marked by mercy and welcome.
Secondly, we console each other with the promises of faith. What Jesus promised [about life after death] is reliable. It's there. It's true.
Cardinal Vincent Nicholls was speaking to Premier's news journalist Kelly Valencia

Cardinal Vincent Nichols is Archbishop of Westminster and President of the Catholic Bishops' Conference of England and Wales
View full Profile