Spong was one of the most prominent liberal theological voices of his time, and will be remembered for his inclusive views. But this controversial bishop also pushed the boundaries of what can legitimately be considered Christianity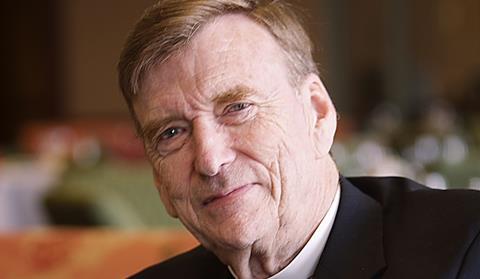 Was Bishop John Shelby Spong a heretic, or a hero?
The truth, for many Christians, is that he was probably a bit of both. The controversial Episcopal bishop, who died on 12 September at the age of 90, divided opinion in life and will no doubt do so as his legacy is considered.
Once described as "the most prominent theological provocateur of the religious left", John Shelby Spong was an author, academic and activist thinker as well as a Bishop in the Anglican Communion in the USA. He was well known for his outspoken opposition to anti-Semitism, homophobia, sexism and racism, as well as being well known, according to one commentator, for "stirring the pot".
'Move with the times'
Born in 1931 in North Carolina, Spong was ordained in 1955 and served in a number of churches in Virginia and North Carolina before being consecrated Bishop of Newark, New Jersey, from 1976 to 2000. He served in various capacities at many universities (including Harvard, Duke, Yale, Edinburgh, Oxford and Cambridge) and was the author of over 20 books.
John Shelby "Jack" Spong was one of the most prominent liberal theological voices of his time, regularly appearing on the likes of The Today Show and Larry King Live. He was also a contributor (along with thinkers like Walter Brueggemann Hans Küng) to the Living the Questions DVD series, billed as an alternative to the Alpha Course.
Spong famously argued that Christianity needed to move with the times, saying that space-age people could not connect to a religion that was too attached to the worldviews of the people living 2,000 years ago. So it seems appropriate that most obituaries of Spong reflect the spirit of 2021 as much as his life's work, focusing as they do on his championing and inclusion of LGBTQ people in the Church.
Famously inclusive
In 1989, Spong ordained the first openly gay priest in the Episcopal Church. He went on to ordain over 30 more LGBTQ people before retiring. Spong became famous in the 1980s for his inclusive views on sexuality – a brave and principled position at the time, all the more remarkable considering his upbringing in fundamentalist churches in the 1930s and 40s American South. He was also, for his time, progressive on the issue of women in church leadership and his inclusion was a source of hope and inspiration to many on the edges of the Church.
Spong was more than a social progressive, however. He was a theological liberal – so radical in his liberalism that his ideas strained the very definition of what can legitimately be called Christianity, even for people who were far from fundamentalist. Albert Mohler of the Southern Baptist Convention called Spong a heretic and Rowan Williams accused Spong's thinking of "confusion and misrepresentation".
How many tenets can you remove from Christianity in the cause of making it more inclusive, before it ceases to be Christianity?
Williams was referring to Spong's '12 Theses', the articles of his particular brand of faith (which he republished less than three years before his death). These set out some radical – arguably heretical – ideas, some more controversial than others. It is perhaps a sign of just how radical these ideas are that among the least controversial are that Jesus did not really perform miracles. Spong rejected the idea of Christ's physical resurrection and ascension, called prayer "little more than an hysterical attempt to turn the holy into the servant of the human" and rejected both the veracity of the gospels and the idea of God as an omnipotent and interventionist being. It is perhaps unsurprising that he was given an award in 2016 by the American Humanist Association.
Where's the Christianity?
Critics of Jack Spong's biblical and theological scholarship were many, but so were his fans, in both the religious and secular circles. Publishers Weekly and Library Journal regularly praised his writings, but one reviewer tellingly suggested that readers would "struggle with the radical nature of his vision, laboring to see what is fundamentally Christian in his Christianity."
This is the fundamental question for Spong's vision and legacy: how many tenets can you remove from Christianity in the cause of making it more inclusive, before it ceases to be Christianity? To eradicate the cancer of prejudice and oppression from the Church, was Spong's prescription like a course of chemotherapy too strong for the patient to survive?
Whatever our views of Jack Spong's theology, his compassion and his courage are surely to be admired. Though there remains a question as to whether his courage in going against the social and intellectual grain was not matched by a lack of courage needed to face the tensions inherent in a faith that seeks to be authentically Christian as well as inclusive and empathetic.
His legacy will remain an encouragement to those who seek to challenge prevailing orthodoxies and fashions in the name of being better Christians.

Jonty Langley is a writer, former DJ and recovering Philosophy major. For 16 years he worked in Communications for for a centuries-old mission agency and for some of those also wrote the weekly news column for The Baptist Times. He hosts and produces the Beer Christianity podcast and newsletter. Twitter: @jontylangley @beerxianity
View full Profile