Flamy Grant's debut album, Bible Belt Baby has reached the number one spot on the iTunes Christian music chart. Derek Walker explains the backstory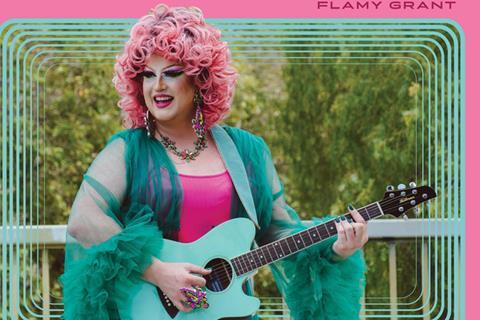 A drag queen reached the top of the Christian music charts? Err...did this really happen?
Only briefly, but yes, Flamy Grant's 'Good Day' and her 2022 Bible Belt Baby album, both hit number one on the iTunes Christian Music chart.
The name Flamy Grant sounds strangely familiar – who is she?
Flamy Grant is a singer-songwriter and worship leader in a progressive church, known out of drag as Matthew Blake.
But if the name rings a bell, that's because it is a spoof of Amy Grant, one of the biggest icons in Christian music. Incidently, Blake apparently loves Amy Grant and is keen to meet her one day.
What's the hit song like?
Judge for yourself:
How did this happen?
You may have noticed that Derek Webb guest stars on the above song. This is the same Derek Webb who spent a decade in the evangelical CCM indie-folk band Caedmon's Call and was previously married to singer Sandra McCracken.
Webb has been challenging aspects of evangelical culture and has going through a process of deconstructing aspects of his faith in recent years. He's no stranger to controversy. As far back as 2009 his album Stockhold Syndrome provoked a reaction when it contained a swear word, as well as references to sexuality and alcohol.
In March, a controversial new law was passed in Webb's home state of Tennessee. It restricts sexually explicit, adult-oriented performances where children are present. While not explicitly targeting drag shows, some fear that they will be affected by the law.
Webb was eager to speak specifically into this situation in his new album The Jesus Hypothesis, on which he collaborated with Flamy Grant on the song 'Boys will be Girls'. That song ends with the verse: "I heard Jesus loved and spent his life with those who / Were abandoned by proud and fearful men / So if a church won't celebrate and love you / They're believing lies that can't save you or them / Cause you're so beautiful by any name."
But how did 'Good Day' become a chart-topper?
When Webb launched his album in July, he performed alongside Flamy Grant at a Nashville church and posted a photo of the event.
The photo of a drag queen singing a song in a church quickly drew the ire of Sean Feucht, the worship leader who is also controversial, but for all of the opposite reasons.
What did Feucht say?
Here's the now infamous tweet:
If you're wondering the end goal of the deconstruction movement in the church, then look no further than former worship leader @derekwebb's new collab with a drag queen.

These are truly the last days. https://t.co/sgvzGFoRgu

— Sean Feucht (@seanfeucht) July 26, 2023
So Feucht said Grant was ushering in the last days - because a drag performance had taken place inside a church building?
Yes.
How did Grant respond to that accusation?
Grant replied, "Baby, we're just getting started."
And I bet that did nothing to de-escalate the situation.
You'd be right! Feucht then retorted, "Well good for us hardly anyone listens or cares what you do. Bad for you is one day you'll sit before Jesus and give an account for the perversion you tried to force on kids."
That phrase, "hardly anyone listens or cares what you do," was taken as a challenge. Feucht does has over 100,000 followers on X, the platform formally known as Twitter, compared to Grant's more modest 600. But what Feucht perhaps didn't know was Grant has a significant following on TikTok - 77,000 followers.
Mobilisation ensued. In a TikTok post, Flamy Grant posited: "What if we could get a worship song written by a drag queen to chart on the Christian charts on iTunes?... I don't want to get to Number One, I just want to crack the chart."
So lots of people saw that message, wanted to support Flamy Grant and listened to the song/album?
Exactly.
So the major reason that a drag queen topped the chart is because Sean Feucht - who has made a stand against drag queens - drew more attention to it?
It does seem that way, yes.
Flamy Grant tweeted: "Never forget this is all thanks to @seanfeucht" while Webb later told Rolling Stone, "There's really no better press than somebody hating what you're doing."
But is drag something Christians should be concerned about?
Drag has been a part of the comedy scene for many years.
Alec Guinness played several old female murder victims in the 1949 classic Kind Hearts and Coronets. Les Dawson's scarf-wearing old lady was a core part of his act in the 60s and 70s, along with the 'bad' piano playing. Dawson was particularly funny, because he looked ridiculous, in the same way as pantomime dames. Paul O'Grady rose to fame partly through his work as Lily Savage in the 90s and beyond.
Haven't things changed since then?
Yes, drag, like many things, has become more contentious and politicised than ever.
Entertainment has long been a less threatening way to convey a message and drag is one way of popularising queer culture – see the soaring success of RuPaul's Drag Race.
For many of those on the political left, dressing up in drag is simply about empowerment, and an attempt to show children that gender variations are normal. Drag has traditionally been part of gay culture, and there's a desire to protect LGBT children from bullying and being ostracised.
Meanwhile, many of those on the right are suspicious when it comes to concepts such as drag queen storytime in schools. The founder of that organisation was invited to speak to 11 year-olds about "queerness" despite having said "love has no age", in what was later dubbed a "spectacular safeguarding fail."
It isn't hard to find Christians who are critical of the whole concept. M. D. Perkins, who heads the American Family Association, for example, has written, "The rise of drag queens in public life is a defiant attempt to queer our children and the church of Jesus Christ."
How should Christians respond to this story?
Remember all this took place in the USA, a nation with a binary disposition, where this sort of thing should either be roundly welcomed as the best kind of progress, or denounced as Satanic. There's never much in between.
It does seem like people are being driven to extremes, and identity is increasingly seen in terms of which wing one is on, and then a whole raft of other positions are taken up en bloc.
A case can surely be made for a more nuanced position on this story, which is independent of political polarities? Shouldn't following Jesus lead us to a Third Way that takes the best from each wing, rather than following one blindly?
Jesus would certainly respect an individual's right to be their authentic self, but might also note the dangers of politicising drag, particularly where children are concerned – surely they deserve some time of innocence before puberty thrusts them into a confusing, hormone-driven world?
Whichever side of the fence a Christians pitches their tent, our responsibility is to first listen, pray and seek to understand, rather than rushing to judge.

Derek Walker is an Oxford-based kitchen designer, Anglican Lay Minister and music lover, who blogs at walkerwords.wordpress.com
View full Profile