Sam Hailes meets the pastor of one of America's largest churches to talk Trump, trauma and how he guards himself from temptation
Jack Graham never set out to build a megachurch – he doesn't even like the term. Nevertheless, under his watch, Prestonwood Baptist Church has grown to a membership of 45,000 – becoming one of the biggest congregations in America – since Graham became senior pastor more than three decades ago.
When I arrive at the church's sprawling campus in Dallas, Texas, I'm taken aback by the size. With an auditorium that can seat 8,000, the building has more in common with a sports stadium than a traditional church. Walking down corridor after corridor, I finally arrive at Prestonwood's very own radio studio and am introduced to a surprisingly diminutive Graham – no relation to Billy.
Speaking in a thick southern accent, Dr Graham is warm and engaged. He only mildly bristles when I raise the issue of Trump (Graham received considerable criticism for being on the former president's religious advisory council). When he says he starts every morning in prayer and Bible study, I believe him – he answers almost all of my questions with quotes from scripture.
His memorable line that being a pastor is "the world's worst profession – you wouldn't choose it as a career – but it's the greatest calling in life" rings true, although I dare say a US megachurch leader is compensated significantly better than the average UK church leader. I'm also struck by how straightforward he makes ministry sound.
You get the impression from the 72-year-old that all one needs to do is unashamedly preach the Bible and instil a passion for evangelism in your members, and your church will grow. Being a cynical Brit, I can't help but wonder: Is it really that simple? "There is a great 'can do' spirit in this state," Graham tells me. "Our people believe that God can do anything and we've watched him do things beyond our imagination."
Dr Graham's popular teaching ministry, PowerPoint (nothing to do with Microsoft) has given him an international profile. His sermons are now broadcast in 113 nations around the world. But behind the impressive church building, political influence and international reach is a story of brokenness.
You were a young man when your father was killed during a robbery. What are your memories of that, and how did your faith help you?
My father and I were very close. On 28 August 1970 a shoplifter came into the hardware store he was running, and he was bludgeoned. He lived for ten days and then died. It was a devastating blow to our family. To this day it grieves me.
My mother became a widow in her 40s and she was heartbroken. It wasn't long before she was experiencing chest pains, and I believe she ended up dying of a broken heart.
I was a 20-year-old, newly married college student and young preacher at the time. I went to a chapel inside the hospital after my father died, got on my knees and cried out to God. I can't describe what happened in that room, but I walked out of there different.
I didn't see visions, I didn't speak in tongues, I didn't hear angels singing. But the Spirit of God moved in my life and I believe that God used that experience, that brokenness. Men throw away broken things but God uses broken things – and especially broken people.
Was justice done?
That's a hard question to answer. The murderer was 24 years old and sentenced to life in prison. We were told that he would not be eligible for parole for 40 years.
I never followed up on that. I let God have it. "Vengeance is mine", says the Lord [Deuteronomy 32:35, ASV.] We just let it go [and didn't research what happened next].
But then about four or five years ago, I did decide to see what happened. And I found out he was actually released after a short sentence. We don't know why. I think he served about 17 years. But we also found out that within a year of being released, he died of leukaemia. I don't know what God's plan was in all of that, but we chose not to be embittered, and to let God have our grief as well as our anger.
When you're counselling people and urging them to forgive, does this personal experience help?
Very much. The scripture says he is the God of all comfort, "who comforts us in all our troubles, so that we can comfort others" [2 Corinthians 1:3-4, NLT]. And so our experience in this grief and loss, and dealing with forgiveness and unforgiveness, has enabled me to have some moral weight in terms of preaching those scriptures. Had I chosen to be bitter and angry the rest of my days, God could not have used me as he has.
The founding pastor of Prestonwood committed serial adultery, and you were brought in to help rebuild the church after that moral failure. How did you restore trust between congregation and pastor?
When we arrived here, we found a very broken church. And yet God used us; just [through us] preaching the word and loving people, God restored the church and healed the people.
I tell pastors – whether going into a church that's the healthiest or unhealthiest – seize the pulpit. I could not change what had happened. I could only stand in the pulpit and, line by line, precept by precept, teach God's word. There's healing power in God's word.
After my father died, I got on my knees and cried out to God. I can't describe what happened in that room, but I know I walked out of there different
Sadly there have been many stories of moral failure from church leaders. What practices have you put in place to keep yourself from temptation and sin?
I always say: "Don't give the devil a stick to hit you with." Protect yourself from your own flesh, your own failings.
Accountability is not in having a group of people around you asking questions. But ultimately, accountability is an issue of the heart. Over the years, more than anything, I've tried to pay attention to my heart. And I do that with daily devotion before God. The first thing I do when I wake up is to pray, read scriptures and seek God. And when I find myself getting out of alignment, I withdraw, I get my heart right.
Those things are essential, because you can have all kinds of borders and rules, but you can break the rules and nobody knows! Most of these guys that get in trouble, they've got rules; they just break them. It's an issue of the heart.
What does an average day look like when you're caring for a congregation of 45,000?
I've pastored a church of 15 people, then later small-town churches before coming here. And in many ways, the principles of what I do have not changed: preach the word, train people in evangelism and equip people to do the work of the ministry.
When you're pastoring a church beyond your human ability to get to everyone, you must train and develop lay leaders. We have thousands of volunteers doing so many jobs.
I do my own ministry. I still call the sick. I'm doing a funeral today. A lot of people think that a church like this would be uncaring, but without being defensive about it, I really would put our church up against any in the world in terms of caring and shepherding our members.
I daresay one of the things passersby say all the time is: "I would never go to a church that big." We've got these big buildings, which can be intimidating. But they walk in here and they experience this friendliness, openness, joy, excitement. What makes this church vibrant and alive is we have so many community ministries – because we're not here to serve ourselves, but to be externally focused.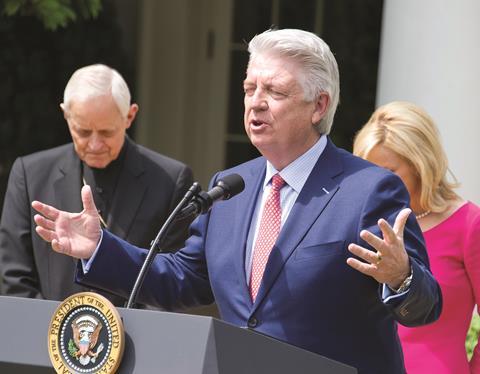 What's your strategy for evangelism, and how do you avoid just reaching Christians who might be attracted to a large church?
There's no question that some larger churches have grown by transfer. They call it the Walmart effect – little businesses get shut down when the big [supermarkets] move into town. Our focus is always to train our people to share their faith in a natural way and to have an invitational culture.
When people bring their friends here, they know they're going to get a message from God's word. They know they're going to get a strong gospel witness from the pulpit. I believe that God brings people to us. Most people who come to Christ in our church come on the arm of a friend or a family member.
I give a public 'come forward' invitation every time I preach. You might call it a bit old school, but I'm very strong on having some way that people can respond intentionally to the gospel.
Our community missions help get us out of the Christian culture and into the world. We're in quite a wealthy community, but we go to underprivileged neighbourhoods. We have a crisis pregnancy centre, where we're saving babies and helping women to make the choice for life. But with that, it's always about sharing Jesus.
We actually grew the church during the pandemic. A lot of people found us online and, frankly, they were in liberal, progressive churches where the gospel is not preached. They ended up coming out of these churches that were dead and dying. So those kinds of transfers are good.
People need to get to a church where their pastor and leadership are teaching and preaching God's word faithfully. I'm an inerrantist – I believe in the infallibility of scripture.
I supported Trump because of sanctity of life issues
You were on Donald Trump's advisory council. Did you ever worry that your decision to support him would alienate people who might be put off because of your politics?
Politics is divisive by nature. But politics matters because policies matter. And policies matter because people matter. I care about the sanctity of life and the sacredness of marriage. I have an opportunity as well as an obligation as a pastor to express my views in terms of a biblical worldview.
I always say, support the candidate or the persons who are going to support your biblical worldview. And that can get out of line at times because politics is messy. As to my support of Donald Trump, I was in support of him because of sanctity of life issues. I believe that he came through for the American people, and certainly for Bible-believing Christians. Was it always easy? No.
Did we always love President Trump's personality and way of saying things? No. I was a part of his faith council, and we had the opportunity to pray with him and for him, and to speak directly to him regarding issues.
Were you able to confront or challenge President Trump on issues where you disagreed with him?
He wanted us to speak to him forthrightly. He would always ask: "Are you happy with what we're doing?" Obviously, I'm not gonna get into details. I wouldn't say we went in there to correct him, but to counsel him at his request.
We were accused of not speaking truth to power and all the rest of it. Of course, the people saying these things weren't actually there. I was, and I know what we did, and I know that God used President Trump in a big way, for the values that many of us share as Christians.
Trump was not a man of faithfulness or integrity in his private life either – yet you still backed him. Why? Was this a case of the ends justifying the means?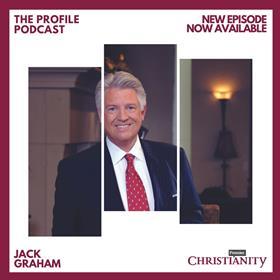 I do believe that character matters. I believe Trump's [immoral] behaviour was past tense in his life, and that he is faithful to his wife and was faithful while he was in the White House.
Policy matters, principles matter and character is vitally important too. There are some things that you can't tolerate in a leader. But let's remember this was about voting for a secular leader, not the pastor of your church. We weren't electing Donald Trump to be the pastor of our church, but the leader of our country.
To hear the full interview listen to Premier Christian Radio at 8pm on Saturday 14 January 2023, or download 'The Profile' podcast


Sam Hailes is the editor of Premier Christianity, the UK's leading Christian magazine. He also serves as editorial director for Premier. Sam is married to Stacey, lives in London and is a keen traveller, reader and tweeter.
View full Profile