Pastor Raymond Koh was violently abducted in Malaysia four years ago and hasn't been seen since. His wife Susannah Koh believes the police were complicit and is leading the campaign for his release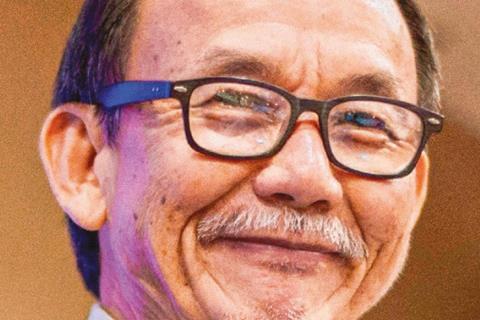 It's early spring, but the Christmas decorations are still up in Susannah Koh's home in Malaysia. It's a tradition she learned from her husband, Pastor Raymond Koh, who was forcefully abducted four years ago. "He likes to have the Christmas tree up all year round," she explains, "so we never take it down. We are waiting for him to come back to see it."
Pastor Raymond, who founded a charity to help the poor and marginalised people in Malaysia, particularly communities living with HIV, was abducted from his car in broad daylight in the bustling city of Petaling Jaya while running an errand for a friend. It took 40 seconds. Footage from nearby security cameras allegedly showing his abduction can be seen on YouTube: it reveals a clinical, efficient operation. Pastor Raymond's car is surrounded by black SUVs, a number of men get out, there is a struggle, then all the cars drive off in a convoy.
Pastor Raymond has not been seen since. "I get very emotional every time I see that video. When I first saw it, I couldn't breathe. It was so shocking. It felt like my heart stopped. What did they do to him? was my question. What did they do to him?" Susannah says.
She still has no answer, despite sustained pressure from her family and international organisations that work with persecuted Christians in Muslim-majority Malaysia, where the growing influence of some Islamic sects has led to a hostile environment for people of other faiths. "There's so much uncertainty as to his whereabouts. There is no news from the police. There's no report from the Special Taskforce, no resolution from the Malaysian government, or any assurance of getting to the bottom of it," Susannah comments.
She believes this is because the police were complicit in his abduction; a belief that was vindicated in 2019 when a public inquiry by Malaysia's Human Rights Commission accused the Special Branch of the Malaysian police of being behind the "enforced disappearances" of a number of Christians, including Pastor Raymond. A year ago Koh's family filed a civil suit against the government and the police. They are still awaiting a trial date. "As time passes we try to move on, but there's always, in our heart, a hope that we will see him one day," Susannah says.
A lack of tolerance
Pastor Raymond was an uncontroversial man who loved his community and lived the gospel challenge to minister to those on the margins. "He grew up poor, so he knew how it felt to be poor," Susannah says. "He had three sets of clothes; he gave everything else away."
Above all, he loved telling people stories about Jesus, and perhaps it was this that drew the attention of his abductors. According to the charity Open Doors, Christians in Malaysia experience a very high level of persecution for their faith, and churches are monitored by the government and other religious groups.
"There seems to be less tolerance now," says Susannah. "For example, there are churches that have been asked to take down their crosses; there are isolated cases of people throwing petrol bombs into the church. They confiscate hundreds of Bibles."
Some states forbid proselytising to ethnic Malay Muslims, and after a 2011 event hosted by Pastor Raymond's charity, Hope Community, was raided by the religious authorities, word went around that this was what the organisation was doing. Susannah says the dinner was for the charity's stakeholders and supporters, and so denies that it was an evangelising event.
Afterwards Pastor Raymond and his wife both received death threats in the post: his, two bullets and a note written in red ink saying: "I want to kill you"; hers, an envelope containing a white powder and the same message. Susannah believes her husband became a target for extremists after the raid, but "it was impossible to shut him up. He loves people, he loves sharing stories about Jesus. He took [the death threats] very calmly. Not like me," Susannah laughs. "I was freaking out. But he saw it as part of his calling to be a follower of Jesus."
Speaking out
The precision with which Pastor Raymond was abducted leads Susannah to believe he and the family were under surveillance or, she adds, that "someone betrayed us – they knew where he would be on that day". For weeks afterwards she suffered from panic attacks. No one in the family could sleep or eat. They were constantly on the lookout for danger. Gradually she found her voice, demanding justice for her husband and the others who have disappeared. In 2020, the US State Department recognised her as an International Woman of Courage for her work speaking out for persecuted religious minorities.
"I was a very quiet person, always in the background. My husband is the preacher, the spokesperson. And suddenly I was thrust forward to speak for the family, to speak to the media, to interact with the police and even government ministers. I think I only keep going because of God and the strength, wisdom and encouragement of wise pastors who encourage me and my family. There were times, at the beginning, when I was too intimidated – when I was called in for questioning by the police. I was fearful. But in those times I cried out to God and he really gave me boldness and wisdom: to stand up for my rights, to challenge the police."
Now Susannah calls on Christians around the world to show that same boldness, particularly in prayer. "I feel like I'm part of this big family of God when people pray for us. It strengthens us," she says. She asks Christians to speak to their MPs about her husband's case, and to write to the prime minister of Malaysia. And, finally, she calls on Christians to honour the spirit of her husband's ministry. "Wherever they are, when they see vulnerable people they should help them," she says.