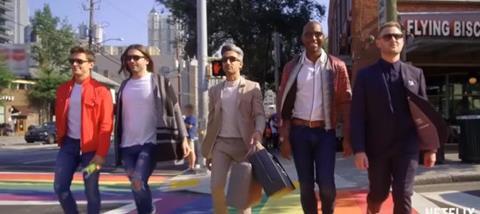 The synopsis of Queer Eye sounds like a hastily cobbled together rehash of Trinny and Susannah for a millennial generation: let people into your home, let them tell you why you're not attractive enough, or cultured enough, or have a good enough wardrobe to truly succeed in life. Let them tear you down in the name of entertainment so that they can rebuild you into a more 'acceptable' version of yourself: a version that might get a shot at appearing on Love Island. Throw in a few avocados and some bomber jackets and ta-da.
At least, that's what I thought it was. Which is why it took me a while to get bored enough of Netflix surfing one day to allow myself to tune in. What I discovered was in fact life-affirming, tear-jerking and totally unexpected.
The 'Fab 5' meet Mama Tammye
The first episode of Season 2 begins with a plot twist: the team will be 'making over' a woman. The usual format is that the all-gay team of experts Tan (fashion), Karamo (culture), Antoni (food), Bobby (design) and Jonathan (grooming, and my personal favourite) meet a man, usually straight, who hasn't been taking very good care of himself, because of financial difficulty or insecurity or … [insert problem here].
They transform him into a happier, more confident guy who no longer looks like he hasn't slept in days, knows how to make a great salad and now has a fantastic home to lounge around in to boot. I am not being sarcastic here: seeing these usually hard-edged men turned into lovable softies by a group of people they apparently have little in common with will make you cry. Seriously.
But, episode one, season two is different. It takes place in the town of Gay, Georgia, with a population of 89 people. Of course, ironically, this small country town hasn't had much experience with gayness, in any form: the cast joke that "they've upped the population of gay men in Gay by 500 per cent".
The team are visiting Tammye, who immediately welcomes them into her home, feeds them, and asks them to call her "Mama". She is, by all accounts, a superwoman. "I'm on this planet not for myself, but for the betterment of humanity", she says, as she juggles a husband, three kids, a job as a teacher, visiting sick children after school and being heavily involved in her local church.
The church is the central theme of this episode. The team have had different experiences with the church as gay men, from Karamo, who really valued his church community growing up, to Bobby whose church was his life until he came out as gay and was rejected by the people he had once called family. "I feel completely loved and accepted by God and Jesus; it's a lot of the politics of the Church that made me feel not welcome", says Jonathan, expressing the views of countless men and women in the LGBTQ+ community. How, as Christians, are we to respond to this?
Love one another as I have loved you
Mama Tammye's response was to ask for forgiveness. Her son, Myles, came out as gay, and a lot of the episode deals with how he is settling back in at home after he felt abandoned by his church. It also deals with Tammye's own response to his identity, and how it took her a while to come to terms with it. It wasn't until she was diagnosed with breast cancer that her perspective changed and she asked him to forgive her for not "loving him unconditionally".
The episode, while dealing with some extremely difficult topics, radiates with sheer, uninhibited joy. Mama Tammye welcomes the team like they are her own children, she pronounces God's blessing over each of them individually, and she reminds them of their purpose and calling in life. Equally, the guys bounce the love right back, putting all their effort into making her feel "like a diva", and transforming her church community centre into an incredible hub for the whole town. It is truly a beautiful exchange of gospel principles in action: love thy neighbour as yourself.
The relationship between the LGBTQ+ community and the church is deeply complicated, nuanced, and full of difficulty on both sides. But regardless of your views, I think that watching Queer Eye, even just this one episode, will challenge you in powerful ways. It certainly challenged me. I will leave you with Mama Tammye's words on the subject: "You can't antagonise and evangelise at the same time. That's why the greatest commandment of these is love."
Elise works in communications and lives in East London, even though she's not cool enough to be there. She's passionate about creating conversations around Christianity and our culture
Queer Eye Season 2 is currently available to watch on Netflix
Click here to request a free copy of Premier Christianity magazine