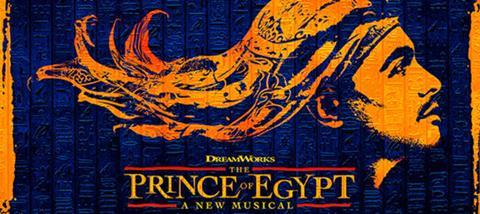 The events of the Bible have been adapted numerous times, in musical numbers and for film, TV and the stage, but recently, London theatres have been producing an unusually high number of musicals based on Christian narratives.
While one should take these shows with a pinch of salt in terms of their theological accuracy (I'm pretty sure Genesis doesn't describe Pharaoh in Elvis attire), the re-appearance of these shows on our stages keeps these stories of faith in the minds of UK theatregoers, cast and crew.
Musicals
I was invited to review the British Theatre Academy's concert production of Godspell earlier this year. Godspell is a musical by Stephen Schwartz, best known for writing Wicked. The 1971 play focuses on Jesus' time in ministry, and the parables he shares with his disciples. While at times it gives the impression that his followers are the ones crafting the stories, a lot of the text is lifted directly from scripture and so it was a relatively pleasant watch as a believer.
Jesus Christ Superstar by Andrew Lloyd Webber also premiered in 1971. The show takes place during Holy Week. The most recent production played two seasons at Regent's Park Open Air Theatre and then at the Barbican Centre earlier this year and is now touring the US. Both shows are considered controversial for their final scene being the crucifixion and not the resurrection.
That said, I was really struck by the brutality of the latter scenes while watching Superstar at the Barbican. These are events that I regularly reflect on, especially during communion or on Good Friday. Uncomfortable as I was with the overall portrayal of Christ as a washed-up celebrity, subtle details like the use of silver paint to stain Judas' hands were inspired.
Another musical based on the Bible that has proven popular is Joseph and the Amazing Technicolour Dreamcoat which ended up on the West End stage in 1973. Lloyd Webber and Tim Rice adapted part of the Old Testament in one of their first creative ventures together as writers. It was the result of being commissioned to produce a 15-minute "pop cantata" for a London school in 1968.
Joseph was recently revived in a blockbuster star-studded production at the London Palladium. Sheridan Smith played the role of narrator; Jac Yarrow made his professional debut as Joseph; and the original Joseph, Jason Donovan, returned to the show as Pharaoh. The run was so successful that the production will return to London next summer for a limited time.
The Prince of Egypt is also set to grace the stage next year after the film was adapted for musical theatre. It will open at the Dominion Theatre in February 2020.
It was a pleasant surprise to find out that The Prince of Egypt film was loved by so many when the stage adaption was announced. I assumed that these days it was primarily watched by Christian families and shown in Sunday School classes when Moses is on the curriculum.
Bible stories
There has been a trend in theatre for the last decade or so for new shows to be based on existing franchises. The cynic in me thinks it is because these productions are safer projects for investors and more likely to be a commercial success. While I'd love to see more original work coming to the commercial UK stage, it is encouraging to see that Bible stories are still considered to be relevant for today's audiences despite figures showing decreasing church attendance.
There are Christian stories being told in the West End and also plenty of Christian artists working in the West End. West End Has Faith are a support network for Christian artists working in theatre who meet up regularly. David Birch, one of their co-founders, is particularly encouraged by the number of Biblical narratives on stage at the moment: "Having all these Christian shows being produced is inspiring. It truly gives a chance for audiences to get an insight or renewed perspective of Christianity. It also introduces all the people involved in these shows, from backstage to front of house, to begin a journey and experience what I think leads to the greatest act of love in history."
I personally can't wait to see The Prince of Egypt when it comes to London next year and, while I feel conflicted sitting through shows like Jesus Christ Superstar, I have had moments of encountering God while watching those performances. Witnessing biblical events live before me on stage brings a new dynamic to those stories that have helped to shape my faith.
Fiona Scott works towards her medicinal chemistry PhD by day but can usually be found in a theatre at night. She enjoys writing about science, musicals and more
Enjoyed that? Get more articles covering news, culture, faith and apologetics in every print issue of Premier Christianity magazine. Subscribe now
Premier Christianity is committed to publishing a variety of opinion pieces from across the UK Church. The views expressed on our blog do not necessarily represent those of the publisher.