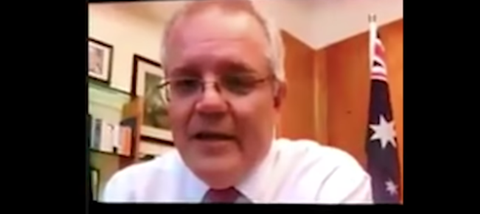 I would ask that people pray for all Australians everywhere, and everyone affected by this.
People are going through the deepest shock, and the world is largely in trauma at the moment with the scale and pace of what is unfolding.
What we're now seeing would have been incomprehensible even just a month ago, and it is so important, that we just remain focused in how we're dealing with these issues going forward.
Pray for the premiers and chief ministers that joined me in the national cabinet, which is unprecedented in Australia, and the decisions we're taking now, which is to extend support as far and wide as we can. We have to get it right and it has to work.
It is a moment like when Moses looked down at the sea, and held up his staff and they went. There are moments of great faith in all of this. But as prime minister, I have to take my decisions on the basis of very strong advice and exercise the best judgment I possibly can. My faith gives me an enormous encouragement in how I can make those decisions and try and do that in the best way I can.
I'm reminded also of a couple of verses which I keep coming back to, and which I want to share with you.
The first is from Psalm 34:17-19 "The righteous cry out and the Lord hears them. He delivers them from all their troubles. The Lord is close to the brokenhearted, and saves those who are are crushed in spirit. The righteous person may have many troubles, but the Lord delivers him from them all."
We know none of us are righteous. We all know that we fall into the open arms of the grace of God. There's nothing particularly worthy among any of us. It is his grace that sustains us.
And in Isaiah 58:11-12 "The Lord will guide you always, he will satisfy your needs in a sun-scorched land, and will strengthen your frame. You will be like a well watered garden, like a spring whose waters never fail. Your people will rebuild the ancient ruins..." - That is a prophesy over our country, I believe.
"...And will raise up the age old foundations, and you will be called a repairer of broken walls and a restorer of streets with dwellings." - I pray that we will be a restorer of streets with people in them, and Australians going about their lives again, returning to their jobs, returning to their livelihoods, returning to normal times, going to school so children can learn, and we can get to the other side of this.
So with that, I might just say a few words of prayer and commit the rest of the day. I think my pastor is on this call, Brad, many thanks to you. And Mike Murphy and a whole bunch of others - you know who you are - you've been a tremendous encouragement to me and Jenny and all of us.
So let's just pray quickly...
Heavenly Father, we just commit our nation to you in this terrible time of great need and suffering of so many people. And we do this also for the entire world.
In places far from this country, there are people suffering even more, going through tremendous hardship, crying out. Lord, we pray you will hear their voice, we pray you'll deliver them, you'll send them peace and you'll send them comfort. And you'll send them strength in this time of their great, great need.
Father, give us strength here in this country, give us wisdom, give us judgment, give us encouragement. Let your peace reign, let your love shower this nation at this time, and let your people - those who trust in you, Lord - be instruments for your love, for your compassion, for your justice, your mercy, your grace. Let us be lights in a time of great darkness.
May you lift us up at this time. May you strengthen us and encourage us. And in all things Lord, may you shine upon all of us at this time as we seek your grace, and as we seek your strength and your favor. We pray this in Jesus name. We pray also for our leaders, my colleagues in parliamentary roles - it doesn't matter what party they're from. I pray particularly for my colleagues in the cabinet and ministers making difficult decisions each and every day.
And I especially pray for my colleagues on the national cabinet, the premiers and chief ministers who are faced with terrible challenges that were unthinkable a few days ago, as they become realities and they must deal with them. I pray that you would keep the national cabinet strong and united, and that we might be able to face each day and each challenge in unity of purpose. As we pray your words: 'May your kingdom come, your will be done on earth as it isn't in heaven.'
Bring peace to our world. Bring it to our nation, in Jesus name we pray. Amen.