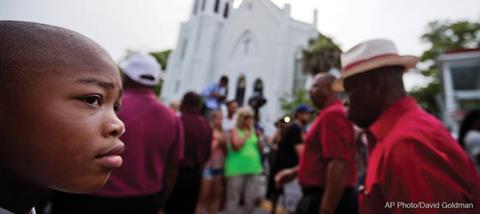 The church's senior pastor, Rev Clementa Pinckney, 41, was killed in what many in the US have described as a terrorist attack.
Twenty-one-year-old Dylann Roof has been arrested and charged for the shootings. It is reported that Roof is a white supremacist who wanted to start a race war.
Charleston mayor Joseph Riley said: 'The only reason that someone could walk into a church and shoot people praying is out of hate.
'It is the most dastardly act that one could possibly imagine, and we will bring that person to justice. This is one hateful person.'
Shortly after the shooting, as media gathered, a group of pastors was said to have huddled together in a circle across the street to pray. During Roof's bail hearing the daughter of the murdered 70 year-old Ethel Lance said, 'You took something very precious from me, but I forgive you... You hurt a lot of people, but may God forgive you.'
Roof was captured after Debbie Dills, a florist and minister, spotted his car on the highway. Operating on a 'gut feeling', she followed the car and alerted police.
'I feel like God has his hand in it', she later told The Today Show. 'I feel like he had me where he needed me to be...The people there were praying... and they need to know that God heard that prayer.'
Speaking hours after the attack, President Obama appeared frustrated at the lack of progress in reforming gun laws. 'At some point, we as a country will have to reckon with the fact that this type of mass violence does not happen in other advanced countries,' he said.
'...at some point it's going to be important for the American people… to shift how we think about the issue of gun violence collectively.'
gun violence collectively.' Obama went on to give the eulogy at South Carolina State Senator Clementa Pinckney's funeral, during which he sung 'Amazing Grace.'
Writing on the Premier Christianity blog, Bishop Dr Joe Aldred said it is 'tempting to exaggerate' how much progress America has made away from racism.
'In spite of its veneer of peaceful race coexistence, black progress and a black president in the White House, the US has a sordid history of lynchings and racist laws that supported an infrastructure of white supremacy. The impressive work and sacrifice of civil rights leaders, past and present, and the progress made has not pleased or indeed benefited everyone.'