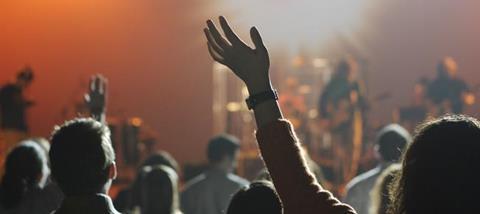 Once in a while, an interview takes you by surprise.
I knew Aaron Keyes would be a great person to talk to about worship – his songs are biblical, heartfelt and powerful (see 'Sovereign Over Us', 'King Forevermore' and 'Dwell').
What I didn't expect was the extremely high level of honesty and candour about the state of worship in the Western Church.
The following headings may sound harsh, but Aaron delivered his answers to my questions with a healthy dose of humility (I can't think of another worship leader who would characterise their own songs as becoming "less relevant and more cheesy"!). And rather than shouting from the sidelines that 'everything is wrong!', Keyes is changing the way things are from the inside of the worship community – devoting more and more of his time to training leaders through his worship school 10,000 Fathers.
You can hear the full 1 hour interview on The Profile podcast. In the meantime here are five highlights from our conversation:
1. The worship world is "too male and too pale"
Aaron Keyes says the 200 most popular worship songs in the world are written by just 18 different writers – almost all of whom are white men. He's worried this lack of diversity is having a detrimental effect: "If we're not careful our worship is going to become very vanilla and very boring."
Keyes says he's "so embarrassed" about how "blinded" he's been to the lack of racial diversity in worship. "We have got to do a better job of dignifying what God is doing in other nations," he says. Keyes is concerned that translation is a one-way street where songs written in English are translated and sung across the world, but very little music from the rest of the world makes it into English speaking nations: "What other songs being born around the world are we missing? We can't just keep [singing songs that sound like] U2, Coldplay – I love that stuff – but I don't want my experience of worship to be limited."
The worship leader is instead longing for a reflection of Revelation 7:9 on earth – a gathering of people "from all tribes and peoples and languages" praising God.
He's also championing women's ministry, arguing "if we're going to change the way the world worships, you can't run a race with one leg". He's frustrated that a "bad interpretation of a single verse" (1 Timothy 2:12) is precluding women from serving in all areas of church.
2. Your music gets less relevant every year
It's common to hear people in their later years talking about passing on the baton. Keyes is only 39, but he's already investing in others. Why? "Every year I'm getting a little less relevant and my music is getting a little more cheesy" he says, adding "but my season on the sideline, coaching people on the field, every year my window gets more open and the words get weightier and my experience get more meaningful…I'm able to do so much more through other people".
Keyes doesn't seem bothered about having his name on songwriting credits. He's not losing sleep over his next album. Instead he's thinking about who he can invest in and train up to go further than he ever will.
3. Don't separate worship and Word
Keyes says it's "dangerous" to think the band brings the worship and the preacher brings the word. "They've got to be integrated. Not only does our worship leading need to be saturated with scripture but our preaching must be saturated with worship. When the two complement each other you find really powerful ministries."
Keyes cites Passion, Hillsong and Bethel as positive examples of this, especially in recent years. What do they have in common? A "powerful, prophetic leader" in Louie Giglio, Brian Houston and Bill Johnson, plus a musical accompaniment which takes the sermons further than they could on their own.
In applying this principle to his own church, Keyes says, "My role as I lead my community is not 'doing my thing'. I want to identify what my pastor senses for our community. Then I build everything I can around how we can serve that and respond to that."
4. If your congregation doesn't see you as a spiritual leader, you shouldn't be a worship leader
Here's a challenge: If you lost your ability to sing or play your instrument today, would your congregation still regard you as a spiritual leader tomorrow? If not, you have a problem.
Keyes puts it this way: "Worship leaders lead songs but worship pastors lead people. We don't need any more worship leaders.
"If I lost my ability to sing today, would my church still recognise me as a spiritual leader tomorrow? If they would not, then I'm not a spiritual leader, I'm a singer. We've conflated those two things…Just because you can carry a tune and play a couple of chords, doesn't make you a spiritual leader."
He also thinks it's a "big deal" that the New Testament never mentions worship leaders. "There's plenty of worship, plenty of leadership but zero 'worship leadership'".
5. Don't confuse telling God you love him with actually loving him
Many modern worship songs make bold pronouncements about how much we love God. But Keyes says there's only one place in the Psalms where it says "I love you Lord" (18:1).
"In most of our worship songs we're comfortable telling him how much we love him with all we are. I wonder if what we should be saying is how little we love him and we want to love him more. I can't honestly week after week tell God 'I love you with everything in me' when I look at my life and I don't!"
"We ought not assume we're loving God just because we're saying that. When I lead worship I don't just want to get the room fired up about telling God how much they love him, I want people to leave the room and love him more profoundly, powerfully and personally."
You can hear the full interview with Aaron Keyes on Premier Christian Radio's The Profile. Get the podcast here.
Click here for a free sample copy of Premier Christianity magazine