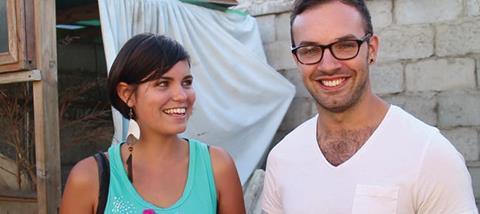 Pete Portal is, for all intents and purposes, a missionary. He and his wife, Sarah, share their home in Manenberg with drug-addicted gangsters. While Pete may play the role of a missionary, he doesn't look the part. With his pierced ear, denim shirt and designer stubble, he looks as though he'd be more at home exploring the vineyards and views of Cape Town.
Instead, he's followed God's call to live in the one of the most dangerous places in the world.
Growing up in a middle-class home in London, Pete didn't think much of Christianity. "We attended a middle-of-the-road Anglican church and then, from the age of 8 I was a chorister at Westminster Abbey." The choral tradition of the Church of England failed to make an impact on Pete's life. "I was confirmed at 11 but none of it meant anything to me… really I just wanted to be out playing football." REAL LIFE Katie Stock meets Pete Portal, a new breed of missionary, serving God with gangsters in Cape Town 24 'This is exactly where Jesus would live if he lived in Cape Town'
After leaving the Abbey and entering secondary school, Pete's behavior started to deteriorate. "In quite a tame, middle-class way, I started going slightly off the rails." His mother didn't know what to do but she'd seen the positive impact becoming a Christian had made on Pete's older sister, so her son, too, "got packed off to church camp".
GOD ON HIS CASE
The evening before the church youth camp, Pete got into a fight with the manager at a local kebab shop. "A guy sat in the corner split me and the manager up. I thought nothing of it and stumbled home." The next day Pete was in for a shock as he found this same man was a staff member on the camp. Pete knew that something strange was happening. God was on his case. He gave his life to Jesus only a few days later.
The effect was instant: "I went back to school and told everyone that I'd found Jesus, was born again and they all needed to be washed in the blood of the Lamb. Obviously I got absolutely ripped apart!"
After school Pete went to Edinburgh University to read religious studies. He wanted to go into children's television so when his friend Andy invited him on a six-week mission trip to South Africa he wasn't interested. But Andy had a request. "Will you pray about it?" he asked. Pete couldn't refuse to pray, so he politely said "yes" and half-heartedly prayed.
"About a week later, I had a letter from the NHS with a date for my shoulder operation." He said to Andy, "I've prayed about it but this letter has come through slap bang in the middle of the proposed dates of the trip. I think this is God's answer." Andy challenged him to ring up the hospital to try to change the date. So Pete reluctantly spoke to the consultant's secretary, explaining he wanted to go on a Christian mission trip.
She replied, "I'm a Christian, where are you going?" Pete told her that it was to South Africa. "I'm from South Africa, whereabouts?" she responded. Pete explained they were working in Paarl, just outside Cape Town. "I'm from Paarl," the secretary said. "Of course I'll change the date!" In that moment Pete saw what he describes as "the clearest answer to prayer".
He and Andy then spent six weeks in Bontival, an "apartheid-spawned ghetto on the Cape Flats". Communities like Bontival are not the image most of us have of Cape Town. The tourism board would prefer us to recall the wine farms, beaches and mountains, but there's no escaping that Cape Town is also the most racially segregated city in South Africa.
PETE SAW THE CLEAREST ANSWER TO PRAYER
MEETING CAPE TOWN'S CHILD SOLDIERS
Pete returned to Edinburgh a changed man and six months after graduating he, along with his friend Andy, were on a plane leaving for South Africa 25 "with this conviction that when God exposes you to something you have a responsibility to respond". Their destination was Manenberg, a community very similar to Bontival.
Manenberg was purpose-built for those with mixed ethnic origin who the apartheid regime classed as 'colored'. Its ghetto housing consists of big blocks of flats and substandard infrastructure. When Pete saw it he thought, "I want to move in. This is exactly where Jesus would live if he lived in Cape Town."
Pete's ministry got off to a rocky start. "I moved in with a friend called Dowayne who was on heroin but had assured me that he wasn't. The wheels rapidly came off, that was in May. In September I was burnt out – depressed…, pissed off and over it."
Realising his vulnerability and loneliness he prayed, "God, I will happily give my life to this if you provide me with a wife to do it with." The same day he headed out to a friend's birthday party. It was there that he met Sarah. "She says that she knew right away that we would be married!" They bonded over discussing the coltan crisis in the Congo and their disillusionment with suburban church culture. Sarah wanted to visit the Congo to work with child soldiers but Pete replied, "We've got a whole bunch of child soldiers 20 minutes down the road. Come and meet them!"
Although Sarah grew up near Manenberg, she found her first trip to the area petrifying. "The thing is, growing up in South Africa, the headlines are always cursing places like Manenberg. It's a sense of, 'Can anything good come out of Manenberg?' which, of course, we have heard before in the Gospels and we all know the answer to that question. It's harder for South Africans, and Capetonians specifically, to move into somewhere like Manenberg than it is for a clueless Brit."
Pete and Sarah now live in a house where young men who are coming out of gangs and drugs come and stay. "We re-parent them, mentor them, and disciple them. We help them through their cold turkey and pray them through their traumas." They also run a school intervention programme for at-risk youth who are in danger of being "snapped up by the gangs".
They are hoping to open a girls' house and an early childhood development centre. But for now, they are a church. "We call ourselves a 'family of families', a covenant community asking, 'What does it look like to seek the shalom of Manenberg?'"
THE FUTURE
It's hard to believe that Pete and Sarah have only been married for five years. They got married six months after Sarah's mother died of bone cancer. After her death they felt God say, "If you give me your entire inheritance and throw it into buying a house, turning it into a habitation for my Spirit, welcoming those who the world hates, I will give you all that your need and more." That's exactly what they did and they found that God was "faithful to his promise, like he always is".
The Portals' future looks no more tame than the last five years. In a stand against the aspirations of other millennials growing up in an increasingly globalised world, the Portals want to nail their feet to the floor in Manenberg for the "foreseeable future". One part of that is a plan to adopt children from their local area. Pete has a "50-year vision to leave a legacy". This came from a prophetic picture God gave him where he saw the children of their community as grandparents. They were sat with their own grandchildren on their laps, asking about how they came to know Jesus. The children could hardly believe that there was once a time where Manenberg had gang violence.
This vision has had a profound effect on Pete's hopes for the future, making it about much more than running a short-term ministry in Manenberg. This new breed of missionary wants to disciple those grandparents of the future so they grow up knowing Jesus. "That really is what God is asking us to do, to quit our daily ministry and leave a legacy."
The life of Maruwaan
One of Pete and Sarah's most surprising guests was Maruwaan. He came to their home as a heroin-using Muslim gang member and died as a Christian community advocate.
Maurwaan started using drugs at the age of 14. He became increasingly aggressive, even stabbing his mother's violent boyfriend.
When he arrived at the Portals' home, Maruwaan was in severe pain caused by his detox. He was sweating and vomiting but Sarah invited Maruwaan to the house's time of worship. As he sat there, wrapped in a duvet, the Bethel song 'No longer slaves' started to play. The song contains the lyrics: "I am no longer a slave to fear / I am a child of God." After it stopped, Maruwaan asked for the song to be played on repeat.
When asked why, he said, "Because every time that song is on, my withdrawal pains go." Maruwaan was then baptised in the Holy Spirit and started praying in tongues, his symptoms disappearing. Over the next year Maruwaan became fascinated by the person of Jesus.
On hearing that a Muslim was living there, some elders from the local mosque came to the house. They asked him "Do you believe the Bible is true?" He answered, "How can I deny the truth of scripture when everything that I read about in the Gospels I see happening in my day-today life?"
Pete shares, "Maruwaan would lay hands on the sick and they would be healed, his own recovery from addiction was painless through the Holy Spirit. He then began to get a vision for his community in Manenberg."
On the 2nd September 2016, Maruwaan started a 15,000km walk from Johannesburg to Cape Town to advocate for a new school intervention project he was going to be working for in Manenberg. Tragically, on the second day of the walk he was hit by a car and killed. Pete and Sarah are still grieving what seems like "an utter waste of a life" but they are "demanding souls for his legacy". Their demands have not fallen on deaf ears. Three of Maruwaan's Muslim family have since come to know Jesus.
As Pete says, "When Maruwaan came, his issue was drugs and he died having given his life to Jesus while working as an advocate and peacemaker for those living in the reality he had come from. It's a phenomenal story."
To find out more about Maruwaan's story go to maruwaanmovie.com