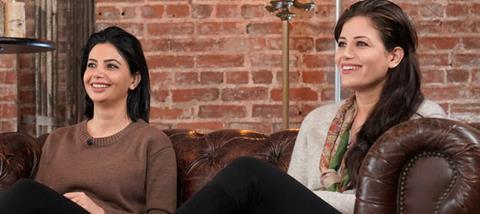 Born in Iran into two different Muslim families, Marziyeh and Maryam were both desperately seeking for the truth and meaning for their lives. While reading the Koran, Maryam never felt the presence of God and struggled to find answers that her heart longed for.
Maryam's sister came home one evening and gave her a booklet which contained a portion of Luke's Gospel. Her sister, having her own doubts, told her to read the book but not the last page, as it was a conversion prayer to Christianity. Maryam remembers being exhausted from all of the searching for the truth. As she started reading that little book she said, "I believe that Jesus that day revealed the truth to me because every word that I was reading I felt it talking to my heart." Maryam and Marziyeh both found hope in Jesus Christ and converted to Christianity.
Seeking to learn more, they both separately moved to Turkey in 2005 to learn more about their faith in Jesus. This is where the two women met for the first time. From the first day they met each other, the women instantly became great friends with an interest in sharing their faith with the Iranian people. With that, they moved back to Iran to start their journey across the country sharing the Gospel with thousands of people. Their journey started in Tehran. They started in the North of the Province giving out over 20,000 New Testaments until they had covered the full area. During that time, they had to run literally for their lives and hand out Bibles under the cover of darkness.
The women were eventually caught and arrested for 9 months in one of the most horrifying prisons. In prison they recall sleeping under urine soaked blankets, being threatened and feared they may be tortured to death. Maryam recalls, "I remember we had to sleep on a freezing and filthy floors…when we did find blankets most of them strongly smelled of urine." On more than one occasion the women were pressured to convert back to Islam and deny their faith in Jesus.
Eventually they were transferred to Evin Prison, notorious for raping, torturing and executing many innocent people. Marziyeh recalls her time there, "They told us if you want to insist on our faith, that we would face execution by hanging. We had long hours of interrogation, while having to listen to the sounds of other prisoners being beaten and tortured."
Despite all of this, the women were determined to share the Gospel and they started to view their prison as a church. They brought many people to Christ and made friendships that would last a lifetime. Maryam states, "We believe that it was God's plan for us to be in that prison for nine months…we had great opportunities to share the message with many prisoners."
Eventually the United Nations Amnesty International enabled their release from jail. Maryam says, "God had a purpose. He wanted us to see those injustices and to bring awareness about the situation of many people in Iran especially women…that we have a great heart for women that they are victims of you know Iranian government and in Islam especially women have no rights. And we believe that you know God wanted us to see all those injustices and to just share that with the world."
Marziyeh and Maryam are the authors of Captive in Iran, which tells of how they were arrested for their faith, their experiences in Evin Prison and how God has used them. Their story is also featured in the new Olive Tree Media documentary Jesus the Game Changer 2: To the ends of the Earth