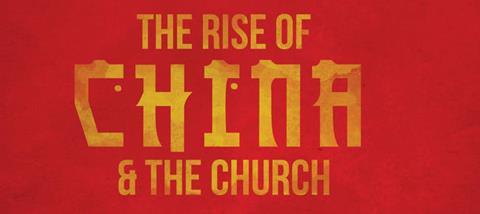 China is an enigma. The Great Wall isn't just one of stone, but a social barrier too. China is heralded to be the next big thing on the international stage, but it remains somewhat impervious to those unable to decipher its unfamiliar linguistic, cultural and political codes. The picture is infamously muddied by its human rights record. However, for Christians in the West, it's also difficult to shake the association with cries for the gospel and the need for Bibles from a spiritually (and physically) famished population from within a dark, heavily restricted state. In March 2013, Xi Jinping will be officially instated as the new Chinese President. How has the picture changed in the last ten years? And what might the future hold, with a new generation of leaders steering this political giant for the next decade?
A picture of growth
China's economy has grown exponentially since opening up to market forces in 1978. The state-controlled capitalist agenda has facilitated continuous economic growth over the past two decades, averaging 10% annually between 2002 and 2012 under President Hu Jintao. Meanwhile, on nearer shores it has sometimes felt like the international economy is going down the drain. It's even enough to make America quake in its superpower boots; a swelling economy is the stuff great powers are made of, not to mention America's teetering trade deficit with China. In spite of its success story, China still has a low GDP per capita. Though the spending power of the super-rich has increased (propping up the demand for British luxury goods), rural communities remain poor, and friction between migrant workers and the local population is an increasing problem in urban areas.
It's not just the pennies that are stacking up, either. We hear reports that China is one of the few places around the world where the Church is thriving. With a population that accounts for more than a sixth of the number of the people on the earth's surface, it's enough to make us think that when things happen in China they really will affect the rest of us. But what happens when a nation of Christians who have known intense persecution in the past begin to experience challenges of another kind altogether ? problems more associated with our own churches?
The Chinese Church has historically been divided into a state Church and the house church movement. The state-sanctioned Protestant Church, the Three-Self Patriotic Movement (TSPM), upholds three 'self' proclamations; namely, self-governance, self-support, and self-propagation ? essentially telling foreign missionaries to clear off. These churches are characterised by a more traditional approach to worship, and often more cautious about the work of the Holy Spirit. Between 1966 and 1976, all churches were closed under the 'cultural revolution', including the TSPM churches. During this time it is well known that the so-called 'underground' Church thrived, largely under conditions of extreme persecution.
When the TSPM churches were re-opened after communist leader Chairman Mao's death in 1976, the division between the churches largely remained. 'Going back ten years, there was very little fellowship between the two types of churches,' says Dennis Balcombe, founder of Revival Chinese Ministries International. 'House church Christians called them [the state Church] "Babylon, the harlot Church, the Sanhedrin, the government-controlled Church, the communist Church, the unbelieving Church". Three-Self pastors in turn would attack house churches as cults, preaching heresies, causing divisions, as being controlled by overseas unfriendly forces.'
But in the last decade there has been a move toward a more amicable relationship between the two churches. The line between the 'house churches' and TSPM churches is blurring. At an official level, however, there remains a distinction between the registered (state) churches and other unregistered churches. There are approximately 30 million Christians in registered churches, and perhaps more than 50 million in unregistered churches*, though Paul Hattaway, director of Asia Harvest and co-author of The Heavenly Man, contends that these figures are difficult to verify, as many Christians attend both churches.
'While there still is some division, the walls between these two different churches are now breaking down,' says Balcombe. 'This would have been inconceivable ten or 20 years ago. At that time the main mission of the house church was to get people to leave the Three-Self Church and, of course, preach the gospel. Now it is just to preach the gospel, and they hope they can have a good relationship with official Church pastors.'
Persecution persists
Growing unity isn't the only story from the contemporary Chinese Church. It's not even as simple as saying that this is good progress but there's a long way to go. There are many versions of the portrait of the Chinese Church ? some varying by chronology, geography and people group. Han Chinese (the majority ethnic group) certainly encounter less persecution than other ethnic minorities, and corrupt officials are more likely to persecute Christians in rural areas. Additionally, there are differing perspectives on what it means to be 'persecuted', largely influenced by experience of intense persecution in preceding years.
US-based Christian human rights organisation, China Aid Association (CAA), reported a 13.1% increase in incidents of persecution in 2012 from the previous year, and claims this figure belongs to a concerning upward trend that has persisted for several years. They believe there is now a strategic government approach to undermining Christianity in China, and reported a notable shift towards rendering house churches non-functional.
Part of the enigma is that reports of this kind are contested by other Christian witnesses. Balcombe suggests that while there are whisperings in the West about forcing Chinese house churches to register and join the Three-Self Church, there is in fact little effort to implement this policy. Jan Vermeer, head of communications for China for Open Doors, suggests that this report represents some of China's human rights problems more generally, but does not accurately reflect the progress that has been made in religious freedom in China. Indeed, Open Doors' World Watch List moved China from 21st in 2012 to 37th state of concern in 2013.
Although it is generally agreed that life has improved for the majority of Chinese Christians, there are still reports of persecution. CAA received reports in February of the detainment of two international teachers from a Christian college in Shandong province. They also reported another major incident at a house church, where the church was raided and the female church leader was attacked.
Bob Fu, director of CAA, says economic openness has not substantially affected the government's attitude towards religious freedom. 'In many areas it has become worse... One of the government tactics is to use economic incentives [as] a tool for persecution rather than simply sending those persecuted to labour camps or criminal trials, as happened in the past.' Utility companies are often used to restrict the work of churches, as Fu says: 'Instead of the public security forces attacking the churches, they use the utility company to pressure the landlord to terminate the contracts ? they…cut off the electricity or water…they have used this a number of times in the last year.'
Old methods of intimidation are still used in some cases. Shouwang Church in Beijing is one of the largest underground churches in China, with a congregation of more than 1,000 members. It also experiences some of the most regular incidents of persecution. This church took the decision to worship in the open in the park in protest against the government's restrictions. Consequently, the church leader continues to be under house arrest, and 60 church members have been evicted from their homes. 'Some Christians agree with this decision [to gather in the open]: they feel it is time to "push the boundaries" and challenge the government on issues of religious freedom,' says a spokesman from Christian Solidarity Worldwide (CSW). 'Others see things differently: they prioritise personal faith and salvation; they don't see the Church as playing a role in politics.'
While there is less ideological opposition to Christianity, Christians are still vulnerable to resistance from the authorities. 'The Chinese authorities really want stability,' says Vermeer. 'They used to see Christians as an ideological enemy, and any gathering was seen as a political event. But the way they [the authorities] try to control has changed ? so instead of raiding a house church they…invite a pastor to meet with their local officials.' But in minority areas, the picture is somewhat different. In the north west and in Tibet 'there's still a political movement that wants independence, so the authority is much stricter there... They will crack down on any movement or protest'. As a spokesman from CSW acknowledges, 'The government tends to be very worried about networks and large groups or movement which could present a challenge to one-party rule.'
Christianity and the economy
An improving economic environment presents some unfamiliar challenges for the Chinese Church, such as seeking to serve God in business and engaging with the youth. 'Things are now a little easier for most Chinese Christians,' says Hattaway. 'There is less persecution than there once was, and more believers are seeing their economic plight improve. God may be getting ready to test their faith through prosperity, a test that seems much more difficult to pass throughout the course of Church history.'
There is also a marked generational gap forming, which affects everything from preaching to persecution. Perceptions of persecution vary even among the Chinese; some would say they experience regular persecution, while others feel that they don't experience persecution in anything like the way they used to. 'Some of the older generation say materialism is now their persecutor,' says Vermeer.
It is not surprising that the older generation, whose knowledge of the gospel is often informed by the experience of suffering in chains, find it difficult to communicate with a younger generation whose primary experience of faith will not necessarily be one of persecution. Moreover, China is experiencing urbanisation, and younger Christians are moving, along with their peers, to seek employment in the cities, meaning that the rural Church is aging.
Vermeer finds that many Christians in China now contact him asking how they can live out their faith in business and work. 'They are almost turning into a Western Church, with Western struggles.' While Christians may not be able to engage easily in politics, Balcombe says: 'They seek other ways to share their faith. There are many Christian businessmen or factory owners who will share the Lord with their workers. Some even hire "pastors" to work full-time in the factories.'
In Brother Yun's book, The Heavenly Man (published in 2002), the depiction of the Western Church is far from flattering: 'In the West many Christians have an abundance of material possessions, yet they live in a backslidden state. They have silver and gold, but they don't rise up and walk in Jesus' name. In China we have no possessions to hold us down, so there's nothing preventing us from moving out for the Lord.'
This is now a struggle that faces the Church of Yun's homeland. Hattaway says: 'While the believers are under pressure, it forces them to their knees in dependence upon God and his word. When things are relaxed, human nature is such that we tend to relax into mediocrity... It always baffles the Chinese house church leaders why Western Christians pray that the government in China would collapse so the Church can experience "freedom". They do not pray for the government to collapse, but for their faith to conquer in adversity.'
The influence of the West
It's not only the problem of materialism that has been inherited from the West. As missionaries travelled to China to spread the gospel, they took their denominationalism with them too. The fertile ground of the Chinese house church was vulnerable to the influence of different denominations, with some unfortunate consequences. 'The beauty of the revival in China,' says Hattaway, 'is that God wiped the slate clean in the 1950s and 60s…The Chinese Church lost all the props from the West and had to learn to trust Christ directly and vitally. In recent years, the influences of the West have come back. The contact has been a double-edged sword. On one hand, it has been a blessing and great help with resources, and Bibles. On the other hand, the competing doctrines have brought confusion and division to many Chinese believers.'
Balcombe's experience of working with leaders of the house church has made him aware of the unhelpful influence of Westerners, seeking to force their doctrinal positions on the spiritually hungry. 'Due to the fact that [because of] government policy Westerners face many restrictions in any work with the official Church (like preaching or church planting), Western Christians often have the greatest impact on the house church,' says Balcombe. 'This is not always good. Intellectualism, rationalism has no life in it. This danger is even greater than the prosperity gospel and that of non-Christian cults and religions, like Mormonism and Jehovah's Witnesses.'
A more powerful, open China certainly has consequences for the rest of the world
China and the rest of the world
A more powerful, open China certainly has consequences for the rest of the world. Henry Lu, general director at Chinese Overseas Christian Mission in the UK, draws inspiration from the fact that many first generation communist party leaders ? in the 1920s and 30s ? were once students abroad. 'That generation was influenced by communism in Europe,' says Lu. 'So from my perspective, these groups come here to learn, and if they are influenced by Christians, the future leadership in China can change. We see them [Chinese students abroad] having the opportunity and freedom to study over here and the curiosity to learn, and we have the opportunity to share.'
'One day the Chinese will be the number one givers to world missions, and there will probably be more missionaries from China than any other nation,' says Balcombe. But China's global influence is unlikely to mean missionaries will be sent back to secularised Europe. Instead, most Chinese missionaries feel called to share the gospel with the rest of Asia. As Hattaway says, 'Their goal is to [evangelise] the 5,000 unreached Muslim, Hindu and Buddhist ethnic groups in countries surrounding China. Their [focus] is always on those who have never heard the gospel, and there is limited interest in trying to re-evangelise the Western nations.'
China's different political alliances mean it is well placed to reach nations with an even worse track record in human rights and religious freedom. It engages with hostile states that Western nations tend to give a wide berth to, including Sudan and Myanmar. Vermeer says: 'China's influence in the world has grown. What we are hoping is that the Han Church will actually impact Chinese officials. That China will not only go abroad for trade agreements, but to bring Christian values. This isn't yet on the agenda, but we hope that by impacting there in China, Christians can deal with outside China, too.'