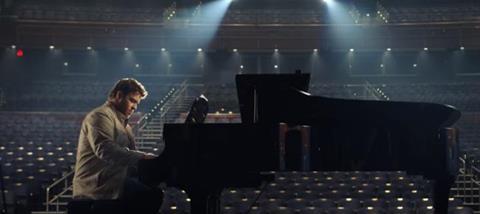 Can you imagine a father so brutal that his response to a bit of back-chat from his son is to smash a plate over his head with such force it splinters into several pieces? Meet Arthur Millard (played by Dennis Quaid), the father of the musician and singer/song-writer Bart Millard (J. Michael Finley), who wrote the ubiquitous Christian worship song 'I can only imagine'.
Bart's story of overcoming the legacy left by dysfunctional family relationships and how it inspired him to write the best-selling Christian single of all time has been made into a film – aptly named I Can Only Imagine.
The 1 hour 50-minute biopic tells of how a violent, unpredictable man, who for years terrorised his wife and son, is transformed by God into a gentle, loving father.
It's a visceral picture of the redemption and restoration work of the Holy Spirit, or as the real Bart Millard says at the end of the film: "If the gospel can change that dude, the gospel can change anybody."
The plot
I Can Only Imagine follows Bart from childhood in Greenville, Texas, in the 1980s, to adult life on the road with his band MercyMe. It charts his struggle for recognition for his music as the group play gig after mediocre gig in backwater American towns. In the wings, childhood sweetheart, Shannon (Madeline Carroll), is waiting and praying for him to return to her, and a deeper relationship with Christ.
I Can Only Imagine gives an interesting insight into the dynamics of the Christian music industry, with a cameo performance by Amy Grant (not the real one). But it fails to develop the personal story of Bart's own faith journey. Some viewers might be thankful for the subtle portrayal of the Christian message, as it means you can easily take your non-Christian friends to see this film (if they can stand the cheesy American scenes and script, that is). However, for others, it will prove a frustrating lack of character development.
Be prepared for tears
Although some of the scenes of domestic violence in this film may be unsuitable for young children (it's rated a PG), overall, I Can Only Imagine is a wholesome, heart-warming story of the power of forgiveness that all the family will enjoy. Be sure to pack some tissues; it's a real tear-jerker.
What's more, it's always encouraging to see well-produced, well-acted Christian movies in mainstream cinemas in the UK. But will this one appeal to audiences in the same way the song has, and will it win any awards? I can only imagine…not.
I Can Only Imagine is out in selected cinemas across the UK on August 10. Find your local screening.
Click here to request a free copy of Premier Christianity magazine